National and boutique retailers have snapped up new retail spaces being offered in the first stage of the new Munro Development at Melbourne's iconic Queen Victoria Market.
Multiple retail offerings in Stage One of the Munro Development has been leased following a competitive campaign run by Colliers' Jennifer Tai and Adam Lester on behalf of Queen Victoria Market (on behalf and in association with the City of Melbourne) and PDG Corporation.
New tenants to the Munro Development include St ALi, the Brick Lane Tavern, Only Mine Chocolates, Moonfishh, Rewine and Market Lane Coffee.
The new operators will open soon as part of the ongoing revitalisation of the wider Queen Victoria Market precinct joining wine bar, Rewine, who have already opened.
Rents achieved across Stage 1 ranged between $800 to $1600 per square metre per annum gross, with lease terms ranging between five and ten years.
"This revitalised retail precinct will sit adjacent to the market within the Munro Development," Tai said. "These retailers have jumped at the chance to be part of a vibrant new shopping precinct that is set to be the new benchmark in Australia's retail amenity.
"Queen Victoria Market is undeniably the heart and soul of Melbourne. The Munro Development will complement the current market offering with an additional 1,800-plus square metres of retail and hospitality, expanding on the Market's 140 years of on-site trading history."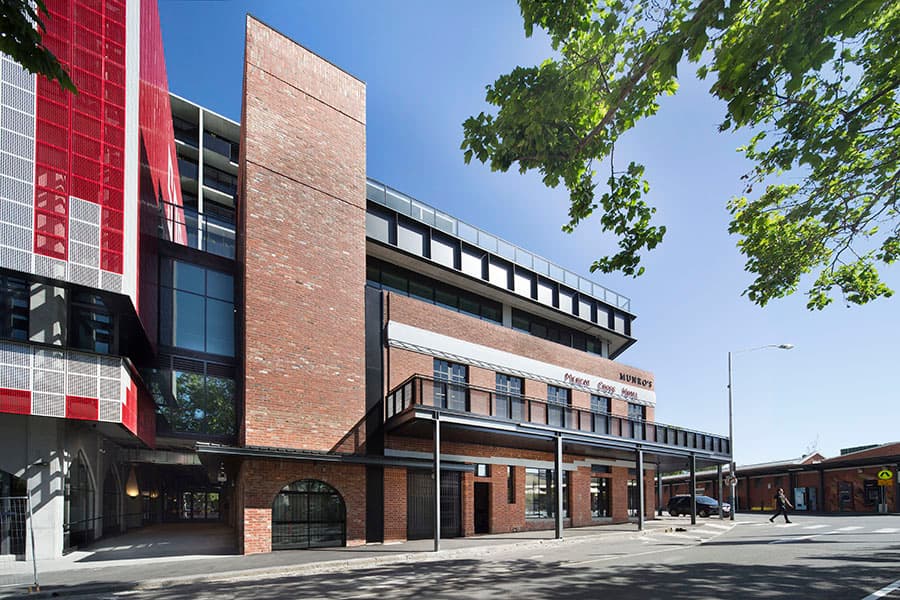 Set on the corner of Queen and Therry Streets, opposite to the market, the development draws on values of sustainability, health and modern design with the market's legacy and Melbourne's laneway culture serving as major points of inspiration.
In total, the Munro Development will add over 1,800sqm of hospitality and retail offerings, with 19 new retail tenancies across two buildings and the creation of a new signature Melbourne F&B precinct.
"Through the strategic curation of the retail offering, the Munro Development will showcase the cultural diversity and character of Melbourne to act as a true representation of what makes our city great," Lester said.
"Inspired by Queen Victoria Market's legacy and Melbourne's iconic hospitality culture, the Munro Development will provide a retail experience that speaks to the future of the city and its people. The rare opportunity to be part of this world-renowned precinct's exciting new chapter has generated significant interest among retailers both locally and nationally."
Colliers is now leasing Stage Two of the development, with more than 800m2 available over eight additional tenancies.
"Established in 1878, Queen Victoria Market is the longest-running market of its scale and diversity in Australia," Stan Liacos, Chief Executive Officer, Queen Victoria Market, said. "This iconic National Heritage Listed landmark is home to a diverse collection of over 600 small businesses which consists of 140 tenancies, 450 market stalls and over 100 Night Market traders. Over the years, Queen Victoria Market has solidified its significance as a major attraction in the City of Melbourne.
"The Munro Development will expand and enhance the market's hospitality offerings to address an area of great new opportunity. The addition of several new dining tenancies and niche retail will build on the vibrant authentic offering of our great market – by day and night."
As part of the revitalisation of the Queen Victoria Market, The City of Melbourne has also dedicated 3,000m2 for a new city library, over three levels.
There will also be a 110-room boutique hotel, 2,500m2 of new open space and laneways, community meeting spaces, 500 apartments for long-term rental, a maternal child health and family services centre, and 500 underground car parks for market customers.
Accessibility to the market will be further enhanced with features such as improved accessibility by train, tram, increased provision of space for walking and pedestrian activity, improved provision for cycling and safer intersections.
Construction of Stage 2 is well underway with completion scheduled for late 2022.