Australian retail sales reached their highest levels on record, with March trade increasing 9.4% compared to the same time last year and increasing 1.6% compared to the previous month, according to the latest figures released by the Australian Bureau of Statistics.
Australians spent $33.6 billion in stores and online in March, eclipsing the previous record of $33.3 billion set in November 2021, when consumers enjoyed the Black Friday/Cyber Monday sales and were shopping early for Christmas.
Queensland was the nation's strongest performer with 3.4% growth for the month, while South Australia went backwards by 0.7%.
The strongest growth was recorded for 'Department stores' retailing on a m-o-m basis (4.1%) and for 'Other' retailing on a y-o-y basis (15.4%). In seasonally adjusted terms, Retail Turnover increased by 1.6% in the month of March 2022. On a y-o-y basis, Retail Turnover increased by 9.4%.
The following table summarises the key data in seasonally adjusted terms across the six ABS retail categories.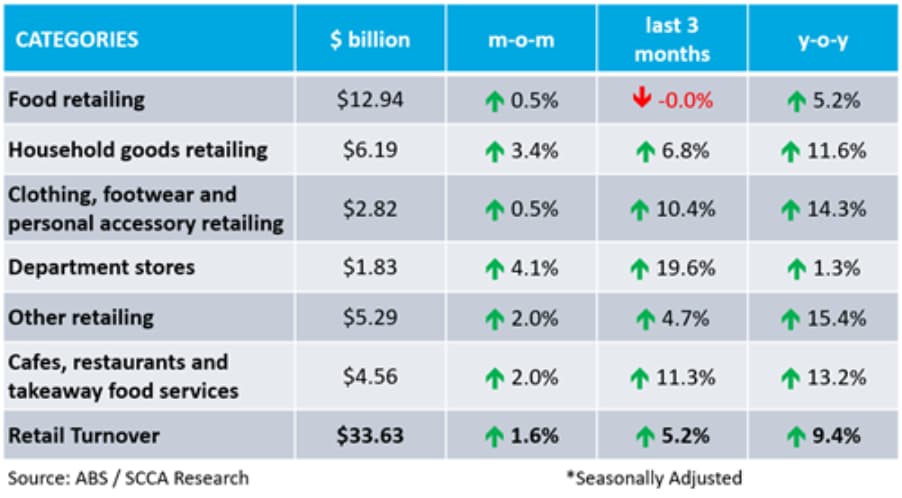 NRA CEO Dominique Lamb said the increase in retail turnover of 1.6% for the month and 9.4% year-on-year (seasonally adjusted) was a sign of continued recovery for the industry.
However, Lamb said yesterday's interest rates announcement, coupled with looming increases in superannuation and award wages from July 1, meant that the good times could be short-lived.
"This is a good result for March, and although the recovery is still patchy it indicates that retail is heading in the right direction," she said.
"However, the looming increases in interest rates, superannuation and award wages represent a very unwelcome triple whammy for business owners.
"We would be very concerned if the Reserve Bank Board were to use these figures as justification for a further rates hike in June," said Lamb.
PRE-PANDEMIC ANALYSIS
Comparison of retail spending will be affected throughout 2022 given two main factors. Firstly, lockdowns and Government restrictions for 'non-essential' retail in certain jurisdictions (including during post-lockdown periods) will negatively impact short-term comparisons, especially for month-on-month or quarter-on-quarter periods. Secondly, record spending during 2020 and 2021, due to the bounce-back of consumer activity, has an impact on longer-term analysis (year-on-year). Given these factors, it is worth making a comparison of Retail Trade over the last two-years. Interestingly, all jurisdictions (including those exiting Government restrictions in the latter part of 2021) show positive growth versus the corresponding 12-month period.