Retail sales continue to track well according to the latest figures (February 2022) of the monthly ABS Retail Trade data indicating that the overall month-on-month (m-o-m) estimate increased by 1.8%, up from 1.6% in January.
February 2022 recorded the second-highest level of y-o-y Retail Turnover, up 9.1%, in the last 12-months and in nominal terms represents an increase in spending of $2.8 billion.
The following table summarises the key data in seasonally adjusted terms across the six ABS retail categories. Clothing, footwear and personal accessories led the retail categories – with sales up 17.8% compared to 12 months earlier. In seasonally adjusted terms, Retail Turnover increased by 1.8% in the month of February 2022. On a y-o-y basis, Retail Turnover increased by 9.1%.

State by State
Retail Turnover varies within the ABS defined six categories and across different jurisdictions. The following map outlines and compares the total and growth of retail trade over the last 12-months (vs. the pcp), and the best and worst retail growth categories.
The strongest jurisdictions in seasonally adjusted terms were Victoria (up 9% to $95.2 billion) followed by Western Australia (up 7.2% to $42.4 billion) and Queensland (up 5.3% to $78.3 billion).
The ACT (down 0.3% to $6.8 billion) was the 'worst performing' jurisdiction in percentage terms, and the first jurisdiction to record negative growth since Victoria in October 2020. The highest growth across all jurisdictions, with the exception of New South Wales, was recorded for 'discretionary' categories, most notably 'Cafes, restaurants and takeaway food' retailing.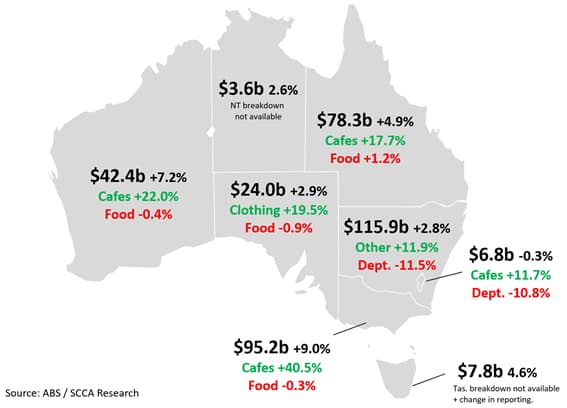 Trend analysis: Consumer sentiment
According to the latest figures from the Westpac-Melbourne Institute Index of Consumer Confidence report, consumer sentiment was recorded at 96.6 in March 2022, the first time the index has recorded negative sentiment since September 2020.
Westpac commented that "The latest monthly fall comes as no surprise. The war in Ukraine; the floods in south-east Queensland and Northern NSW; ongoing concerns about inflation and higher interest rates were all likely to impact confidence, although the size of the decline is still notable."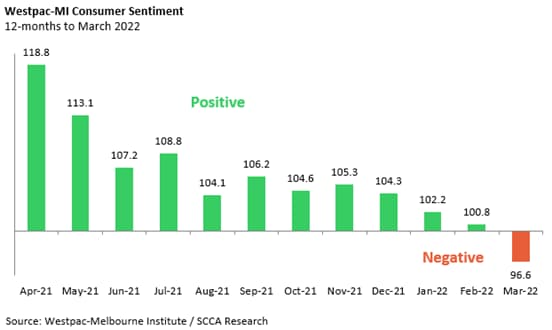 Pre-pandemic analysis
According to Simon Hemphill, Head of Research, Shopping Centre Council of Australia, comparison of retail spending will be affected throughout 2022 given two main factors.
"Firstly, lockdowns and Government restrictions for 'non-essential' retail in certain jurisdictions (including during post-lockdown periods) will negatively impact short-term comparisons, especially for month-on-month or quarter-on-quarter periods," said Hemphill. "Secondly, record spending during 2020 and 2021, due to the bounce-back of consumer activity, has an impact on longer-term analysis (year-on-year)."
"Given these factors, it is worth making a comparison of Retail Trade over the last two years. Interestingly, all jurisdictions (including those exiting Government restrictions in the latter part of 2021) show positive growth versus the corresponding 12-month period."