State Development Corporation and White & Partners Sydney have this week lodged a Development Application (DA) with Brisbane City Council to construct a proposed $450 million Toowong Town Centre. The site was one of the first Woolworths supermarkets in Queensland, opening in 1956. 
Located on the corner of High Street and Sherwood Road, Toowong Town Centre is set to be a high-quality, mixed-use precinct providing retail, commercial, residential, entertainment, and leisure facilities along with a range of services like childcare, gym and medical centre across the 9,000m2 site. 
State Development Corporation said it had been looking for a major development site with White & Partners Sydney for five years and when the opportunity came to purchase the site from Stockland, knew this was the perfect location.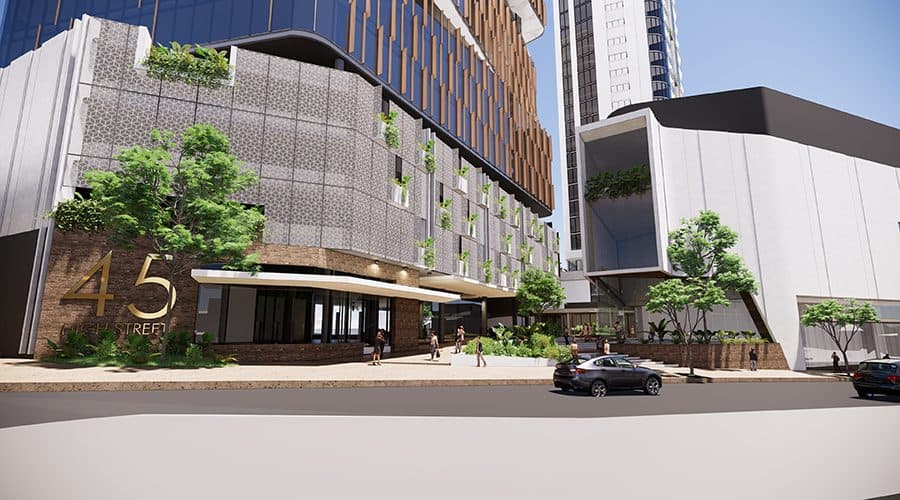 "We have developed four projects in the western corridor and understand the Toowong area very well. 
"Toowong Village is a successful and well-managed centre and we are not trying to compete with this. We're creating a completely different offer and an entirely new streetscape for Toowong," State Development Corporation's Managing Director Ross McKinnon said. 
"Most of the 150m frontage to High Street has been a blank concrete wall for more than 60 years. We now have the chance to create a whole new image for High Street and Sherwood Road.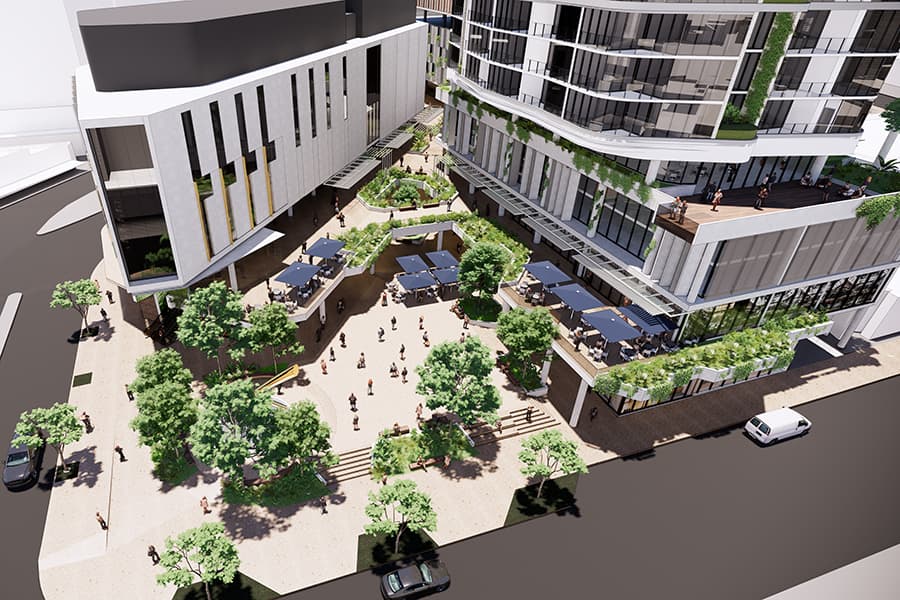 "Inspiration for the design has come from one of the greatest outdoor shopping centres in the world, The Grove Shopping Centre in Los Angeles which incorporates the best characteristics of a high street in the one development. Brisbane has a similar climate to Los Angeles, and we believe the open street theme along with the open-air plaza is the perfect combination to enhance the existing Toowong area. 
"Now more than ever, Toowong needs a heart — a civic plaza to give the suburb a focal point the neighbourhood and community can identify with," McKinnon said. 
The open-air plaza will include a water feature that converts to a stage area. The plaza will be used for outdoor dining and food festivals, small concerts, community and special events. The plaza also allows continued easy access to the train station, bus stops and Toowong Village. 
"We see the plaza as being an ever-changing meeting area — an iconic location that changes from day to night, week to week, and season to season,"  McKinnon said.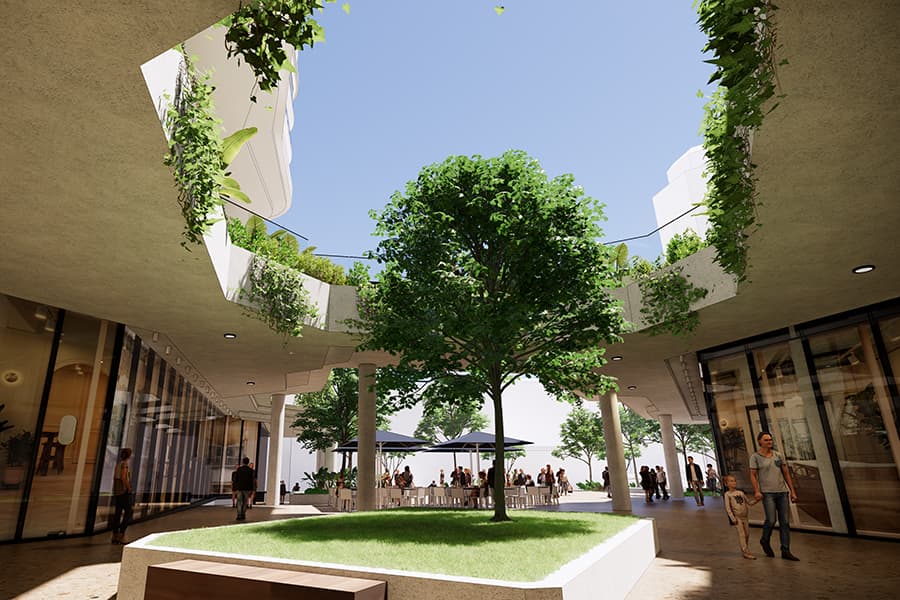 More than 50% of the site will be dedicated to public space, including open-air plazas and community meeting areas where locals can take advantage of Brisbane's sub-tropical climate and lifestyle. 
The retail component can be accessed directly from High Street, Sherwood Road and Jephson Street, providing easy street-level entry to the property. The development design will encourage pedestrians to use the internal plazas and walkways as access, linking Sherwood Road and High Street to Jephson Street, Toowong train station and the bus stop. 
The mixed-use development will offer customers a 24/7 lifestyle where they can live, work and play in the one area.
"Many inner-city locations either have too much residential or too much office space. High residential areas are often quiet during the day when people go to work, and similarly office areas tend to become ghost towns on weekends," McKinnon said. 
"The mix of retail, office, residential, entertainment and the services we are proposing should provide a strong and active development.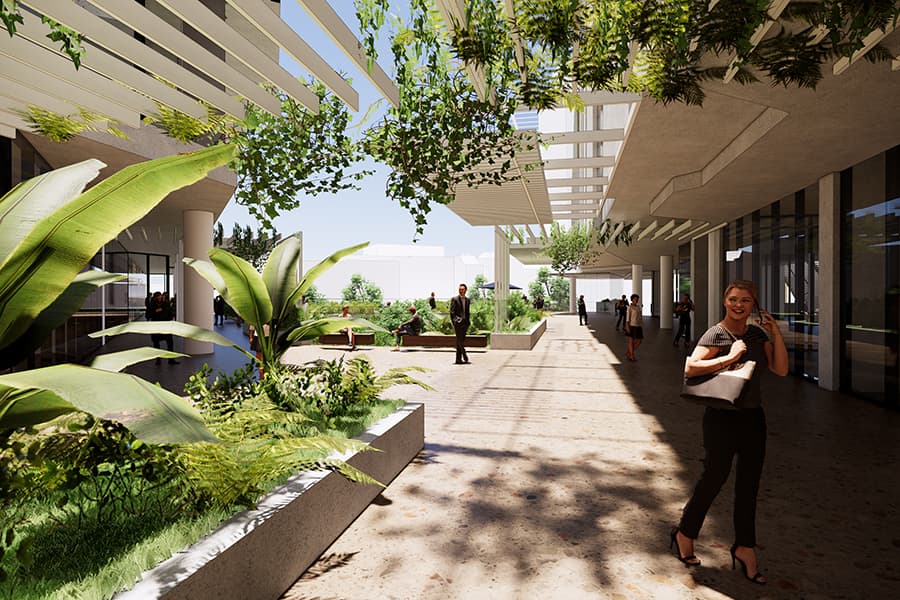 "We have been working closely with Council over the past six months through the DesignSMART process. 
"We decided not to proceed with the three-tower project that was approved by Council in 2016. The new design includes only two towers and we wanted to create more space to open up the site, providing the local community with more open and effective public areas. 
"Our plans include upgrades to High Street with the building set back further from the street, allowing for a dedicated bus lane for the busy Toowong bus stop. Allowing buses to stop in front of our development without blocking the two inbound lanes will alleviate traffic in the area, especially during peak hour. 
"An upgrade to the High Street and Sherwood Road intersection is also proposed to improve traffic flow," McKinnon said. 
"If the DA is approved, our next step will be to seek expressions of interest from commercial and retail tenants."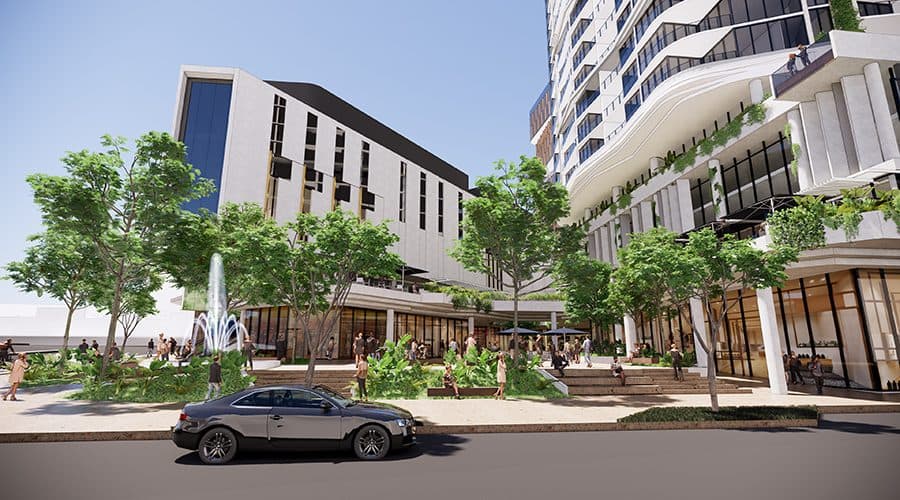 Timing of construction activities has not yet been confirmed as the development is subject to regulatory approval and commercial interest.