Riverwalk Town Centre represents the first metropolitan Melbourne neighbourhood shopping centre development site to be publicly marketed in 2021 and is expected to receive strong interest from developers desperate to secure sites in the outperforming shopping centre asset class.
Colliers' Mike Crittenden and Tim McIntosh have been exclusively appointed to sell Riverwalk Town Centre via an Expressions of Interest campaign closing on Thursday, 14 October 2021.
Demand for non-discretionary based neighbourhood shopping centres is at record levels as pent-up capital from private, syndicate and institutional investors all compete for the limited opportunities that come to market, according to Colliers. Due to the strong investment demand from investors, retail developers are equally hungry to snap up retail sites that can accommodate a full-line supermarket.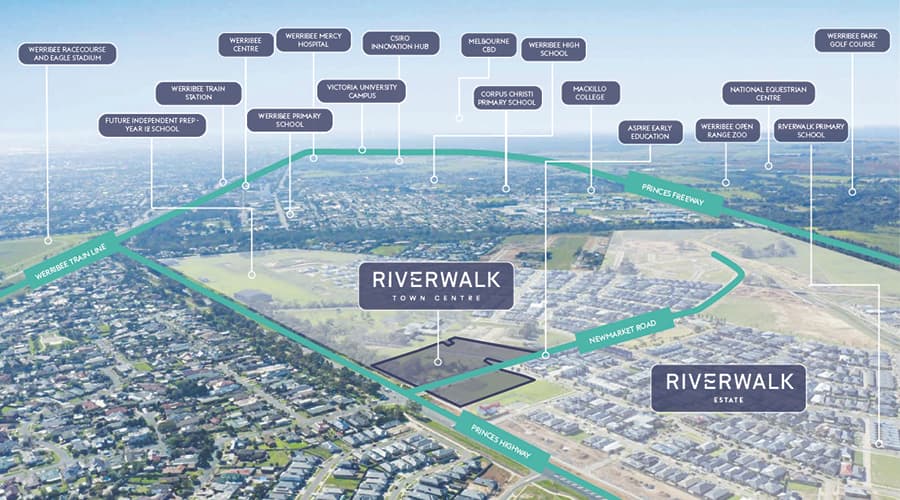 Riverwalk Town Centre occupies a prominent corner position on the major arterial of Princes Highway, with more than 10,200 vehicles passing daily and also at the gateway to the master planned Riverwalk Estate which will be home to over 8,000 residents at completion, estimated for 2026.
"Riverwalk Town Centre will be the retail and commercial centrepiece of the Riverwalk Estate while also servicing the established surrounding Werribee community," Crittenden said. "A proposed development concept provides for a highly convenient neighbourhood shopping centre, including a full-line supermarket, supported by specialty retailers and ample on-grade parking across the 3.01 hectare Commercial 1 Zoned site.
"The Main Trade Area (MTA) population is currently estimated at 14,300 and projected to increase to 19,860 people by 2031. More than 60% of the catchment population currently resides within the Primary Trade Area, which is forecast to rapidly grow by an average 8.7% per annum over the next five years. The MTA will feature a high proportion of families, which underpin retail spending."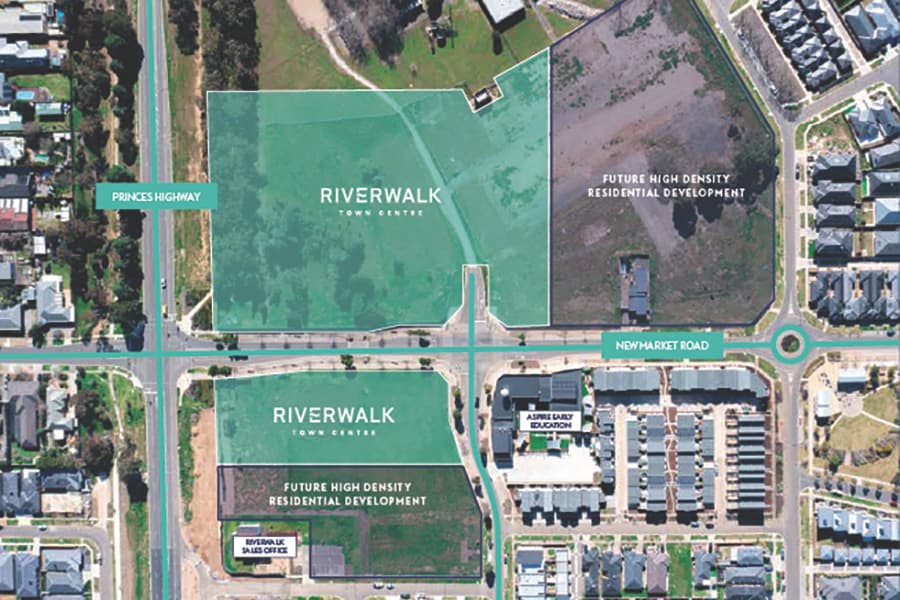 McIntosh said non-discretionary neighbourhood shopping centres were one of the most resilient and highly sought after asset classes, offering attractive growth over the last 18 months.
"Retail development sites suitable to supermarket and neighbourhood centre developments are being actively targeted by both established and emerging capital seeking the security of an essential services income, strong growth locations and long-term underlying land value," McIntosh said.
"The strong demand and performance of neighbourhood shopping centres has seen $1.6billion of this core retail asset class transacted in the year to August 2021, already eclipsing the prior year's total.
"While supply remains constricted, particularly in metropolitan hubs, the unsatisfied capital will continue to place downward pressure on yields."