Centuria Capital Group subsidiary, Primewest, has secured two retail assets – Northgate shopping centre in Geraldton for $71.2 million and Woolworths-anchored daily needs retail precinct within Potts Point's OMNIA mixed-used development for $14.3 million.
The Northgate Shopping Centre is located at 110 Chapman Rd, Geraldton – a major gateway town in Western Australia. It is the dominant shopping centre in the area comprising of an enclosed, single level retail complex with a GLA of 15,758m2 within a 36,845m2 site. It is accessible via four street frontages, namely, Chapman Road, Bayly Street, George Road and View Street and provides 522 on-grade car parks.
JLL's Nick Willis and Sam Hatcher facilitated the sale of the Northgate Shopping Centre. Nick Willis said: "There is an emerging cohort of investors who are looking to reweight to this sub-sector of the retail market given its relative value and resilience in recent times."
Hatcher added: "Available investment supply of convenience based sub-regionals has been tightly held, overlaid by a growing weight of capital has resulted in reaffirmed pricing."
The retail asset is secured by anchor tenants, Coles and Kmart, which contribute 49% of gross rental income from the asset. Kmart recently commenced a new 10-year lease. Including the anchor tenants, discount store Red Dot, 28 specialty shops, four kiosks, a Hungry Jacks and Concierge Car Wash pad sites, the centre provides a 4.7-year Weighted Average Lease Expiry (WALE).
The Northgate Geraldton Trust will be open to wholesale investors from 13 October 2021. It will have an initial five-year term, providing a forecast 7.25%pa distribution within the first two years. NGT has a target equity raise of $41.8million.
Bruce McCully, Primewest Head of Retail, said, "This is a rare opportunity to secure a retail asset that's strategically located within one of WA's most populated areas. It benefits from strong tenant covenants with 80% of the property's gross income derived from ASX-listed, national and multinational tenants.
"Northgate Shopping Centre is the dominant retail precinct within Greater Geraldton, servicing a catchment of approx. 51,000 people across a 385km area, which provides a strong competitive advantage. Adding to this is the centre providing the only Coles and Kmart outlets within the area.
Geraldton has a favourable retail environment due to its diverse economy and employment opportunities, stable and growing population, and affordable housing.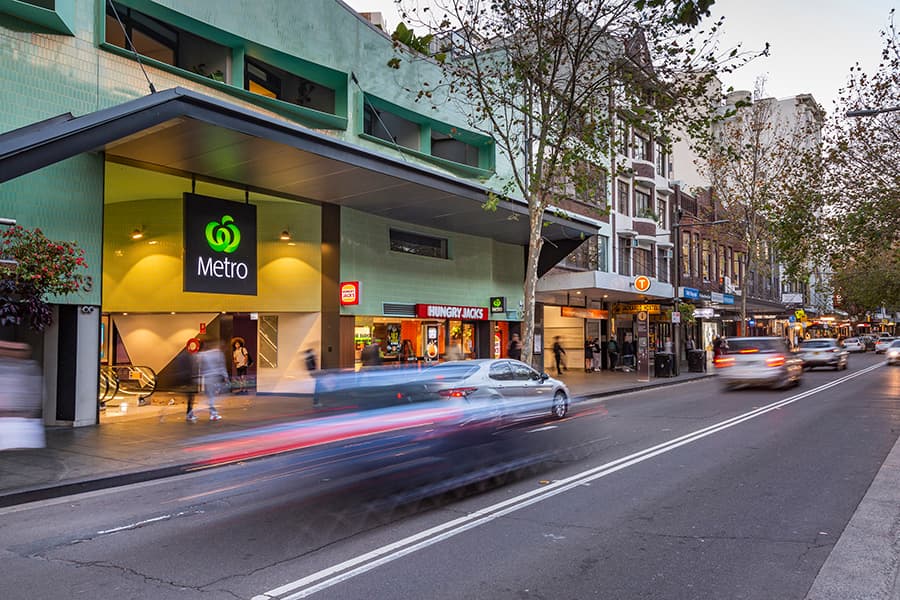 The Potts Point property was exclusively marketed by Colliers' James Wilson and Alex James-Elliott.
The Woolworths-anchored daily needs retail precinct within Potts Point's OMNIA mixed-used development sold for $14.3 million on a 5% initial passing yield on behalf of its convenience daily needs institutional retail mandate.
The 1,285m2 retail precinct is located at 113 Darlinghurst Road, Potts Point NSW, within the prime, inner-city Sydney neighbourhood. Built in 2018, the modern asset includes a Woolworths Metro, provides an 8.2-year weighted average lease expiry (WALE) and, with a 24-month rental guarantee for the two specialty tenancies, 100% occupancy.
"Daily needs retail centres, particularly those anchored by leading supermarkets, have been resilient assets throughout COVID-impacted trading periods. This is largely due to non-discretionary retail spend remaining consistent throughout lockdown periods." said McCully.
"The OMNIA retail acquisition is a rare opportunity to capitalise on a prime metropolitan location, which benefits from significant footfall, being located within the heart of Potts Point's thoroughfare, while also servicing a densely populated well-to-do neighbourhood. Its location, directly next to the Kings Cross Railway Station, is also a key benefit of this site.
The OMNIA retail acquisition adds to the mandate's existing $257 million DNR portfolio.
"The acquisition is another example of the Group's expanding retail portfolio since Primewest merged with Centuria earlier this year. Not only does our transaction team provide an enviable track record for securing high-quality retail real estate but our in-house development team has completed $57.45 million of retail real estate in recent months with more projects due to start construction shortly."
These acquisitions are further complemented by the development of retail centres including a $31.75 milion neighbourhood shopping centre at 80 Maffina Parade, Ellenbrook WA, and an adjoining $25.7 million large format retail centre anchored by a BP service station. The first stage of a neighbouring large format retail complex, with an end value of c.$6.55 million, will begin development in November 2021.
Recently, Primewest merged with the ASX-200 listed Centuria Capital Group. The enlarged company manages a $17.4 billion platform of Funds Under Management (FUM) including $11 billion of unlisted real estate funds and $5.5 billion of listed real estate funds.