On Saturday 25 June, Perth's Ocean Keys Shopping Centre celebrated its 21st birthday, throwing an epic party for the Clarkson community, with fun activities and centre-wide celebrations, including retailer specials and giveaways.
Opening its doors in 2001 with two supermarkets and 35 specialty stores across 11,000m2, Ocean Keys has grown and evolved with the community, offering locals a convenient place to come together, shop, dine and access easy amenities in a welcoming and friendly environment.
Having spent more than 20 years in the area, 52-year-old local School Teacher Michelle Lage and her family have been regulars at Ocean Keys since the beginning.
"I remember in the early days it was quite a small centre, and over the past 21 years the variety of shops has increased incredibly. With every expansion of Ocean Keys, we always looked forward to seeing what shops were coming as each new stage opened," said Lage.
After proving its popularity with locals, in 2005 Ocean Keys doubled in size introducing more fashion retailers and national chains. Only a decade later, Ocean Keys went through its next growth spurt, expanding to almost 38,000m2, adding a further 50 specialty stores and large format stores.
In 2022, Ocean Keys now has more than 100 retailers from fashion, food, tech and health, offering big brands and unique stores shoppers know and love.
Ocean Keys Centre Manager, Sandi Swan, said the centre has been a part of the lives of many locals like Michelle. "For many of us, some of our fondest memories involve the local shopping centre, whether it's the first time you went to a pop-up petting zoo, when you got your ears pierced at the local pharmacy, or your daily ritual of a Wendy's ice-cream after school. We know Ocean Keys has been that place for so many people in our community," said Swan.
"For our 21st birthday, we want the community to celebrate this milestone with us. It's a way for us to say thank you to our customers for always trusting Ocean Keys to deliver what they need."
From Thursday 23 June to Sunday 26 June the birthday activities included carnival party games, make your own Fundae at Wendy's Milk Bar, cookie decorating at Muffin Break, skin analysis sessions at The Body Shop as well as sampling specials at various cafés and restaurants. The centre also hosted stilt walkers, face painting, balloon twisters, and other carnival-style activities.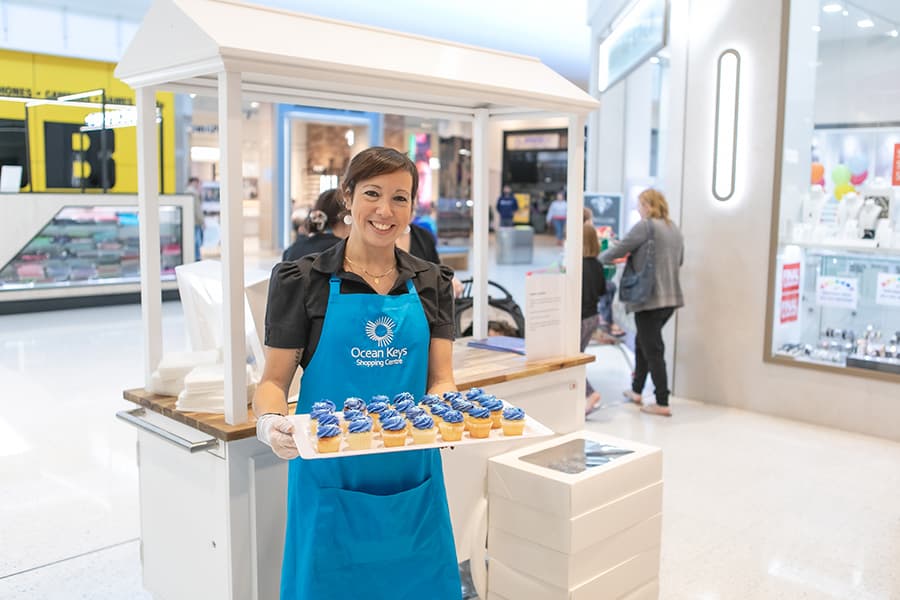 Customers spending more than $80 at Ocean Key's specialty stores or more than $200 at ALDI, Coles or Woolworths, were gifted with a set of stemless wine glasses by the centre.