A reinvigorated David Jones menswear building at 299 Bourke Street will be a remarkable and unique beacon for Melbourne's Bourke Street Mall and CBD, under plans for the iconic property unveiled by Newmark Capital.
Newmark purchased the property in the midst of Melbourne's 2020 lockdown. Its commitment to high quality real estate and vision to revitalise this iconic building is demonstrated by the plans, already submitted to the City of Melbourne and Heritage Victoria.
The building's dormant upper floors, used primarily as storage for decades, will be transformed into large, loft-style office spaces with high ceilings, an abundance of natural light and new rooftop terraces. The lower ground, ground and first floors will be dedicated to a premium retail offering.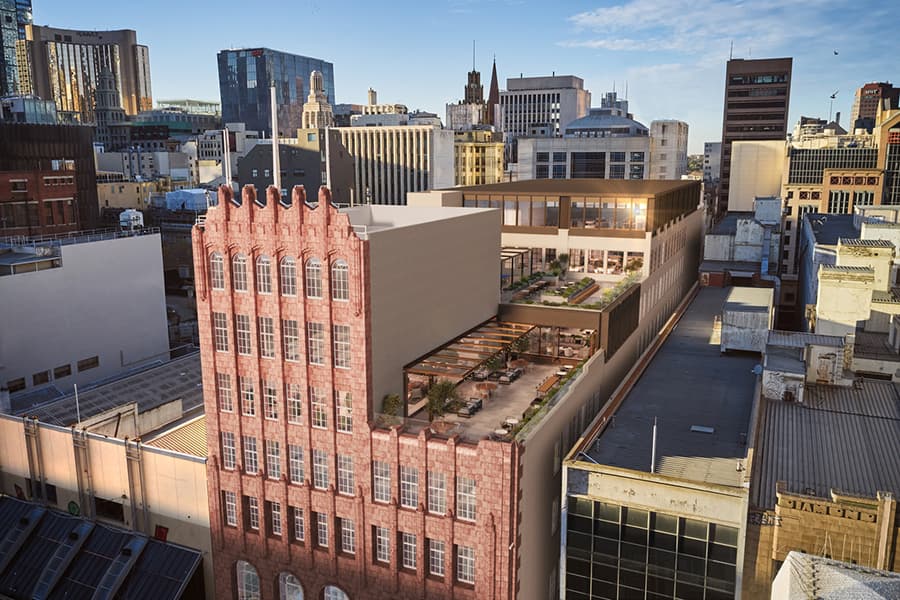 Leading architects Bates Smart's design will enhance the historic Bourke Street Mall frontage with a stylish shopfront, metal canopies and glazed facade, sympathetic to the existing heritage fabric. The upper level offices will be accessed by a dedicated office lobby on Little Collins Street, to be known as 280 Little Collins Street.
Simon Swaney, Managing Director of Bates Smart, said the refurbished building would be "a remarkable, unique offering in the heart of the city". "This is a building of significance, combined with contemporary facilities and amazing technology."
Newmark's General Manager Property, Angus Machutchison said: "This revitalised building will make an exciting contribution to Melbourne. The addition of rooftop entertaining areas gives tenants a unique perspective of the CBD and a tremendous enhancement to the traditional workplace provided in the city"
"299 Bourke Street also sits at the pinnacle of Australian retail, a prestige building in Melbourne's prime shopping location. This is a rare opportunity in a genuine flagship location."
"Our vision for 299 Bourke offers a unique blend of tradition and modernity, as well as unparalleled amenity in the heart of the city," said Machutchison. "The offices will provide true workplaces of the future."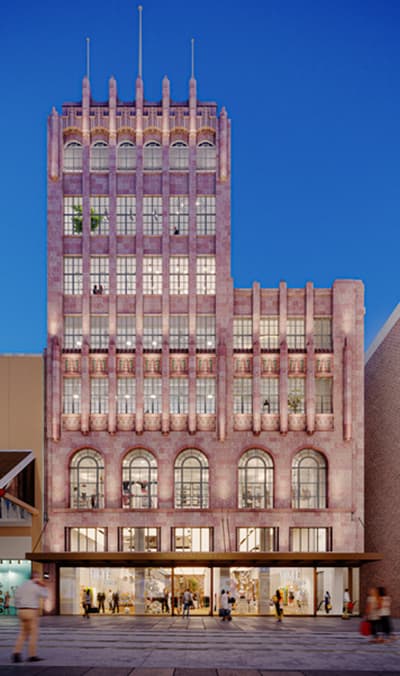 "A redeveloped 299 Bourke Street can play a pivotal role in attracting people back to the CBD as it recovers from the impacts of COVID-19," he said.
Machutchison acknowledged the iconic building occupied a "unique place in Melbourne's retail history" and said the refurbishment would take a respectful approach to the building's history and character.
"Our vision for the building is inspired by the original architecture and stays true to 299 Bourke Street's history while adding new, high-quality retail spaces and reactivating the building's upper levels," he said.
"Businesses will be increasingly focused on providing workplaces that have functionality, convenience and attractiveness to bring staff back to their offices. Our open office spaces will be flexible, functional and have true character."
Swaney said the building's four office floors had large floor plates and significant natural light, offering flexibility, large meeting places and interconnectivity, "What's great is having modern facilities within an overlay of identity and real character, along with access to outdoor space," he said.
The office leasing campaign will be conducted jointly by agents JLL and Colliers.