Mirvac's Cooleman Court in Canberra has been awarded the 'Champion of Champions' award at the ACT Government's Actsmart business awards, recognising their Coolo Recycling Warrior's program and Mirvac's sustainability action plan.
Cooleman Court Centre Manager Irini Daglis was ecstatic accepting the award that recognised the centre-wide efforts to promote and deliver recycling outcomes for both customers and retailers.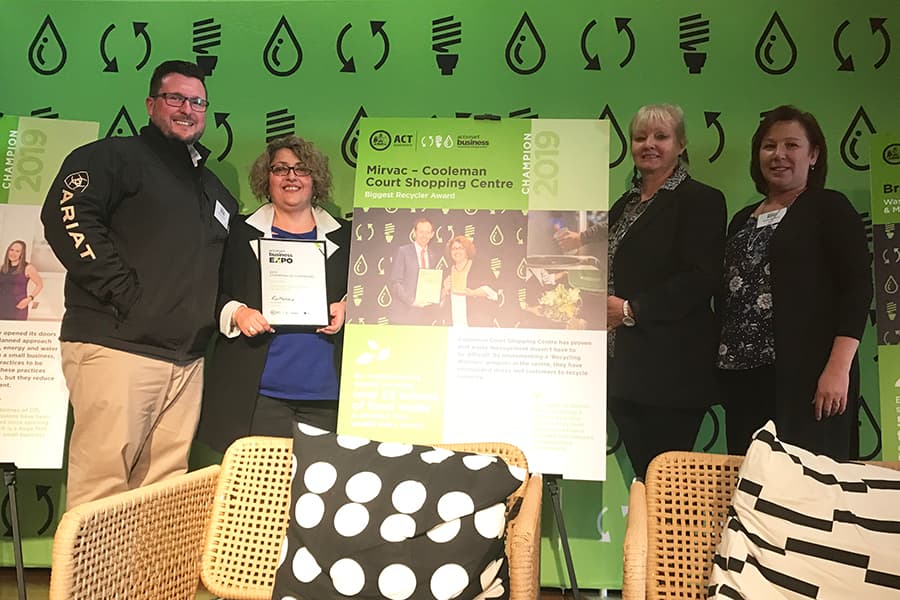 Presenting at the Actsmart business Expo ahead of the awards ceremony she pointed out the centre was now able to divert more than 88% of its waste from landfill, with more than 60 tonnes a month recycled across organics, cardboard and mixed recycling categories.
She said participating in the Actsmart initiative had helped the centre implement training programs for their retailers.
Since starting the work in 2017 when recycling rates were around 44%, the centre is on track to be recycling more than 90% of its waste by the end of 2019. And other sustainability education for retailers had helped improve work practices to deliver savings in both water and electricity usage.
Daglis said the award was a terrific motivator for everyone involved as they committed to the Mirvac business goal to be net positive carbon by 2030 under the company wide "This Changes Everything" initiative.
Cooleman Court is located in the Canberra suburb of Weston. Anchored by Woolworths, ALDI, Target Country and Best & Less, along with 43 specialty stores, and a total a gross lettable area of 10,688m2.