Six Mirvac shopping centres across Sydney have launched an appeal for the community to support donations in a charity food drive to help people hit by hardship during the pandemic. Collections are running until the 23 August at Cherrybrook Village, East Village and South Village and until 6 September at Birkenhead Point, Greenwood Plaza and Stanhope Village.
In partnership with major charity provider Anglicare, the six retail centres in Sydney's north, south, east and west will all provide collection points for local community donations of non-perishable food items that will be distributed by the charity to people struggling with their bills and day-to-day essentials as the pandemic bites into employment and budgets for families and individuals.
The assistance is immediate, practical, and will support people doing it tough during the COVID-19 pandemic. Assistance is delivered through Anglicare's mobile community pantry program, food boxes, and via dedicated shops across Sydney and the Illawarra region where people are in need.
Each centre is using its retail location as well as its online connection to the local community to promote the donation drop off. The public are encouraged to consider donating simple, non-perishable, and useful items like pasta, rice, tea and coffee, school lunch spreads and snacks, and tinned goods that can help create a meal for families and individuals in need.
Volunteers at the collection points are from the local Anglican church, except Greenwood Plaza where they are from Anglicare directly; and they maintain COVID-safe practices.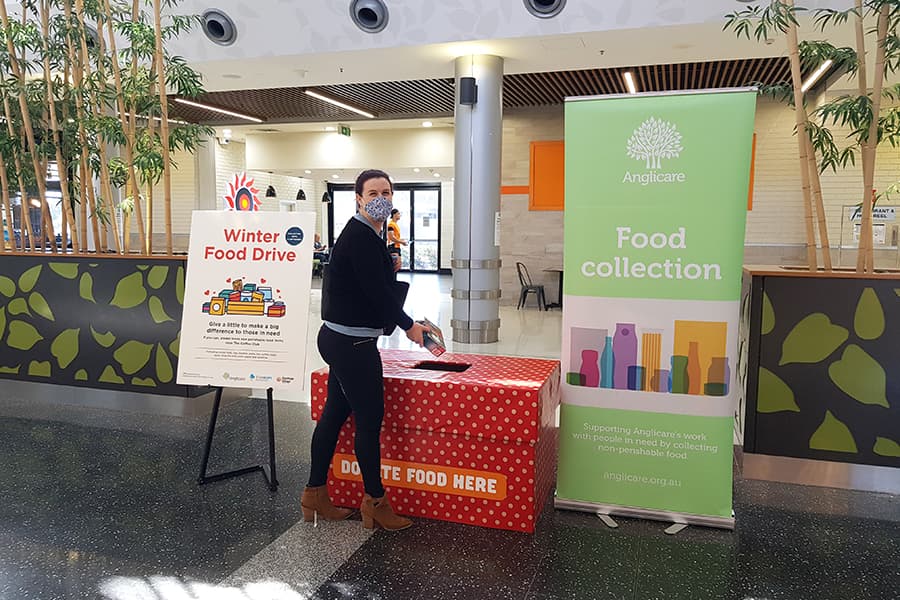 "As a connected network of centres with strong bonds to our communities, we are extremely well placed to activate this drive to immediately assist those in our community who are struggling the most," said Nicole Imberger, Director of Experience, Mirvac Retail.
Anglicare cares for our society's vulnerable and elderly. It's a registered charity that provides a wide range of support across NSW including aged care, food and financial assistance, housing services, counselling and mental health services, migrant services, chaplaincy, and family services.
Anglicare's Chief Operating Officer of Community Services, Bill Farrand, said, "We are thrilled at the generosity of Mirvac to allow volunteers into their shopping villages to collect food for our community's vulnerable, particularly during this difficult time. We hope Anglicare and Mirvac can build a strong community and encourage shoppers to give."