Research powerhouse McKinsey have released a series of reports about 'The Story of the Australian Consumer' – exploring the unique impact the COVID-19 pandemic has had on Australian consumer sentiment, confidence and behaviour. The first piece in the online series The curse of 'The Lucky Country': In search of economic antidotes to COVID-19 examines the current state of Australian consumers in response to COVID-19, and the extent to which our reactions are aligned with the health and economic realities of Australia's pandemic experience to date. It gives a snapshot of the current response to COVID-19 against recent trust and sentiment issues, and explores some of the differences amongst various 'generations', with a focus on Gen Z and Millennials.
This online Australian Insights series draws on McKinsey's latest consumer and industry research, including in-depth analysis of the firm's consumer sentiment research, perspectives from the firm's consumer and retail experts and industry leaders, and the first daily household diary study of Australian consumers living, working and learning in enforced isolation.
"Despite Australia being a global leader in the battle against COVID‑19, the past few months have triggered fear and uncertainty in even the most rational Australians", says Jenny Child (nee Cermak), series co-author and leader of McKinsey's Consumer Packaged Goods and Retail practices in Australia and New Zealand.
Child said "According to our research, 80% of Australians say they are unsure or pessimistic about the country's economic recovery."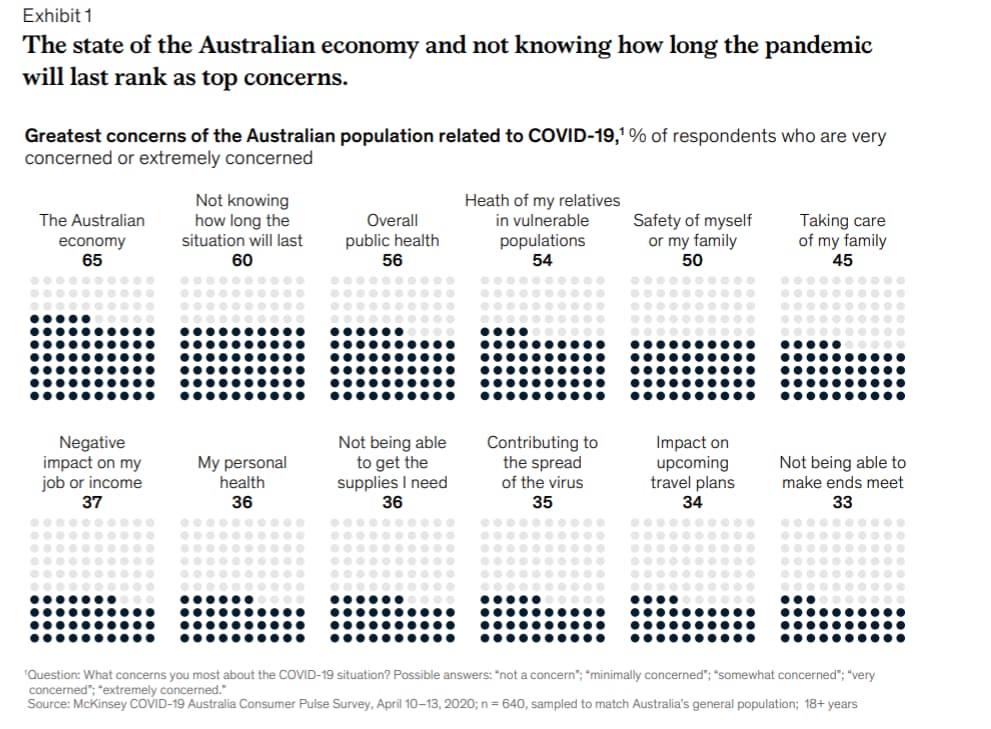 On the one hand, this sentiment is expected and understandable, particularly for those who have suddenly become unemployed, or fear that they will. 40% of Australian households report a reduction in their household income, driven by household members' loss of full-time or part-time work. At the time of this writing, modelling from Australia's Department of the Treasury projects a 10% unemployment rate, or 1.4 million unemployed Australians by the end of the second quarter.
Gen Z and millennials—who have been disproportionately affected by income loss to date—are the most worried about the economy and are tightening their belts accordingly. Our figures show that 63% of Gen Zs report 'cutting back on spending', compared with 30% of baby boomers, or 45% of Australians in total. It is important to keep a close eye on the younger generations. Millennials and Gen Z already comprise 40% of the Australian population. So how these generations are feeling and behaving matters materially for the country's economy and society," said Child.
The fears and emotions stirred by the virus outbreak translate into real economic impact when they change how Australian consumers spend their money. For example, across all categories (outside groceries, household supplies, and in-home entertainment), net intent on spending over the next two weeks is down by big double digits.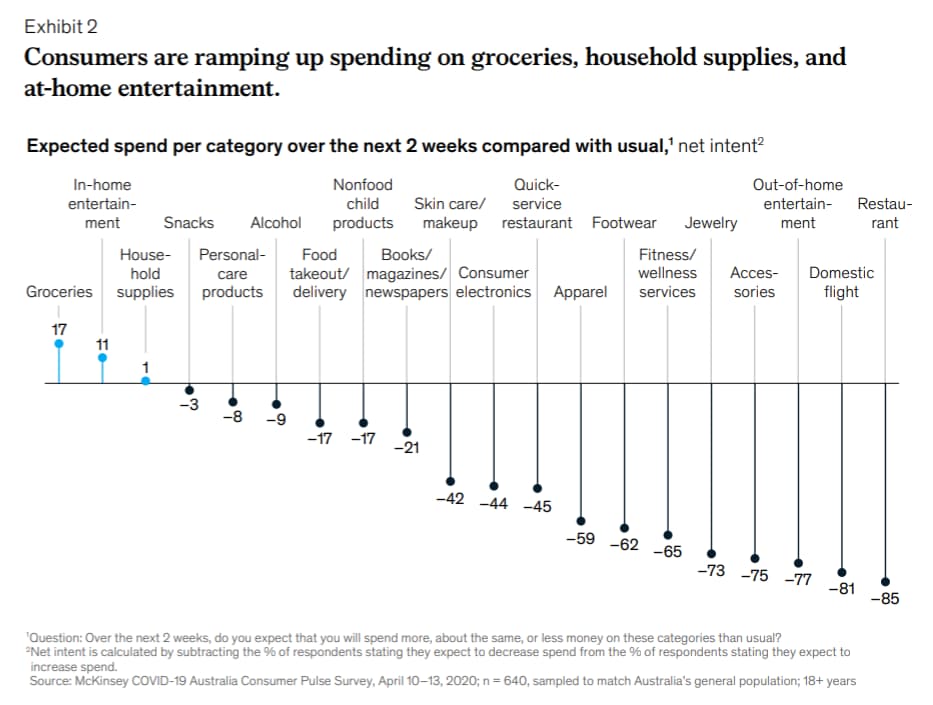 "It is startling to see that Australians are half as optimistic about the economic recovery from COVID-19 as citizens of the United States, where more than 68,000 people have died from the disease, and are less than half as optimistic as Chinese citizens, which have been dealing with it the longest.", stated Child.
This negative outlook is reflected locally in the Westpac Consumer Confidence Index, which stands at 75.6 points, a mere 0.1 point from early-1980s recession levels — levels which, it should be noted, were hit in the depths of those recessions, not at the outset of them.
At a striking 17.7% of GDP, the amount of economic aid from the Australian government has outpaced every other comparable country in the world except the United Kingdom and Germany, yet Australians remain cautious about the future ahead.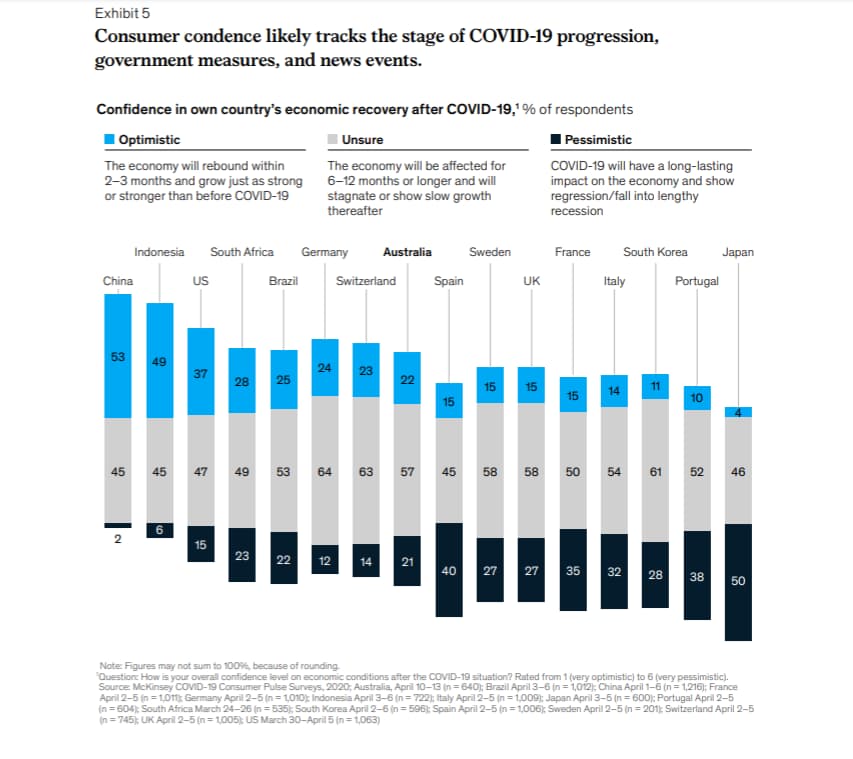 "We are struck by this juxtaposition. And, it has prompted us to start a deeper exploration of Australians' beliefs, attitudes, and behaviours, which ultimately underpin the economy. This is important to ensure that the population's concerns do not unduly weigh down the country's capacity to not only recover, but also to innovate and prosper after the crisis", Child concluded.