Ever since the ABC's War on Waste raised awareness of the coffee cup dilemma – namely, that we throw away 50,000 unrecyclable takeaway coffee cups every half hour (or 1 billion every year) – Australians have been looking for a better solution and Green Caffeen is playing a pivotal role in this solution. We've all been there and forgotten to carry our reusable coffee cup with us and this is where Green Caffeen are coming to the rescue!
To help combat this environmental dilemma, the Inner West Council (Balmain, Ashfield, Dulwich Hill, Marrickville and Newtown) are partnering with Green Caffeen to introduce a pilot program replacing all single-use coffee cups with reusable ones. As a part of the vibrant Inner West community, Marrickville Metro is focused on sustainable retail practices that complement the local ethos as well as their own brand values and partnering with the local Council on the Green Caffeen initiative was a no-brainer.
For the team at AMP Capital's Marrickville Metro, it is all about retailers and the community coming together to offer something that's beneficial for the environment. Cafes within the centre including Donut King, Espresso Brother, Sergio's and Michel's Patisserie are all on board and keen to play a role in reducing the obscene number of disposable coffee cups that make their way to landfill.
"Getting our retailers involved with the Green Caffeen program will improve our footprint, of course, but, more importantly, it gives us an opportunity to take a step in the right direction to becoming a more sustainable centre, something we feel strongly about at Marrickville Metro," said Dean Young of Marrickville Metro.
'We encourage all local councils, shopping centres and retail spaces to get involved with the Green Caffeen initiative.' he said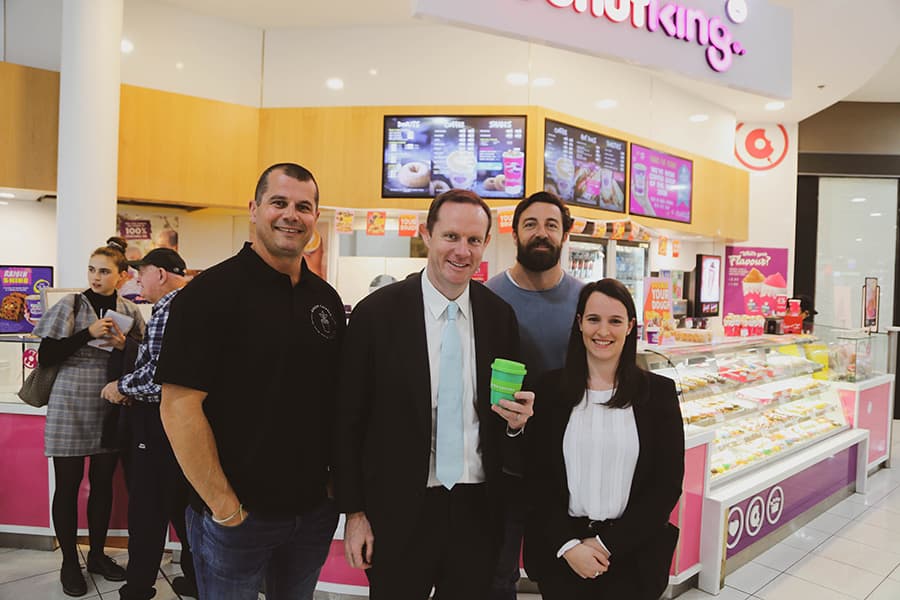 Green Caffeen was born to make a difference and is Australia's first reusable coffee cup program that allows people to enjoy a fantastic cup of coffee, without worrying that they are harming the planet. Founded by two Dad's (Damien and Martin) frustrated by the Bring Your Own Cup Concept who knew there had to be a better, more convenient way
All coffee-drinkers need to do is download the Green Caffeen app, then pick a free reusable cup from any cafe that's signed up to the program – with the Inner West Council footing the bill.  Customers then return them within 30 days, or else they'll be charged a fee of $12.99. If you're worried you'll forget to return your dirty cup, don't fear – you can have two out at any one time.