The year 2020 not only brings in a new decade but celebrates the Year of the Rat during the Lunar New Year festival. Although the Rat may not be the most appealing of animals, it's one of the most clever, according to the Chinese Zodiac. A person born this year (or in 2008, 1996, 1984, 1972, 1960, 1948 and so on); is likely to be clever, quick thinking and successful, while also being optimistic, energetic and likable by all.
The Chinese tourist market is still growing at 6%. While this season may be softer due to the impacts of the bushfire crisis, most cities are expected to experience an influx of Chinese tourists for their national holiday. It is estimated that Chinese nationals spend $12 billion in Australia annually, with trips in January and February accounting for about a quarter of annual arrivals.
More than a million visitors are expected to enjoy the sights, sounds and flavours of Asia during the City of Sydney's Sydney Lunar festival from 25 January to 9 February 2020. For the first time, Lunar Lanes will weave through the streets of Chinatown to Darling Harbour on Lunar New Year's Day, linking historic Haymarket with the new harbourside precinct.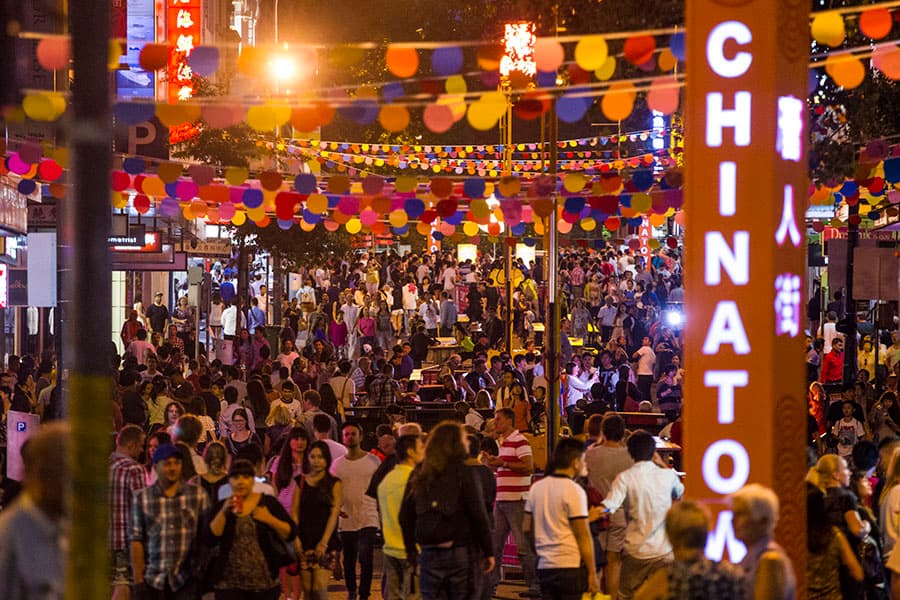 Lord Mayor Clover Moore said this year's celebrations will feature close to 100 community events across Sydney "Over the years we've seen this festival grow from a small community festival in Chinatown to one of the largest lunar celebrations in the world. In 2019 the festival attracted close to 1.5 million people who spent nearly $42 million during the event. It's a wonderful boost for our local economy, retailers and restaurants.
"We've put a lot of work into creating an exciting and diverse program, from our laneway party opening night to community dance performances, the dragon boat races in Darling Harbour and of course, the food, there's truly something for everyone.
For the first time, Savills has partnered with City of Sydney for 2020 Lunar Celebrations. Paul Craig, CEO of Savills Australia and New Zealand said it is an honour to partner with the City of Sydney. "Savills is one of the largest property agencies in Asia Pacific, with more than 30,000 staff in 70 offices across the region, the Australian and NZ business works daily with our colleagues throughout Asia and we are proud to support this significant cultural event in Sydney. As the biggest celebration of the Lunar New Year outside Asia, this is a natural fit for our business and we're looking forward to strengthening our connections with the Asian and wider Sydney community" he said.
During the festival, the city also comes alive with giant illuminated Chinese zodiac animal lanterns and Savills is proud to sponsor the Golden Rooster, which will be positioned in Circular Quay from Friday 31 January – Sunday 9 February.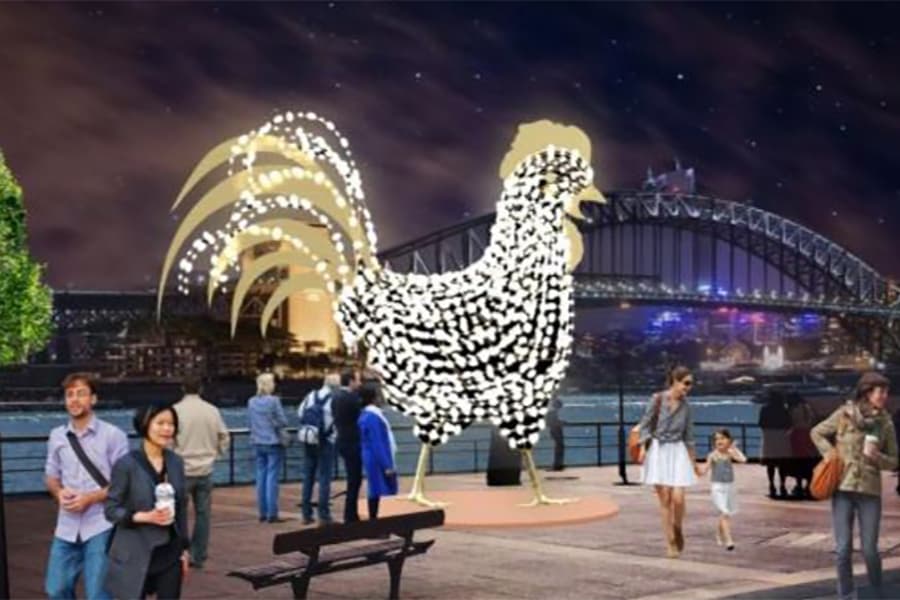 Australian Shopping Centres are also celebrating the Lunar New Year with magnificent activations and events. Shopping Centre News reviews some of the top Lunar New Year activations from across the country:
As an Associated Event of the Sydney Lunar Festival, World Square will host an immersive augmented reality experience and a traditional lion dance on poles as part of their Year of the Rat celebrations. The renowned Jin Wu Koon will perform the traditional Plucking of the Greens (24 Jan) and traditional Lion Dance on Poles (25 Jan).
World Square's artistic program will take Lunar New Year celebrations to grand heights with the high-flying The Ratrobats. Inspired by the ancient tradition of Chinese acrobats and performers, World Square has designed and created a troupe of eight larger-than-life 'Rats'  that will show off their acrobatic skills from Monday 13 January to Sunday 16 February.
The mischievous Ratrobats will take pride of place at the CBD retail destination, standing in good company with other festival installations across Circular Quay and Haymarket. Made from hard-coated sculpted polystyrene and dressed in brightly coloured costumes, each of the friendly 2.5m high 'Rats' appear in a different pose.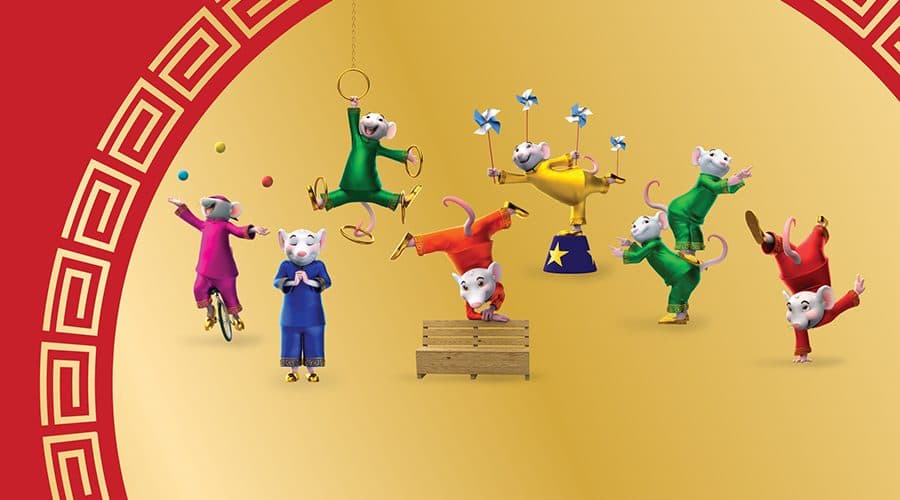 Chifley the premium centre in Sydney's CBD will celebrate Lunar New Year wth a campaign appealing to their CBD office market customers. The centre has created a bespoke and interactive display revealing the fortune for each of the zodiac signs specific to career, relationships and lifestyle. The display features a competition to 'Win a Lucky $888 Flight Centre Gift Card'. As a 'surprise and delight' gift the centre has custom-made green fortune cookies at the display for each customer to take away.
Mirvac Retail destinations are playing host to elaborate installations and activations. Nicole Imberger, Director Experience, Retail at Mirvac said the program will deliver genuine community experiences, reflecting the traditional role of Lunar New Year and Spring Festival celebrations to bring together family to share food, experiences and welcome the new year.
"Our communities are incredibly diverse and culturally engaged, so we ensure our centres are inclusive destinations of celebration and gathering, where our local communities and our many visitors alike are welcome, delighted and embraced by authentic, local experiences," Imberger said.
Rhodes Waterside and Cherrybrook Village are located in areas of Sydney which are home to significant numbers of Asian born residents, above the Sydney metropolitan average of 19%, at 35% and 24% respectively. These communities enjoy and embrace the diversity and vibrancy of traditional Australian and multicultural celebrations throughout the whole year.
Experiences at several centres will combine education and art to allow customers to learn and immerse in the symbolism and festive vibrancy of the Lunar New Year's important place in the global calendar.
Lion dances will also feature across centres as well as Red Envelope giveaways, the most popular tradition of the Lunar New Year in Chinese and other Asian cultures.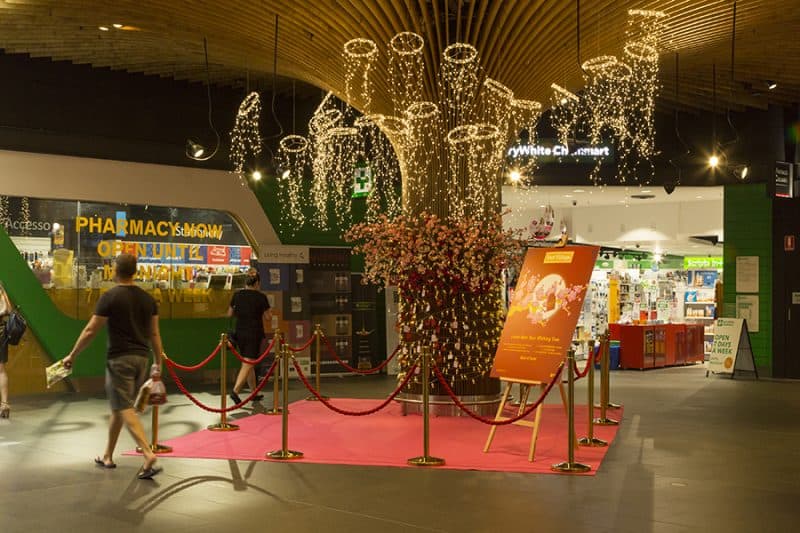 At Rhodes Waterside kids' Kung Fu and kids and adult Chinese classes are being offered alongside a fun Lucky Lunar Ball Pit, inviting customers to slide into a sea of red and gold to play and dive for prizes including gift cards, dining vouchers, movie tickets and more. Rhodes will also exhibit a beautiful art display of twelve intricately crafted artworks representing the zodiac animals created in collaboration with Pineapple Design Studio and Chimera Atelier.
Traditional Wishing Trees will feature across many centres with a visual feast of five delightful, 5-metre tall cherry blossom trees at Broadway Sydney, encouraging shoppers to share their best wishes for the new year and an incentive of four $1,000 wishes granted to entrants who spend $150 or more in the centre.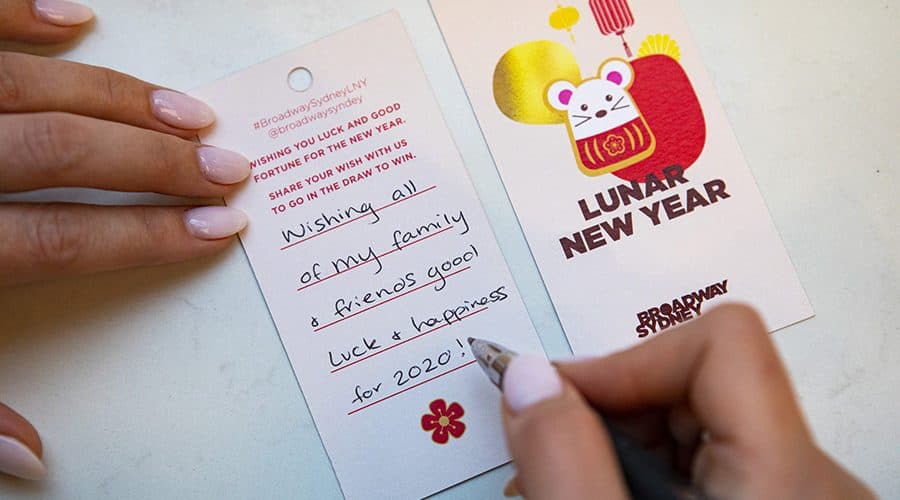 A further eight Wishing Tree wishes will be granted each at both East Village and Harbourside shopping centres plus customers born in the Year of the Rat can redeem a cute fluffy rat key ring. These centres each have extensive and renowned Asian cuisine restaurants that will be offering special menus to entice group celebrations during the new year festive period.
Cherrybrook Village will also give away Red Envelopes with a $1,000 prize pool as well as Origami and Fire Breathing Dragon Cracker making workshops raising funds for WIRES as part of their centre celebrations.
Art and music will feature at a number on centres with DJ Fly girl performing live all day at Birkenhead Point Brand Outlet on January 25, and a centre wide zodiac inspired art installation in house. Birkenhead Point will provide a red packet to every customer arriving via their award winning Shopper Hopper ferry service and UnionPay cardholders will receive a free one-way trip on the Shopper Hopper and if they spend over $300 or $600 in centre, will receive one of two complimentary UGG Australia gifts.
Sydney's renowned retail hub, Market City in the heart of Chinatown will be host to jaw dropping lion dances from Jin Wu Koon on high poles, a group who combine traditional Chinese elements with incredible, high flying stunts in their spectacular performances. Chinese Youth League will also bring their roaming lion dance to visit Market City retailers on January 25. Lion Dance performers mimic a lion's gestures and emotions to bring luck, fortune and prosperity to the places they perform. Additionally, every shopper that spends over $25 will have the opportunity to receive a bespoke piece of calligraphy designed by one of Australia's best pensmiths to take home as a souvenir.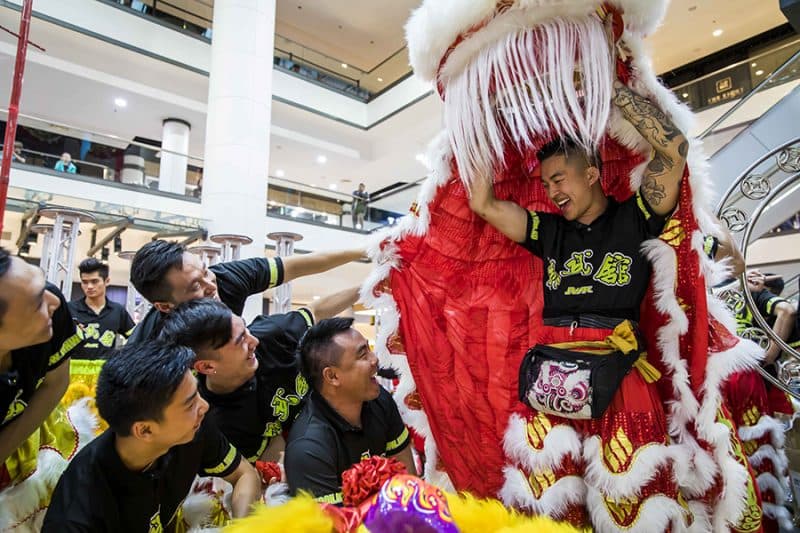 Moving out of Sydney and heading north – Stockland Cairns is a major sponsor of this year's annual Cairns & District Chinese Association Inc (CADCAI) Lantern Festival, and has organised a number of family fun activities in celebration of Lunar New Year.
Craig Piper, Regional Retail Manager, Stockland Cairns, said that the activities at the centre were a chance for locals to experience the diversity of the community. "Being a major sponsor at the annual Lantern Festival and offering a lineup of in-centre activities for Lunar New Year are just some of the ways that we can show our customers that we listen, care, and want to curate experiences that add value to their lives."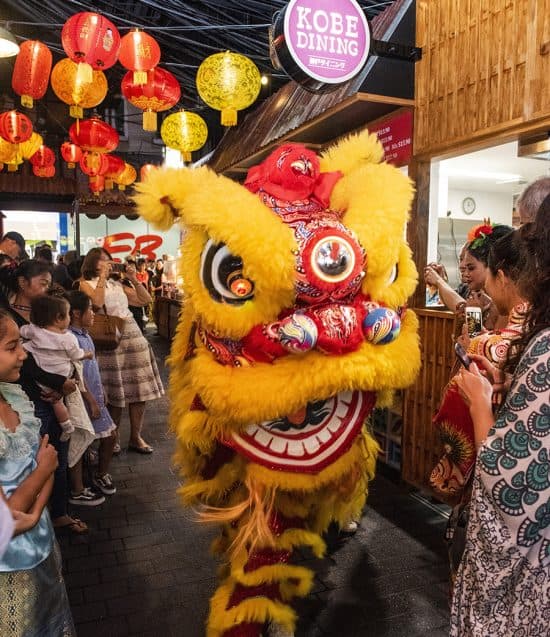 The celebrations will kick off on Saturday 25 January with a traditional lion dance in front of the centre's newest $2 million Lantern Lane.
For a gold coin donation, customers can show their Lunar New Year pride at the festive photo booth stocked with costumes and props, including a special lion cut out designed by local artist Hayley Gillespie. Owner of Lantern Lane Jay Le will offer a free dumpling-making workshop and the centre will also offer a lantern decorating workshop.
In Melbourne, Vicinity Centres The Glen are the official partner for the Glen Waverly Chinese New Year & Lantern Festival 2020 – maintaining a full connection with the local community. The Glen is set to welcome the Year of the Rat with an array of 'Lucky' activities such as the traditional Lion Dance on Saturday 25 January at 2pm, followed by a delightful Cultural Music Performance at 6pm on the Dining Precinct stage, where visitors will be entertained with the sounds of traditional drums and instruments.
A 'Lucky Lunar Wall' adorned in golden tinsel and the 'Lucky Cat' archway offers a playful experience for customers, while kids can create their very own Paper Dragon Puppet through a series of Lunar New Year themed Craft Workshops for kids at Spotlight. A lucky pot and plant workshop from the team at Artisan Home will take place on Thursday, 30 January. From 7pm, shoppers can enjoy a relaxed workshop with a plant expert whilst creating their very own take home plant.
At Chadstone – The Fashion Capital, customers can visit the highly anticipated Lunar New Year activation and enjoy a social moment, where they will be encouraged to celebrate their Zodiac and capture a unique photo. By participating they will also have the chance to win a luxury experience for two at Hotel Chadstone. All are encouraged to share their experience using #ChadstoneYearoftheRat #ChadstoneLunarNewYear.
Chadstone customers who spend $488 or more at participating retailers, present their same day receipts and sign up to Chadstone First, can try their luck in winning a Chadstone Gift Card up to the value of $500.