JLL's latest Retail Centre Managers' Insights report shows strong supermarket sales supported surrounding retailers in neighbourhood centres, while apparel, travel centres and F&B contributed to store closures in sub-regional centres in the April/May period. 
JLL's latest Retail Centre Managers' Insights report, undertaken in July, shows the impacts of COVID-19 on retail trading conditions in the first six months of 2020 across approximately 300 of JLL's managed shopping centres.
The percentage of stores closed during the pandemic differed greatly across retail sub-sectors.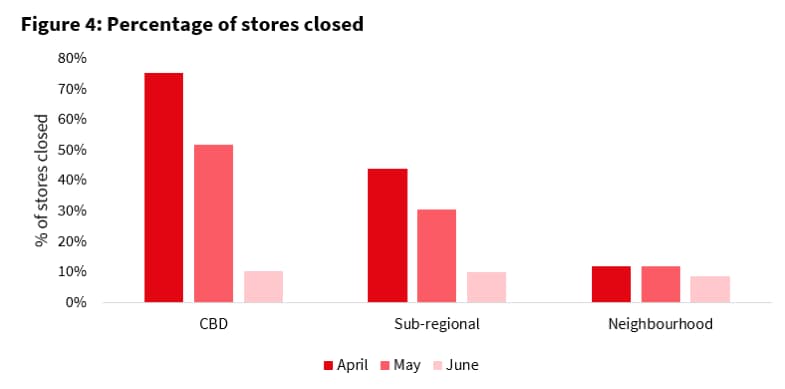 CBD assets were most notably affected, with an average of 75% of stores closed during April, and 52% closed in May. The number of closures reduced in June, as restrictions were lifted and a proportion of white collar workers returned to the CBD, with only 10% of stores closed. Anecdotally, while more CBD retail stores (excluding Melbourne) have since re-opened, in July and August, CBD retail sales remain subdued as office occupancy remains low and the lack of international tourism is weighing on spending.
Sub-regional centres (centres that are discount department store based e.g. Kmart, Target and Big W) also recorded a high proportion of stores closed during April (44%) and May (30%), followed by a vast improvement in June (10%). Apparel, travel centres and F&B contributed to the closures.
Store closures in neighbourhood centres (enclosed centres containing at least one supermarket and specialties) were comparatively low during the pandemic, as only 12% of stores were closed during April and May, with this number reducing to just 8% in June. Strong supermarket sales supported surrounding retailers in neighbourhood centres.
JLL's Head of Retail, Property & Asset Management – Australia, Tony Doherty said, "In all States and Territories other than Victoria, the vast majority of retailers have resumed trading. With stage 4 lockdown in Melbourne and stage 3 in country Victoria, some retail centres have up to 85% of retailers closed.
"The Shopping Centre Council of Australia (SCCA) estimates that there has been AUD 1.6 billion worth of direct financial support to retailers nationally during the pandemic. These waivers on rent have supported many retailers across JLL's national portfolio of 300 shopping centres.
"This rental assistance has alleviated some of the financial pressure experienced by retailers during the pandemic, but there remains a clear bifurcation in performance between discretionary and non-discretionary retailers. Neighbourhood centres have been a major beneficiary through COVID-19 restrictions, with many of the centres reporting resilient foot traffic and sales growth across our portfolio.
"Many discretionary-based retailers, including F&B, have pivoted their business models through this time, to adapt for click-and-collect and online orders to support and drive revenue," said Doherty.
Neighbourhood and Large Format Retail centres have been much more resilient, from a foot traffic, sales and rent collection perspective as these sub-sectors have benefited from the boost in sales of food and household goods.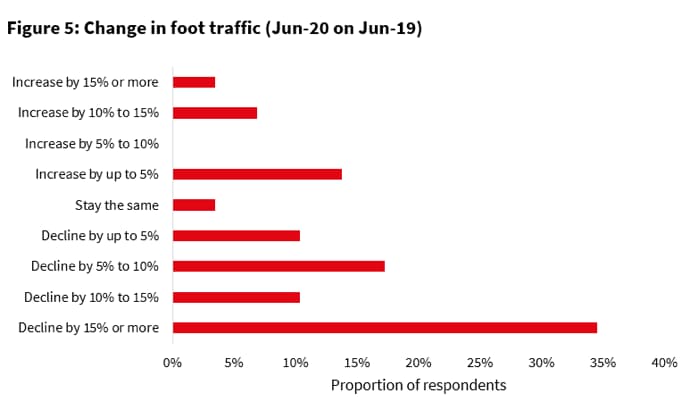 Changes in foot traffic – June 2019 to June 2020
 The JLL Survey showed 72% of respondents nationally recorded a decline in foot traffic in the month of June 2020, compared to June 2019. Over one third of Centre Managers reported a decline of 15% or more over this period, however it varied by state.
The 24% of survey respondents that reported an increase in foot traffic were for neighbourhood and sub-regional centres. No respondents managing CBD centres, including Melbourne, reported an uplift in foot traffic. As restrictions gradually lifted in the majority of states in June, consumer confidence improved (+6.4%), according to the Westpac Consumer Sentiment Survey, having a positive impact on foot traffic in many centres.
However, with the second wave of COVID-19 cases emerging in Victoria in mid-to-late June, consumer sentiment has fallen 9.8% over the last three months to August, and is now back in-line with GFC levels.
JLL's Senior Analyst, Retail Research, Georgia Mack said, "Retail spending has been extremely volatile during the pandemic. Monthly growth in March 2020 accelerated by 8.5%, coinciding with the commencement of grocery stock-piling in Australia. This was followed by a 17.7% decline in April, and a 16.9% increase in May – both the largest monthly decline and largest monthly increase ever recorded in the ABS time series (since April 1982). Monthly spending in June moderated to 2.7%, with y-o-y growth (currently 2.9%) well below the five year average of 4.1%.
"There remains a clear divergence in spending growth between discretionary and non-discretionary categories. Non-discretionary spend has accelerated sharply over the past few months, to +7.1% y-o-y (Jun-20). Meanwhile, spending in discretionary categories has notably declined, to -8.9% y-o-y (Jun-20). The fall in spending in the cafés, restaurants and takeaway category has weighed on the discretionary average, with growth in this category down 16.6% in June on the previous year," said Mack.
Tenant inquiry remains for F&B, with medical centres expected to be a focus going forward
Despite restrictions on dining in during the pandemic, 7% of survey respondents reported strong leasing demand in both of the food categories: takeaway food and beverage, and specialty food retailers. F&B leasing demand has driven tenant enquiry for the last four years. However, an increase in demand for medical and childcare tenants has been prevalent more recently, and is expected to be a focus going forward.
Vacancy has risen across all retail sub-sectors in the first six months of 2020, with neighbourhood and Large Format Retail remaining the most resilient. The JLL biannual vacancy survey to 30 June 2020 recorded the highest average vacancy rate (across CBD, regional, sub-regional and neighbourhood sub-sectors) in more than 20 years.