According to JLL's annual Australian Shopping Centre Investment Review and Outlook 2020, the retail sector will be a key focus for investors seeking to take advantage of the more attractive pricing and depth of opportunities available. There will be new opportunities presenting themselves and volume levels will be high.
The 2020 retail investment outlook points to active offshore investors, syndicators and opportunistic property funds management groups on the buy side, as major institutions selectively divest.
JLL's Joint Head of Retail Investments – Australia Jacob Swan said, "While retail investment volumes were light in the first half of 2019 ($1.8 billion), we saw a real change in momentum in the back half of the year ($4.5 billion) which saw 2H activity rise to the levels seen over the last five years.
"Institutional owners with large existing retail portfolios continue to revise their investment strategies and are likely to selectively divest assets in 2020. REITs are transitioning from a long term historical strategy of accumulating retail assets to a more selective approach to portfolio construction. There is also likely to be a growing shift towards the re-classification of sub-sectors (such as regional and sub-regional) which may have implications for valuations, performance benchmarks and the pricing of risk by investors," said Swan.
Deep pool of capital remains in 2020:
Joint Head of Retail Investments – Australia Sam Hatcher said, "A range of dynamic new capital sources are emerging to absorb these institutionally owned assets, driven by the opportunistic timing, attractive yields relative to core office/industrial and the longer term potential for re-development and re-positioning.
"A fragmentation of ownership will continue to occur in the retail sector as major owners become more selective towards the assets they retain in their portfolios and as new players build scale in the sector. Properties with strong underlying land value and long term future development potential are highly sought by investors. While there has been less liquidity for larger centres, there has been a consistently deep pool of capital for non-discretionary anchored centres and single-tenant retail assets", he said.
"Freestanding supermarkets and Bunnings Warehouses with strong covenants and long leases have continued to attract investor interest. In addition, retail assets in metropolitan areas with development potential remain highly sought after," said Hatcher.
Private investors expected to be active in 2020:
Hatcher said, "The fact that private investors were net buyers in 2019, for the first time after six consecutive years as net sellers, is significant. Private Investors were net buyers in 2008, 2009 and 2010 when asset pricing was attractive. Private capital is opportunistic and is acquiring assets to take advantage of the depth of opportunities available. Demand is also strong for core retail assets, particularly for neighbourhood shopping centres in metropolitan locations and for single-tenanted retail assets with long leases" .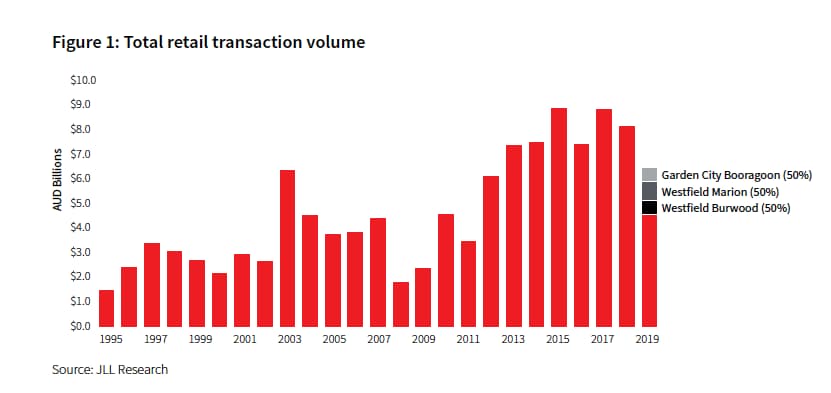 The year in review 2019:
• After a slow start for retail investment transactions in 2019, liquidity improved in the second half as more capital sources emerged to take advantage of more attractive pricing.
• It was the slowest first half in 2019 for retail investments since 2009. Sales in the first half were $1.8 billion, with activity for the second half of the year stronger at $4.5 billion. Transaction activity was at a seven year low in 2019 in value terms ($6.3 billion)
• Net buyers and sellers changed as a result of caution in the markets.
• The two major institutional categories, REITs and Unlisted Funds, turned from net buyers to net sellers in 2019. Private investors were net buyers in 2019 ($795 million) following six consecutive years of being net sellers.
• Regional centres accounted for the highest proportion of shopping centres sold over 2019 at 29% or $1.8 billion. Neighbourhood and sub-regional centres accounted for 21% (1.3 billion) and 17% ($1.1 billion) of total transactions respectively.
• New South Wales accounted for 33% of total sales by value in 2019. Victoria was the most active market by number of transactions in 2019 (39) but transactions by value fell to 19% from 32% in 2018.
• Offshore investor acquisitions were stable at approximately $1.4 billion – consistent with the previous two years. As a share of total transactions, offshore investors accounted for 22% in 2019, up from 18% in 2018.
JLL's Senior Director of Retail Research – Australia Andrew Quillfeldt said, "While there are limited signs of distress among major shopping centre owners, some groups are motivated to reduce their weighting/exposure to retail which will drive a steady supply of investment product. Fundamentals for shopping centres continue to evolve and buyers continue to price-in conservative assumptions. Nevertheless, recent major transactions show there is still capital available for large retail assets."
"The macro-economic drivers of retail spending suggest conditions for shopping centre fundamentals will remain largely unchanged in 2020 given the counterbalancing factors at present. Annual retail completions fell by around 27% in 2019 and have been trending lower on a per capita basis for most of the past 25 years, excluding single-tenanted large format retail. The 2020 to 2023 forecasts suggest per capita supply will be around half the historical average," said Quillfeldt.
JLL's Head of Retail, Property & Asset Management, Tony Doherty said, "Shopping centres are evolving to include new space users and sources of tenant demand. Social infrastructure such as childcare and health care are becoming more mainstream and will be a key growth opportunity for the sector. Competitive social operators are also slowly gaining traction as a new concept for shopping centres, with the introduction of technology-related businesses like esports and other experience-based retailers.
"Owners and shopping centre managers will be keenly exploring various strategies to backfill discount department stores spaces and the strategy will vary depending on the location of the centre, the demographics and the retail mix. Many shopping centre owners will be exploring development opportunities for alternate use as a way to maximise the value of their land and as the sector embraces its mixed-use future," said Doherty.