This week, as Melbourne heads into stage 4 lockdown, non-essential retail closes and supermarkets once again feel the brunt of panic-shoppers, Francis Loughran of Future Food examines how F&B has been holding up across the country as well as opportunities for the next phase in hospitality…
Change is good when it comes to food and hospitality planning. This is especially true since shopping centres have yet to fully participate in any F&B rebound so short-term food strategies must remain flexible and positive in order for sales to be maximised.
New opportunities must be harnessed in order to think differently and flexibly: A future-focus F&B strategy that can provide the necessary levels of rent under all circumstances.  Above all, we must never underestimate the importance of loyal diners and their spending power – the vital 'first movers' who create the magic and sales of shopping centre F&B and high streets.
Let's see how F&B has been holding up in each of the states and territories. Data for June from the ABS shows the collapse of cafés and restaurants, but the resilience of takeaway businesses.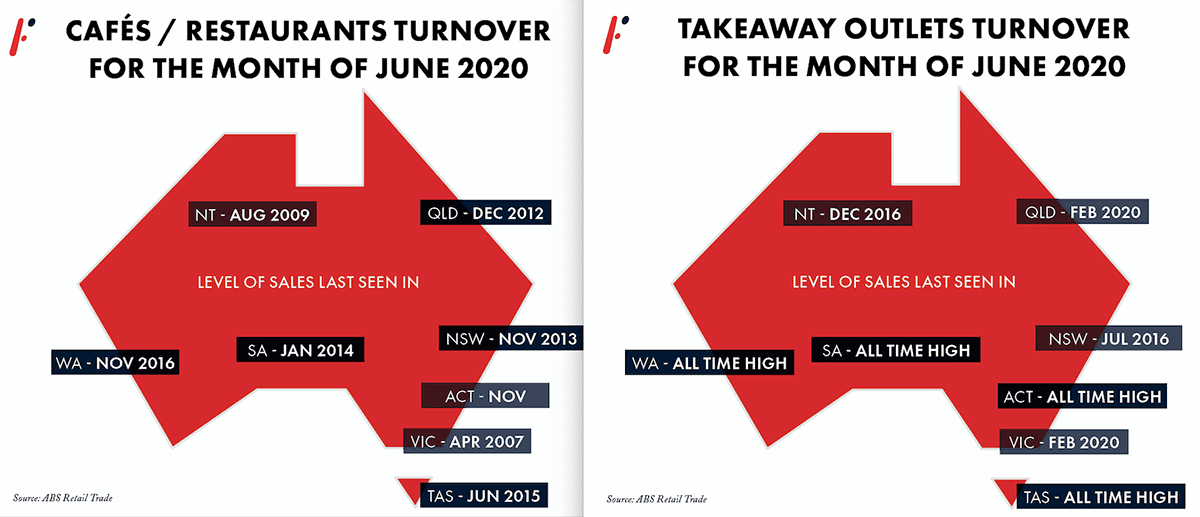 With the exception of NSW and the Northern Territory, all the other states/territories saw their takeaway businesses do significantly higher sales in June 2020 than for the same month last year. Four states recorded the highest level of takeaway sales ever in June, with two others having June as the second highest month of sales.
Not surprisingly, cafés and restaurants have suffered badly. In NSW, the last time a single month's sales were this low was in November 2013. For Queensland, it was December 2012.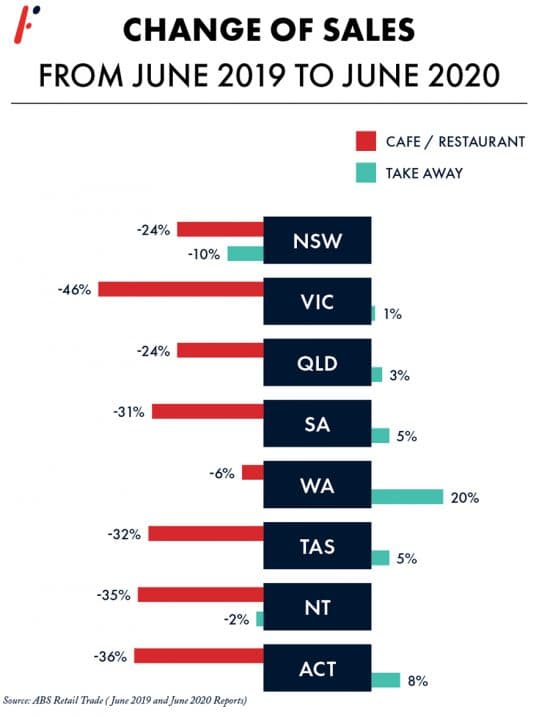 Shopping centres, unfortunately, have been hit with a double whammy. The cafés and restaurants that are at the heart of all of the new dining precincts have seen their customers and capacity decline dramatically. Secondly, most malls will not have seen their food court turnover in June be as strong as the overall market.
To secure the repeat business that will help drive rental income and asset values we need to think like our customers.
New opportunities arise every day in food and when they are clustered together as this is the recipe to create next-generation food projects. Each project and each shopping centre will benefit from a new approach to F&B strategy; one that looks at food and hospitality precincts as places that combine safety, comfort and experience; a food and hospitality destination with a real, sustainable point of difference and a food mix with wide-market appeal.
As a result, research your key customers and prepare the F&B ecosystem so that it provides a range of experiences that are highly appealing to those customers.
This may sound like pre-COVID advice, but it's not. The very nature and definition of hospitality means that it is a leading edge in propelling society forward into the next normal. The growth of F&B spending is a practice that has been building over the last two decades. F&B has been a leader in the experience economy, which is an acknowledgement that consumption in and of itself is neither sustainable nor fulfilling: F&B fills a distinct human need for both sustenance and sociability.
Evidence from the UK, which is generally ahead of Australia in a full opening of F&B, shows the roadmap and experiences that are blossoming in hospitality. The recently launched Eat Out to Help Out program is encouraging diners to get out and patronise venues. One diner in Soho, London said on a recent evening, "We're starting to feel a lot more comfortable going to places, and getting used to the social distancing measures in place. We prefer to sit outside so we chose to do that tonight…  but people are still going to be cautious and if they're not comfortable going out, they won't come."
As such, the nature of hospitality seen in the UK is dependent on visual boundaries that people can easily identify and respect. Jay Rayner, a UK restaurant critic, observes,"I've sat in a few dining rooms since the reopening and the necessary demands of social distancing can have uneasy impacts: you can be left…  mourning what we all have lost rather than celebrating the things we have regained." What he found was that with thoughtful placement of greenery and tables, the venue created an 'unforced intimacy' that felt like "a statement of intent: This is a relaxed room where nice things happen."
This experience in Britain shows, once again, that eating-out is one of life's pleasures that can't be experienced on-line; therefore, food and lifestyle destinations are enviously placed in the experience-economy.
Grace Dent from The Guardian wrote in a recent review that the restaurant "brims with a sense of largesse that I've not felt for months" and that the new regulations "are all smoothed over by good hospitality… This is why people come out to eat, despite everything".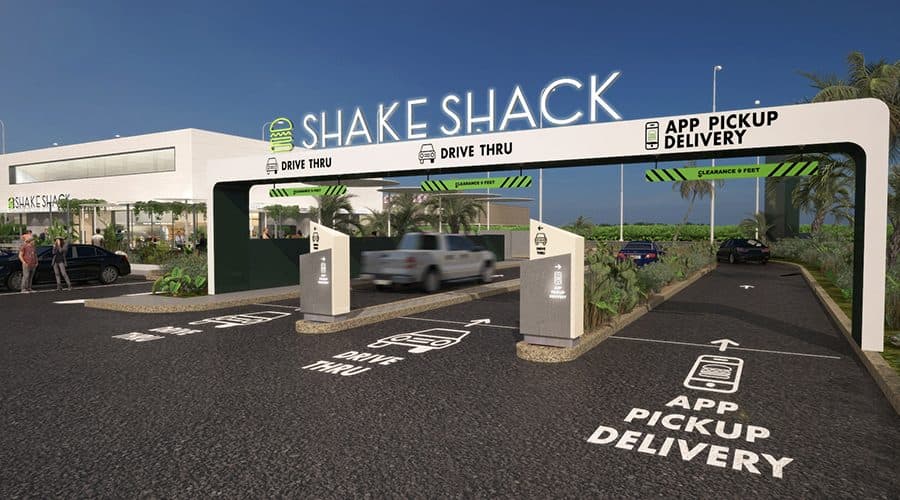 If developers want food and beverage to continue to be the engine room of their projects, they must remember that one size does not fit all because the changed environment demands that F&B operators be flexible. Therefore, if asset values are to be optimised, future F&B Strategies must incorporate a range of new components that have the power to adapt to changing circumstances in order to maximise customer appeal, drive foot traffic, attract the best food and beverage operators and optimise sales:
Next generation drive through and elevated pick up bays
Green hospitality
Increased local food operators
Dark kitchens
Maximised al fresco seating options
Flexible areas – dining & distancing
Lifestyle attributes – beautiful and hygienic spaces
Shorter term leases – seasonal cycles
Food and beverage production on site
Wellbeing and beyond
Experience-economy focused research
Community connectivity – Be Local
The above critical success factors, when they are strategically aligned with a food and beverage project's aims, will not only create a real point of difference, but will drive experience-economy foot traffic and repeat customers. In next week's edition, we not only examine the above strategic considerations, but we will consider the key drivers that owners and developers are working through at present to ensure food and hospitality remains a key asset category for retail centres.