Forest Hill Chase, a long standing shopping centre in east Melbourne is set to get a new multi-million dollar dining precinct. Leading national retail construction specialist Mainbrace has been awarded the contract to deliver a new top floor modern piazza-style dining precinct, while i2C Architects have been appointed to provide architectural services and expertise for the redevelopment.
The interior re-purposing project for the 151 Property, involves the installation of a new play area for children, an updated parents' room, a new glass lift, the refurbishment of existing amenities, a full services upgrade, new mall finishes, furniture and joinery, as well as the construction of 10 new food and entertainment tenancies and kiosks.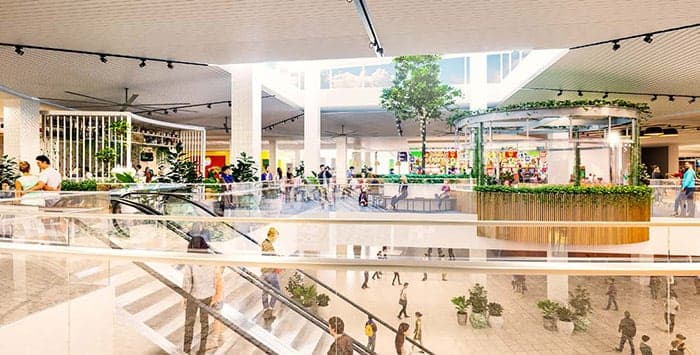 Work on the new precinct – to be known as The Loft – has commenced and is fast-tracked to complete in time for Christmas 2018 with controlled disruption to the centre. 
"Forest Hill Chase is a fixture in the east Melbourne community and we're proud to be involved in a project that will breathe new life into this much-loved regional shopping centre," Mainbrace VIC State Manager Michael Fague says. 
"We are progressing numerous redevelopment and interior re-purposing projects for high profile clients in Victoria and we remain focused on leveraging our national relationships with leading retailers and centre owners to build our portfolio further." 
The architects i2C have been appointed to provide architectural services and expertise for the redevelopment of the lively new dining precinct.
"It's an exciting project and pleasure contributing to the delivery of this impressive new community space. The design and layout of the dining precinct is a fresh take on a piazza style setting. The standard shopfront has been rearranged to enable tenancies to extend into the new mall and making better use of valuable retail space." said Martin Dubojski, Project Coordinator at i2C Architects.
Natural light from the existing barrel vault skylight on Level 3, will create an impressive feature as it penetrates through the new central louvred ceiling onto the mall below. The new curved floor will match the line of ceiling above while the adjacent section of floor overhanging void will house part of a new interactive kids play area.
"We are proud to be working with Mainbrace, Winim, MTDC and Dovetail on this milestone project to assist in the delivery of this customer focused dining precinct, amenities and parents room." said Dubojski.
Forest Hill Chase is a major regional shopping centre located in the eastern suburbs of Melbourne. Main tenancies include Target, Harris Scarfe, Coles and Safeway plus 180 specialty stores. It also boasts an outstanding selection of fresh food retailers. A significant drawcard is the Level 3 entertainment and dining precinct, a fully digital 6 plex Hoyts cinema complex, T.G.I. Fridays, Zone Bowling, M9 Laser Skirmish, Timezone, Fit N Fast and Rebel Sport. To make shopping unbeatably convenient, it offers 3,500 free car parking spaces, most of which are undercover.