Westfield Mt Druitt will unveil its $55 million rooftop dining, entertainment, and lifestyle precinct next month. Designed and curated specifically for the Western Sydney community, the redevelopment will take the centre's dining offering to the 'next level,' introducing 15 restaurants and a large-scale Timezone.
At 6,500m2 the new rooftop precinct will connect with the existing rooftop car park, adjacent to HOYTS cinema, creating an integrated indoor-outdoor experience for the community to enjoy. Locally commissioned artwork and street art will also create bursts of colour throughout the precinct.
"In listening to our customers and understanding what they want, we set out to create Western Sydney's new go-to rooftop dining and entertainment experience at Westfield Mt Druitt," said Scentre Group Regional Manager Centre Experience, Danii Ashton.
"The new rooftop precinct features a combination of new and much-loved favourites, including Timezone, The Sporting Globe and TGI Fridays and is perfectly suited for any social gathering – from birthday celebrations to dinner and a movie with friends. We're looking forward to celebrating its grand opening with our customers next month."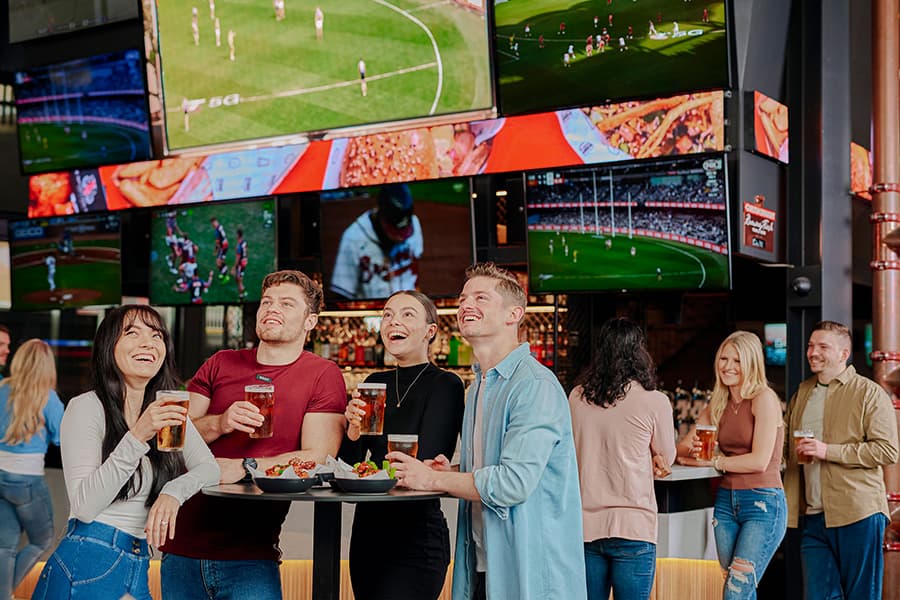 More than just a place to dine, Westfield Mt Druitt will be a true leisure destination where customers can come together with friends and family, from the day through to the evening, to see a film, enjoy a meal or simply relax in the sunshine. The space will be light and airy with comfortable dining spaces and weather protection, a place to be enjoyed all year round.
The next level line-up of new dining and entertainment experiences includes:
Timezone – Will feature over 75 of the latest and greatest arcade games, a Laser Tag arena, Spin Zone Bumper Cars tracks, bowling lanes, dedicated multi-purpose party rooms and a Winners Vault for prizes and redemptions.
The Sporting Globe – A place where fans, fanatics, friends, and families can gather and celebrate their passion for sport.
TGI Fridays – Serving up your favourite American dishes right off the grill, delicious handcrafted cocktails and every day feels like a Friday.
Enzo's Cucina – Known for its unique atmosphere and prides itself on being a family-run restaurant making homemade Italian food from the freshest ingredients, in a cosy, family-friendly environment.
Pappa Rich – Offering customers a taste of Malaysian culture and cuisine, whether through a plate of Nasi Lemak or a crunchy, buttery Roti Canai, all with a cup of Teh Tarik.
Slim's Quality Burgers – A contemporary-classic burger offering inspired by 50s and '60s Americana made only from the highest quality, locally sourced ingredients.
Pho Master – Savour Vietnamese food that will combine many elements of culinary traditions.
Lilong by Taste of Shanghai - Lilong brings you an authentic Shanghai community and street dining experience. It is all about lively, memorable round-the-table moments with friends and family.
ChaTime – Australia's newest and most innovative bubble tea outlet; their delicious selection of iced teas is shaking up the game.
Mad Mex - Offering fresh, gourmet, made-to-order Baja Mexican dishes combined with quick service, giving lovers of fresh Mexican fare a vibrant dine-in or take-away option.
Little Bangkok – Serving up authentic and fabulous Thai street food along with more elaborate and complex restaurant-style dishes; as well as new and exciting combinations that are a union of traditional and contemporary techniques.
Caffe and Co – All-day breakfast and brunch spot serving up classic breakfast and lunch cafe fare.
Baskin Robbins - The world's largest chain of ice cream specialty shops. Baskin-Robbins® creates and markets innovative, premium ice cream, specialty frozen desserts and beverages, providing quality and value to consumers.
Hero Sushi – Delicious sushi made fresh by Hero Sushi's talented team of chefs, trained by Japanese Sushi Chefs.
San Churro – A destination for friends to come together and share a sweet moment. Where every amigo is welcome to celebrate life, the Spanish way.
Pasha – The best quality of Turkish dishes, charming atmosphere, and truly unforgettable dining experience.