Vicinity Centres is no longer its past – its amalgamations, acquisitions, its morphing, even its previous names. Vicinity now stands as its own entity, fully bedded down, structured for its future expansion with a team totally committed to achieving its objectives. Vicinity controls some 66 centres with a value in excess of $26 billion – the second largest retail property portfolio in Australia – containing some of the most iconic retail properties in our major cities.
Most analysts, even those in our industry, would have to think hard if asked about the extent of Vicinity's portfolio. It's London to a brick they'd begin with Chadstone after that, they'd probably add QueensPlaza in Brisbane, perhaps The QVB, The Galeries and The Strand Arcade in Sydney; then Chatswood Chase, The Glen, and at that point they'd probably remember the DFO operations and quickly add Melbourne's Emporium and Myer Bourke Street.
If you named all of the above retail properties, you'd have listed way less than 20% of Vicinity's portfolio!
In its home state, Victoria, Vicinity Centres holds and manages some 21 retail properties; a further 14 are located in NSW, 13 in WA, another 12 in Queensland, four in South Australia, along with two in Tasmania. It's a total of some 66 centres with a value of $26 billion and the second largest retail portfolio in Australia.
It's rather pointless to look at the history of Vicinity because what it is today, has nothing to do with its past. Vicinity is simply an evolution of Australian retail property. In its past, there were many players, amalgamations, partnerships, structures, failures and successes.
Today, Vicinity simply stands alone as one of Australia's foremost retail property groups; a fully integrated asset management platform with $26 billion of retail assets under management. And it's an organisation braced for change; an organisation with eyes focused very firmly on the future.
Vicinity, under CEO and Managing Director, Grant Kelley, recently announced a new executive structure, "designed to accelerate its strategy to create a core portfolio of market-leading destinations, realise mixed-use opportunities and expand its wholesale funds platform". The key words here are "market-leading destinations" – in Vicinity's case, they come in spades!
Iconic holdings such as The QVB and The Strand Arcade are among the highest profile retail destinations in the country; they have historical, heritage and cultural values that can never be replicated and as long as people visit city centres, they will remain at the forefront on the 'must visit' list. But it goes further, combine those two with The Galeries, stretching between George and Pitt Streets, and what is striking is that Vicinity has a more than sizeable component of the whole of the central Sydney retail scene; and it's all prime. Remarkably, Sydney isn't an exception.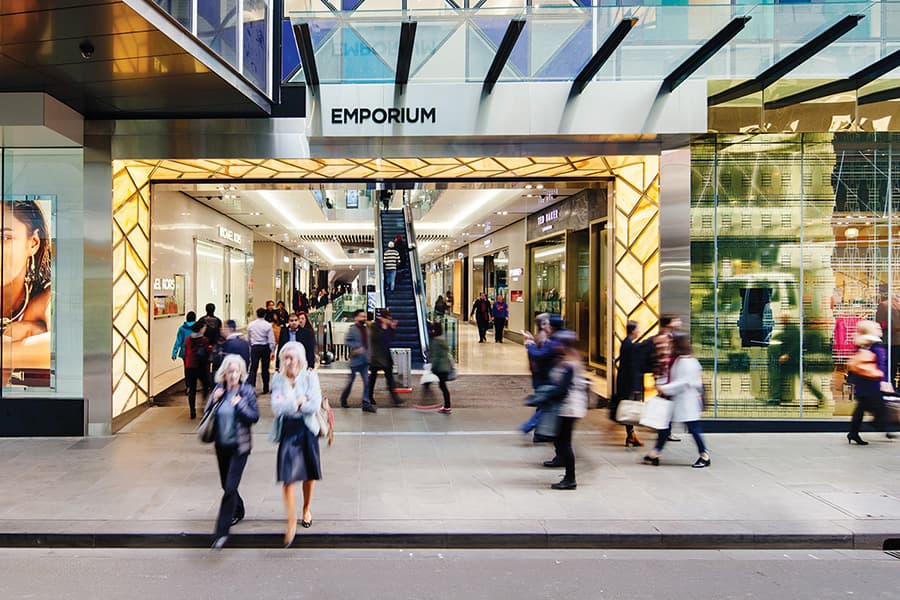 Move to Melbourne and Vicinity's holdings in the retail heart of Melbourne's city centre are simply outstanding. Myer Bourke Street and Emporium are at the very core of the Melbourne retail scene, acting as a catalyst for the rest of the city's shopping; a retail placenta as it were, with umbilical cords of other retail spreading out, yet ultimately feeding into the heart of it all. It's not just prime real estate; it's the undisputed epicentre of Melbourne's retail.
In Brisbane, the scene is not too different. Brisbane's city centre retail is focused on the Queen Street Mall with surrounding and intersecting streets forming a powerful retail heart. At the centre of it all is Vicinity's Myer Centre Brisbane. With major entrances from Queen Street, Myer Centre Brisbane spans the entire block to Elizabeth Street, with another major entrance dominating the corner of Albert and Elizabeth Streets. It's downtown Brisbane's major centre; a Big Gun with a GLA of some 63,000m2. As well as a full-line Myer store it houses a Coles Supermarket, Target, an Event Cinema complex, an extensive food and beverage component, along with a couple of hundred or so specialties; it's an integral part of the city's public infrastructure. Further down the mall, bounded by Edward Street, sits Vicinity's QueensPlaza, which has established itself as the high-end, luxury brand centre for Brisbane.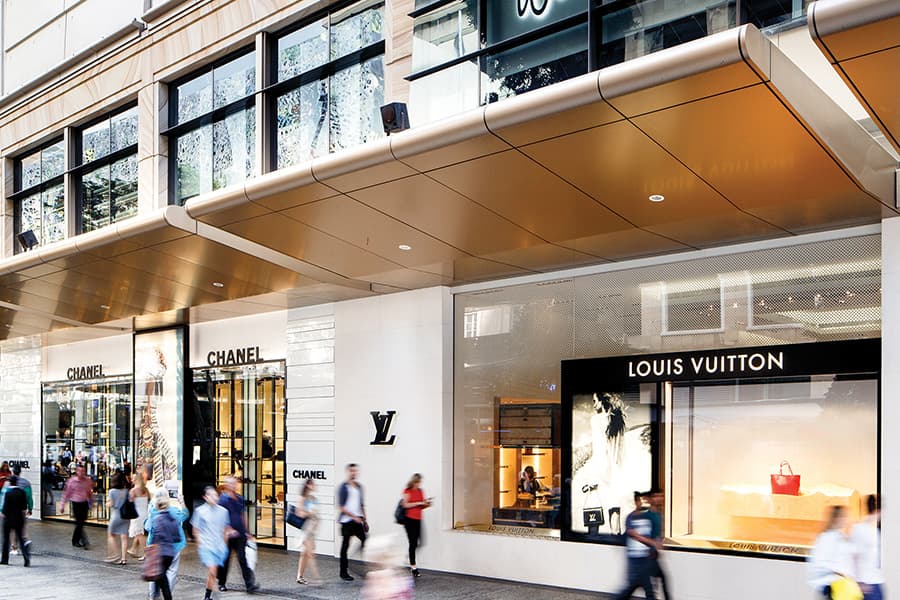 QueensPlaza houses David Jones's flagship Queensland store and the centre takes Brisbane's high ground when it comes to the luxury market. Here is Louis Vuitton, Chanel, Burberry, Bulgari, Salvatore Ferragamo, Tiffany and a new Dior store that opened in December, as well as the cream of upper end local merchandise.
So, in Australia's three major city centres, Vicinity's holdings are, to say the least, significant. This is not property that is merely valuable, it's property that ticks all the superlative boxes; it's iconic, landmark, prestigious; it's property that is inseparable from, and which reflects, the prosperity and commercial performance of the nation as a whole. That might sound a bit over the top, but it's not; it happens to be fact.
These are 'market-leading destinations', fundamentally because of their location and/or iconic status. However, 'market-leading destinations' are not always confined to prime, traditional and established geographical locations, they can be created; Vicinity is creating them.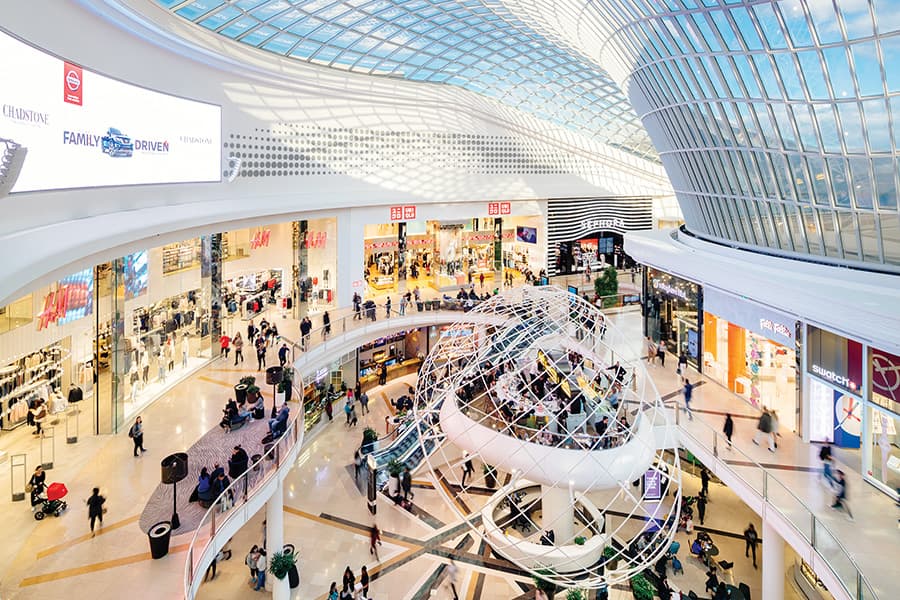 Chadstone is, of course, the standout example. When it first opened in 1960, Chadstone shopping centre was the first regional shopping centre in Australia, a retail hub, within a sprawling suburb on the outer limits of Melbourne. Co-owned by Vicinity and the Gandel Group, Chadstone is presently undergoing its 49th development; it's a prestigious, dominating centre visited by more than 23 million people each year, including some 450,000 international visitors, producing an MAT in excess of $2.0 billion. There's no doubt whatsoever about its validity as a 'market-leading destination'.
Is Chadstone the best shopping centre in the world? It's a subjective issue. Is the 'best' about MAT, ROI, size, prestige and visitor traffic?
Whatever the yardstick/s used, Chadstone will always rate in the world's top five centres; it holds that status because it never stops re-inventing itself, never stops expanding its market reach, it constantly caters to its market and potential market, and forever draws in new shoppers with new retail offerings, new lifestyle products and services.
Chadstone started out as a somewhat vanilla regional serving the suburbs of Melbourne's south-east. It expanded and over the years has become a (or more to the point the) textbook case for the successful development and management of shopping centres. As a 'shopping and leisure destination', it rivals the Melbourne city centre itself. Chadstone's luxury-brand component, for example, is more extensive, more up-to-date, and more comprehensive than the Melbourne city scene. However, not only is this luxury precinct more compact than the city, it's also easier to shop and more comfortable, with close adjacencies offering far more services, a variety of food options, along with a wider range of merchandise.
Chadstone's present redevelopment incorporates a 250-room luxury hotel to be managed by Accor's MGallery by Sofitel brand, opening late in 2019, which will be fully integrated with the centre to the extent that the link provided feeds right into the heart of the luxury precinct. It presents as an extension of the hotel's lobby; the design – both structural and interior – provides a seamless transition from the hotel to the centre.
Chadstone's General Manager, Fiona Mackenzie told SCN that commercial space at the centre accounted for an office population of some 2,500. Add to this the fact that Australia's largest university, Monash University, is located less than eight kilometres away, on the doorstep of the nearby Monash Health precinct and the fact that the Monash corridor employs 75,000 people, plus belief that the area is tipped for growth and you can see that Vicinity's hotel occupancy is likely to be solid.
It's obvious when you talk to Vicinity's people that the 'market leading destinations' strategy is far more than some clever PR line. From CEO Grant Kelley, right down to the marketing teams at centre level, the strategy is real, understood and practised. You can see its metamorphosis when you look at any of the projects in the current development pipeline.
Less than 10 kilometres east of Chadstone sits The Glen. Perfectly positioned in the heart of Melbourne's south-eastern suburbs, Glen Waverley has a highly affluent, diverse community with a strong Asian presence. It's a suburb with copious million dollar plus homes occupied by families with household incomes some 7% higher than the Melbourne average; people with a taste for the finer things in life who demand quality and choice.
The Glen, co-owned by Vicinity and Perron Group, is undergoing a five-stage redevelopment with a total project cost knocking on the door of half a billion dollars.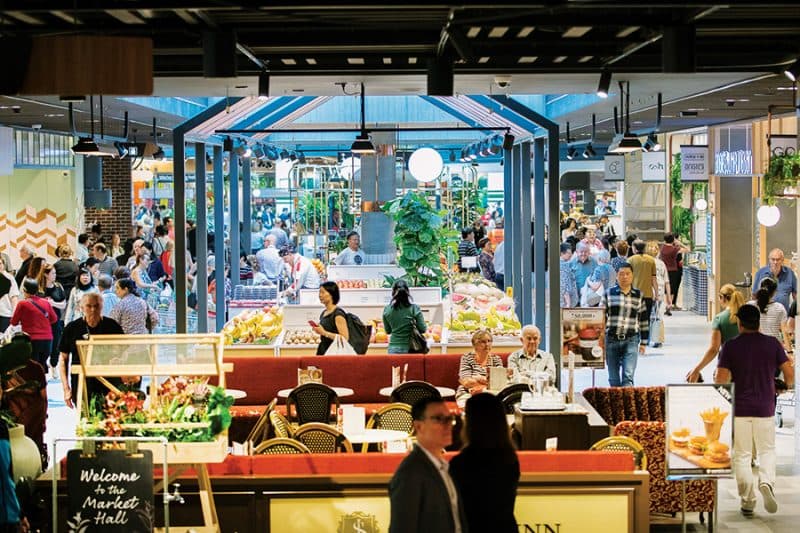 It's a total transformation of the centre which, upon completion, will feature a brand-new David Jones store, a new Food Gallery, a Fresh Food Market Hall and an extensive range of iconic brand merchandise expanding The Glen to a huge 78,000m2.
It's a centre with some 692,000 people, living within a 10km radius. The Trade Area retail spend at the time of completion (2020) is forecast at $4.22 billion coming from a community in which one in four household incomes are in excess of $130,000. Already, three of the five stages are completed, open and trading. The fresh food Market Hall is already an established favourite, boasting a new format Woolworths, Coles and ALDI and more than 60 specialty retailers. The Food Gallery opened last year, a classic internal design incorporating floor to ceiling windows with magnificent views towards the Dandenongs and Yarra Valley, featuring 16 casual dining restaurants and cafés.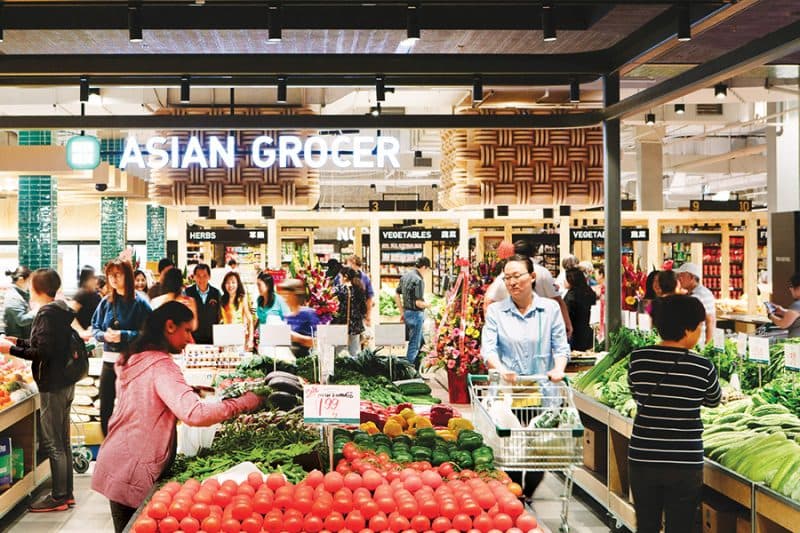 The latest Stage (3) opened in October last year with H&M taking a massive 2,500m2 store and Uniqlo opening 1,200m2. Stage 4 will see the launch of a new David Jones along with a premium fashion precinct and a new outdoor dining precinct featuring signature restaurants. Stage 5 is a mini major precinct. It's a centre described accurately as a 'market-leading destination'; the design has been inspired by the experience and ambience evoked by leading galleries and public spaces. Renowned Australian designer Suzie Stanford, illustrator James Gulliver Hancock and artist Carla McRae were each engaged to create large-scale permanent artworks in the new precinct.
The Glen is one of Vicinity's first forays into realising the mixed-use potential of these market-leading destinations, with the sale of the air rights to Golden Age for the development of apartments above the centre.
The Glen's trade area demographic, its strong Asian component, its affluence and privilege is mirrored in another of Vicinity's holdings, Chatswood Chase in Sydney. A proposed development of approximately 24,000m2 features plans to enhance customer convenience with improved car parking facilities and improved access in and around the centre.
At first glance, Vicinity's Box Hill in Melbourne might not seem to fit the bill as a market-leading destination; but dig deeper and a story unfolds. Box Hill is on track to become Melbourne's second CBD and already seven sites have been approved for 20 storeys or more. The buildings might not rival the taller structures in the Melbourne CBD but they will be the tallest outside the city. Two of the seven are already completed, the Australian Taxation Office building and the 36-storey Whitehorse Towers residential building. Two others are under construction; one of them 'Sky One' will be 123m tall. The council is considering a further four applications for buildings more than 20 storeys in height. The population of Box Hill is about to soar with some 4,000 new dwellings planned in the immediate future.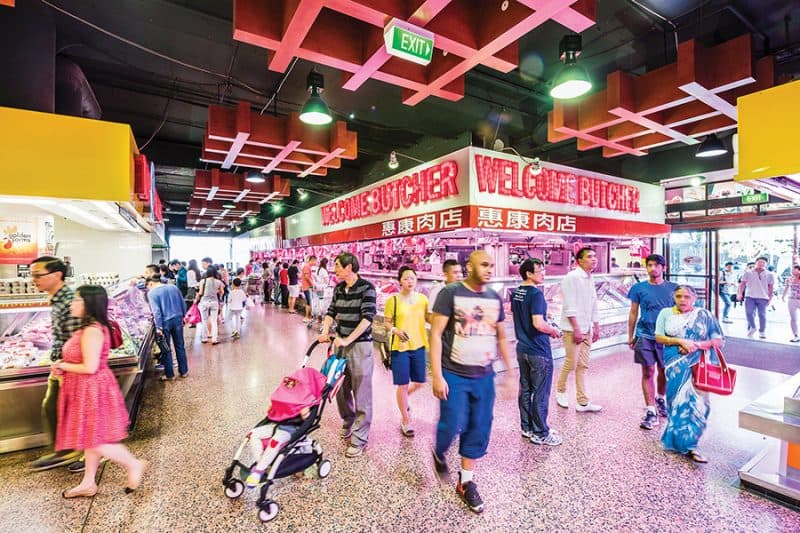 As it stands, the Box Hill CBD concept is the largest urban planning exercise being undertaken in the state of Victoria; the creation of a second CBD for Melbourne is well underway; the tower cranes are already dotting the skyline. In reality, Box Hill is returning to its former self. Prior to the 1950s, when it was absorbed into Melbourne as part of the eastward expansion of the metropolis, Box Hill was a large, independent city. It had its own municipality as the City of Box Hill and, as such, its own large and historic CBD. It's now a major transport hub for Melbourne's eastern suburbs, with a large railway station, bus and tram terminuses.
In the absolute heart of Box Hill, at the centre of the planned (and under construction) new high-rise precinct, are two shopping centres – Box Hill Central (north) and Box Hill Central (south). They are both sub-regional centres, one anchored by Big W and Woolworths, the other by Coles and a Harris Scarfe Department store. Vicinity owns and/or manages them both. Box Hill Central (south) is the larger of the two, sitting directly over the train station with direct access via escalators right into the heart of the centre.
At this stage, it's far too early to speculate on what plans Vicinity has for Box Hill. But it embraces two of the major planks of the company's strategy:
• Creating a portfolio of 'market-leading destinations' and
• Realising mixed-use opportunities.
You don't need to be Einstein to work out that Box Hill Central could become one of the largest developments in our industry in the near future.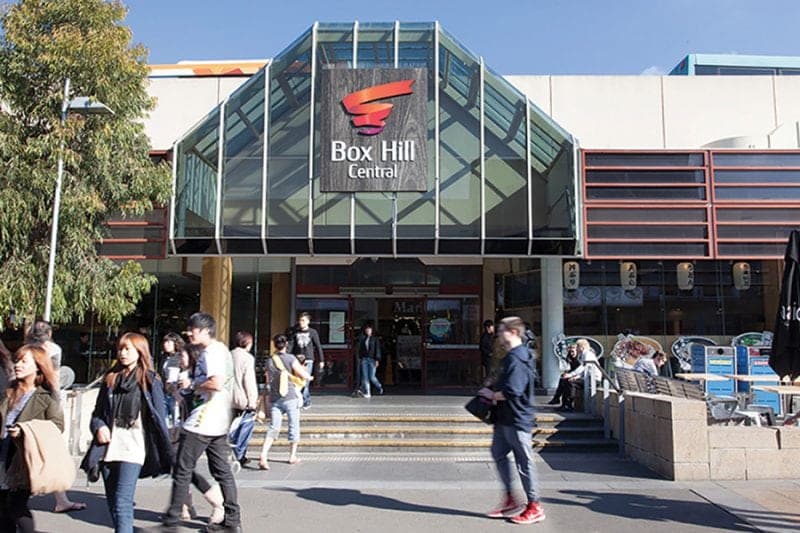 The creation of a second CBD in one of Australia's two major cities, backed by the authorities with a massive urban planning scheme is already under way, and the opportunity to partner with one of the country's leading property groups to develop the most strategic site in Box Hill – right over the railway station – is a long-term opportunity that doesn't often present itself.
The strategy of expanding the wholesale funds platform has already begun in earnest. Although with the group for just a year, new CEO, Grant Kelley, has already formed a joint venture with Keppel Capital, one of Asia's premier asset managers to manage a new wholesale property fund, Vicinity Keppel Australia Retail Fund, VKF, which is expected to launch with about $1.0 billion in assets from Vicinity's balance sheet.
This new wholesale fund will boost Vicinity's total strategic partnerships to some $12 billion of assets under management and increases both fund and asset management fees, with Vicinity providing all property management, leasing and development services.
Keppel Capital is a subsidiary of Keppel Corporation, listed on the Singapore Stock Exchange; it has some $29 billion worth of assets under management. Keppel has close relationships with many Asian institutional investors, many of whom it will introduce to the opportunities presented by VKF.
So the global interest in quality Australian retail properties is strong and it will remain so as our country grows. Retail sales may fluctuate at times, they always have and they always will; that is the nature of a consumer society. But the success or failure of a shopping centre is the result of many factors, only one of which is retail sales levels. Savvy global investors are aware of this and it's why the Australian regional and sub regional centre remains a jewel in the crown of any global property portfolio.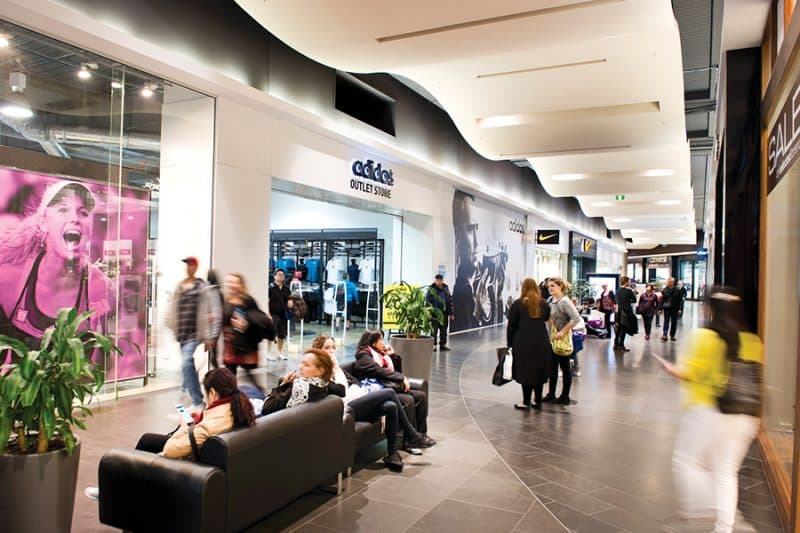 Move away from regional and sub-regional shopping centres and the sector with stunning growth in retail sales is one in which Vicinity leads the pack – premium outlets! Vicinity operates DFOs in NSW, Queensland, Western Australia and Victoria.
The latest DFO opened late last year in Perth – word was that sales in the first week exceeded expectations for the first month! Across the board, DFO sales last year grew by 5% over the previous. Sales in apparel have risen by more than 12% in the past two years.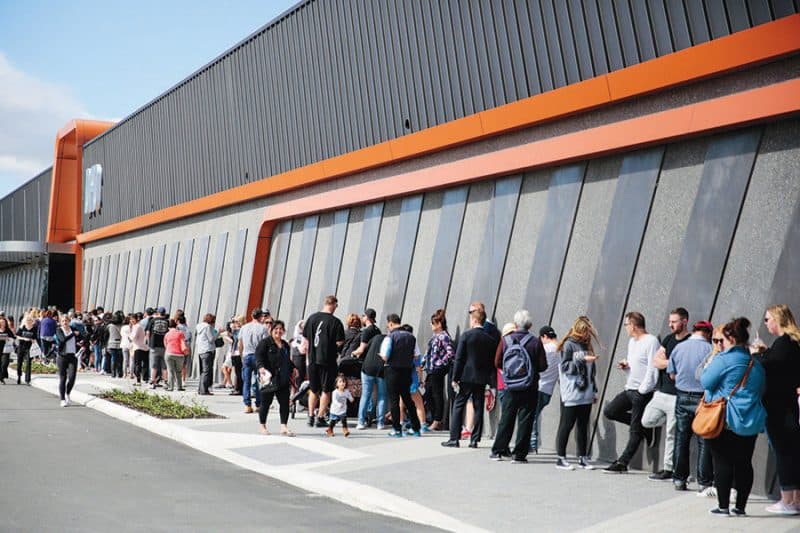 Visitor traffic across the portfolio in the 2017/18 year accounted for some 17 million, an increase of 40% on the figure at the time of Vicinity's acquisition of the brand eight years ago.
So in overview, it becomes obvious how the three major strategies – the creation of market-leading destinations, exploitation of mixed-use opportunities and the expansion of the wholesale funds platform, are inextricably linked. What unfolds at Box Hill, for example, in terms of the vision and scale of the project, will be determined by the expression and implementation of these strategies. It's just one project of course, yet if it emerges as the heart of a new CBD for Melbourne, a massive retail project above a major railway station with residential towers, commercial offices and even a hotel, then it's a 'lay-down misère' that the long-term global investors will want a piece of the action because, at that scale, it's certain to become a market-leading destination.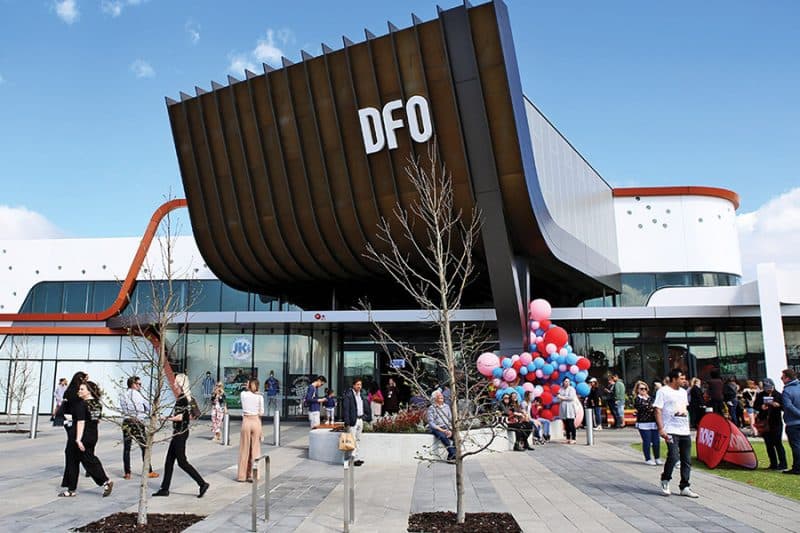 If we try to define 'market-leading destination', it's hard to improve on 'community focal point'. These centres are community focal points and the more powerful they become, the more community orientated they are and vice versa. As such, they are expressions of community needs, wants and values. And along that vein, it's impossible to conclude without reference to Vicinity's commitment to clean and sustainable energy.
Early last year, Vicinity launched Australia's largest investment in solar power for shopping centres, committing $28 million towards solar installations in five centres across SA and WA. Less than six months later, the company made a further investment – almost double that of the first – amounting to a total of some $73 million across 22 centres. It's a solar energy program, producing enough electricity to power 8,000 homes and equivalent to removing more than 28,000 cars from our roads.
According to Justin Mills, Vicinity's Chief Strategy Officer and Head of Shopping Centres, "the investment will generate clean and sustainable power for our centres, make a positive environmental impact and deliver shared value for our customers, retailers and investors".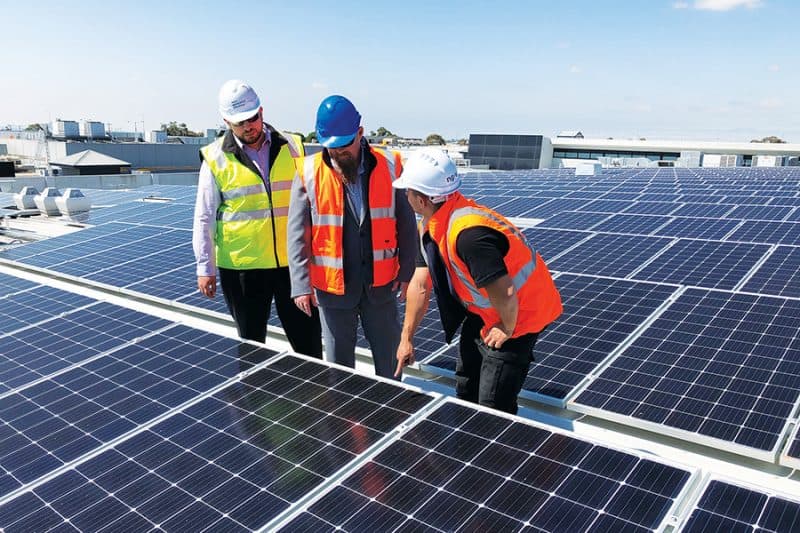 Solar panels will be installed on the rooftops of the centres and, at places like Elizabeth City Centre in Adelaide, across a series of car park shades – the Elizabeth installation will be the largest in Australia with more than 2,400 covered bays.
It's a further expression of community values that also reduces power costs to all centre stakeholders. As the largest (in our industry) investment in solar technology, it demonstrates the seriousness of Vicinity's commitment.
We spent a couple of days at Vicinity, talking to various senior people. Yes, they're all proud of the global flagship, Chadstone, but with strong CBD assets along the east coast, the industry-leading DFO portfolio and a significant development pipeline, including The Glen and Chatswood Chase Sydney, there is genuine excitement across the portfolio for what's ahead.