This article by Simon Van De Velde, Head of Retail Leasing and Acting Head of Property Management at Lendlease, forms part of a special CBD feature, first published in SCN's CBD Guns edition.  

With more than 60 years of international experience in building, developing and managing urban retail precincts and shopping centres, our position on CBD retailing is unequivocal: it's a vital component to creating the best cities.
Carefully curated Urban Retailing is essential to successful place-making in our cities. It contributes to the activation of urban precincts, attracting visitors, residents and workers around the clock, and helps to create purpose, align and unite stakeholders, and drive economic, environmental and social value. However, the impact of COVID-19 on our cities has been significant. The pandemic has not only created disruption to where and how we work, shop and socialise, but has also solidified the characteristics of the future consumer that were already emerging pre-COVID.
The future consumer will make choices on where to work and shop based on the precinct's alignment with their purpose and changing needs. This shift in market dynamics and customer behaviour has resulted in a new competitive context for retail, particularly in our CBDs.
To meet the evolved consumer demand and support encouragement of traffic back to the city, we have magnified our dual focus on convenience and experience. In addition, as the nation embraces the hybrid working model, we expect retailers will also adapt to match the new rhythm of our cities.
Experience in our cities
Our approach to urban retail goes beyond design, build and leasing. Through innovative ground plane curation, activation and direct engagement and support, we work to attract, partner with and retain the right retailers, supporting them to ensure they thrive.
Our retail experiences are carefully considered in relation to place, recognising all precincts are unique and require localised and site-specific responses. We work closely with business owners, architects and builders to establish retail ground plane urban planning and design principles that maximise diversity, sustainability and quality of the retail offering. This integrated design approach to street life brings together transport, public spaces and retail amenity.
While this approach stands strong, more than ever in our CBD precincts, we are looking to create high quality, sharable and memorable experiences that offer reasons for our communities to visit, stay longer, feel connected and return time and time again.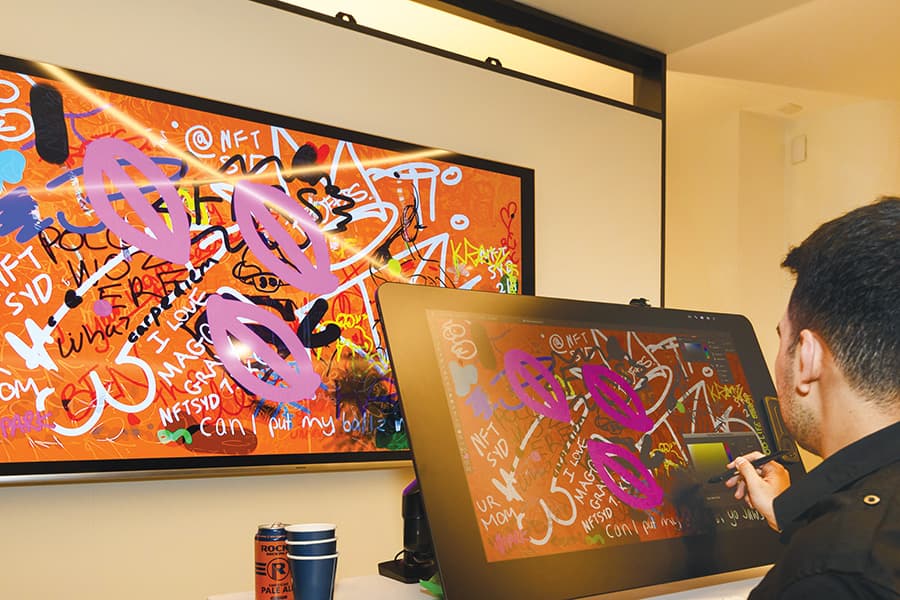 E.L.K Edge of Chaos
Post-pandemic, we are embracing the opportunity to trial concepts and explore new ways to partner with our retailers and engage new and existing customers.
Between 11 March – 1 April we hosted Sydney's first hybrid art and Non-Fungible Tokens (NFTs) exhibition at The Streets of Barangaroo.
Featuring award-winning stencil artist of global acclaim E.L.K (Luke Cornish) and NFTs The Kimmies, the exhibition spanned two floors of a landmark Barangaroo tenancy. The real-life artwork was also accompanied by a metaverse gallery that could be experienced through VR headsets within the exhibit.
The opening night, hosted by Gretel Killeen, attracted 400 attendees. The night included guest speaker the former Premier of NSW Bob Carr, entertainment from political satirist Dan Ilic and an unforgettable performance by the Sydney Philharmonic Youth Orchestra.
During the three-week exhibition, 2,000 general admission tickets were sold and 13 private and public events were held. Not only did this bring people into the precinct, but our longstanding local retailers also leveraged the opportunity by supporting the events at the venue with catering.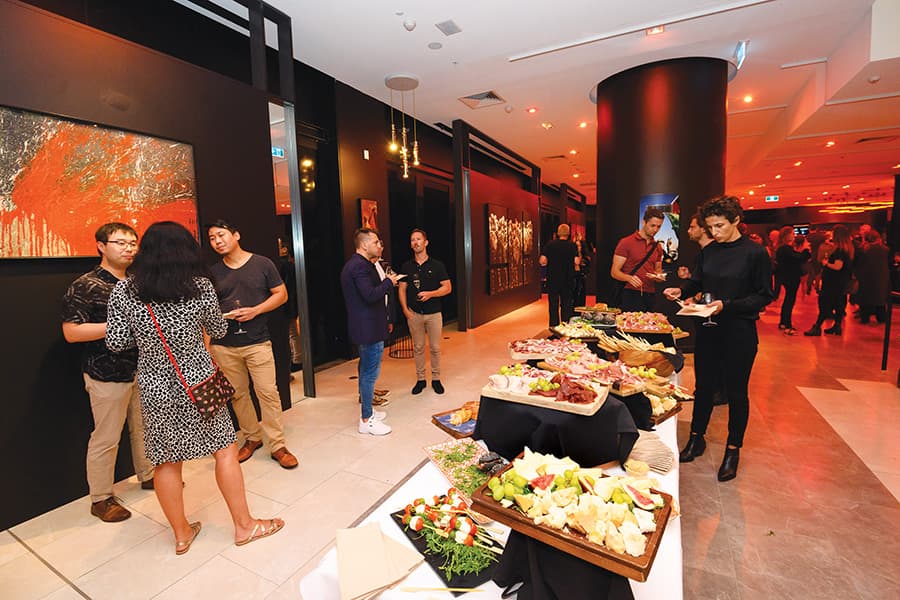 Up next, we look forward to transforming the space into a fully immersive experience opening in line with Vivid, Eternityland.
Hello Kitty Town
From January 29 – April 29, Darling Square was transformed into Hello Kitty Town. The immersive experience featured a larger-than-life Hello Kitty inflatable, outdoor art gallery with works from famous designers, illustrators and artists and more than 40 new retailer products for customers to try and buy in the precinct shops and restaurants.
With 20 retailers in the precinct jumping on board the activation, visitors could find everything from a variety of themed sweet treats through to savoury dishes, limited edition Hello Kitty Town t-shirts and even the opportunity to permanently mark their memory of Hello Kitty Town with exclusive flash tattoos.
Hello Kitty has a strong alignment to the Darling Square community and the extended activation resonated well with both young and older audiences.
The activation drove foot traffic, an increase in sales and received widespread local and international media coverage.
Partnering with one of the world's largest brands has proven to be a highly successful model, and one we look forward to exploring further across our precincts.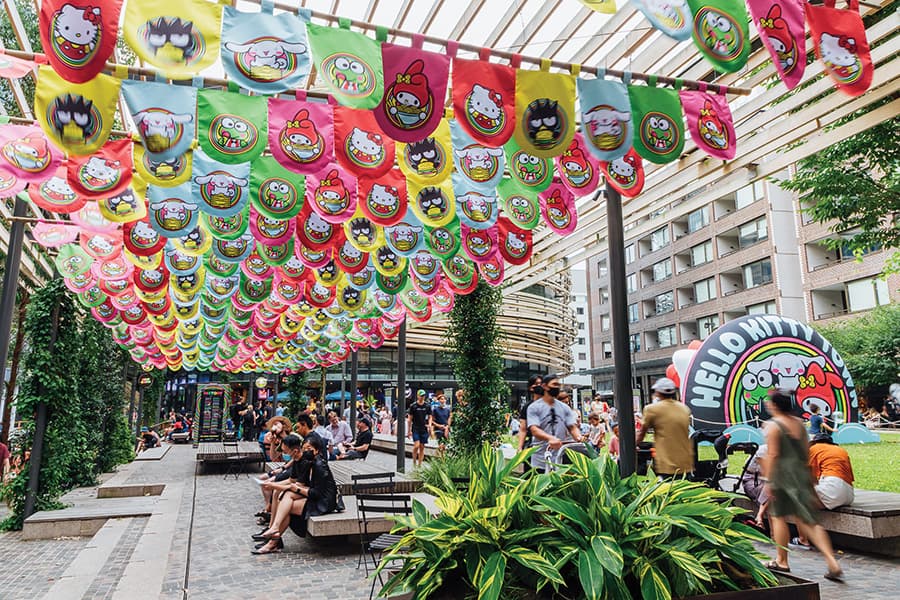 In with the new at Darling Quarter
With the redevelopment of Darling Quarter underway, we are already positioning the precinct as an inviting destination for workers, visitors and tourists to come and experience.
The revitalised Darling Quarter precinct will have a greater focus on great food and beautiful al fresco dining, taking advantage of its surrounding green space.
We are set to give Sydneysiders a taste of things to come as we host Sip & Savour on the Green from 27 May – 18 June.
Complete with street food vendors, the Bombay Sapphire House of Bombay Bar and a gazebo on the village green with fairy lights and hammocks, the event will provide visitors with the perfect space to meet, relax and grab a casual bite to eat as they visit the annual festival of light, Vivid Sydney.
CBD Retail
While our CBDs remain in recovery, our urban precincts are working together to emerge strongly. The partnerships we are creating – both locally with retailers and more broadly with government and brands – are allowing us to create experiences unlike any we've had before.
CBD retail remains vital to the life in our cities and we remain committed to providing welcoming, consumer-first destinations that consistently excite, surprise and delight.