It's unique – for a start, what other centre has a river flowing through it? Lendlease's Sunshine Plaza dominates the Sunshine Coast – the ninth most populous region in Australia. It's currently under a $420-million redevelopment which will see it emerge as one of the most sophisticated retail, entertainment and leisure centres in Australia.
It's extremely rare in Australia to find an established, well-defined, populous trade area with a deficiency in retail space. You can find growth areas, of course – new suburbs, expanding communities, 'suburban spreads' and the like – but these are few and far between and, in most cases, the development of a neighbourhood centre will satisfy demand. Not so on Queensland's Sunshine Coast; in terms of retail development, a unique set of circumstances applies.
In anyone's book, Sunshine Plaza is a phenomenal centre. For a start, it's the largest centre in Queensland north of Brisbane; its trading and performance figures speak for themselves. In terms of MAT/m2 it's Queensland's number 1 centre and, at $8,052/m2, the 15th highest performing centre in Australia.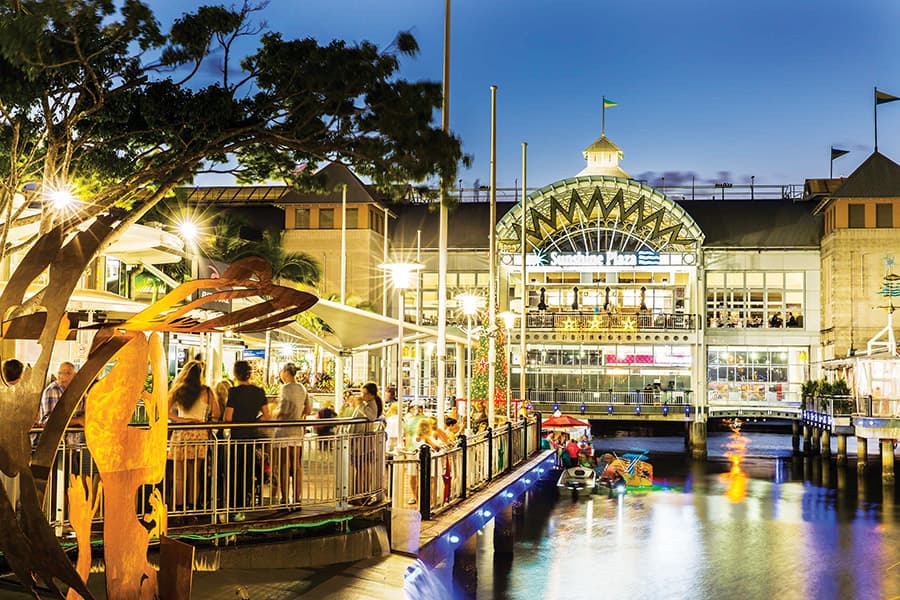 When it comes to specialty turnover, at $11,782/m2, in the state of Queensland it ranks number 2, behind only Westfield Chermside and, on that table, it's the 16th highest in Australia. Delve deeper into specific merchandise sales and Sunshine Plaza reaffirms its strength. Its average customer spend per visit is $54.12, 33% higher than the regional average benchmark; women's apparel sales are also 33% higher with over 80% of those stores trading above the Urbis average sales per square metre. But it's not all bells and whistles!
Sunshine Plaza was developed in the early 1990s, opening in 1994; at the time it was leading edge, revolutionary and somewhat unique. The site occupies land on both sides of Cornmeal Creek, an inlet off the Maroochydore River, and there are specialties and majors on both sides of the creek with several bridges spanning across the water. At the time of opening it was both spectacular and novel. Over a timespan of almost a quarter of a century to the present day, Sunshine Plaza has had several extensions and refurbishments but in the main, development work has been geared towards the provision of extra retail space to accommodate increasing demand as the city and the region expanded. Little has been done to change the form of the centre, its market presentation, or its reflection of the changing nature and style of both its market and the region as a whole.
Since Sunshine Plaza's opening, as we all know, most major regionals have undergone dramatic change in their overall presentation. Consumer habits, lifestyle changes, an increasing focus by the market on leisure, food and beverage consumption, entertainment and so on, have all changed the architectural form, the landscaping and embellishments of our centres, resulting in a totally different ambience to that of earlier days. In this transformation, Sunshine Plaza has languished somewhat, but that is about to change and the change, to say the least, is dramatic.
While most other major centres face major architectural and interior design challenges in transforming themselves, Sunshine Plaza has the distinct advantage of having significant natural elements within its confines. What other major centre has a river inlet – a live, functioning, natural waterway flowing through its heart? In addition, Sunshine Plaza's land holdings are enormous.
With some 20 hectares under ownership, forming one of the largest regional shopping centre sites in Australia, Lendlease has recognised the opportunity to create a truly iconic retail, entertainment and leisure centre that will continue to evolve into the future and, more specifically, grow as the surrounding market grows.
It is 'the market' that has totally determined Sunshine Plaza's current expansion and transformation. As Gary Horwitz, Lendlease's Head of Retail told SCN: "We have, as far as I'm concerned, undertaken one of the most extensive market research programmes for any centre redevelopment in Australia and we did it for several reasons. The Sunshine Coast no longer plays second fiddle to the Gold Coast – it's different, it's that simple. The Gold Coast is defined, established and developed with a very clear identity: it's the mass holiday destination with the theme parks, the rides, the mass tourism hotels, the boom-boom night life and so on. The Sunshine Coast is different; it's relaxed, more reserved, less 'full-on' – it's a choice, an alternative. It also provides variety. Caloundra is very different to Noosa and Mooloolaba is different to Coolum. The hinterland is another world, a lifestyle choice in close proximity to the coast.
"This is our market and we needed to understand exactly what our customer base wanted. We don't have a common profile for that base – there's no single uniformity in our trade area. It's a complex, very wide, 'all-encompassing' profile from our young family market through to our retirees, and the 'one size fits all' solution is not applicable here."
Horwitz gets passionate about this, perhaps as a result of his strong retail background. "We at Lendlease strive to make a positive difference to people's lives by providing unique, memorable experiences when they visit our centres. This 'customer first' approach drives loyalty and repeat visitation, providing our retailers with every opportunity to thrive."
It's a market and trade area to be envied, and one demanding to be satisfied!
Population-wise, the Sunshine Coast is expanding rapidly. About 10,000 new dwellings are forecast prior to 2022 – only 3-4 years after completion of the centre redevelopment – and 40,000 new dwellings are forecast between now and 2050. Trade-area resident population is presently stated at 390,800 (as at January 2017), forecasted to grow at a rate of 2% p.a. (compared to the national average of 1.3%) to 465,000 by 2026, and Sunshine Plaza is the one and only regional shopping centre.
In addition, latest figures (2016) show 9.7 million visitors to the Sunshine Coast – a 10% increase over the previous year which saw five cruise ships, operated by P&O, visit the Sunshine Coast (there are seven ships scheduled for 2018). Tourist retail spending on the Coast is forecast at just under $1 billion for this year.
This tourist spending of course, is very significant in terms of Sunshine Plaza's MAT. It's estimated that some 21% of centre sales are generated by tourists, and massive growth in this sector is forecast. The proposed extension of the Sunshine Coast Airport will enable direct flights from more destinations across Australia as well as Asia and the Western Pacific, enhancing national and global connections. The Chinese market is small right now, but it's started, and the pristine nature of this region will appeal to that sector; the airport expansion will no doubt see a massive increase in Chinese tourists.
The current retail market size for the Sunshine Coast is $5.3 billion with a forecasted annual growth of 5.2% adding some $3.1 billion by 2026; that's some $8.4 billion before the expiration of many of the new leases drafted for the current development!
But before we look at what the redevelopment will do to capture its share of this market, the more astute will want to know the one statistic that summarises the whole and gives the most relevant indication of the potential, and that of course is the figure for 'escape spending'.
Remember, Sunshine Plaza is the one and only regional shopping centre on the Sunshine Coast and the inland region, and the only Big Gun north of Brisbane, until you get to Rockhampton, some 533 kilometres away or a six-hour drive. It's obvious, therefore, that the majority of the Sunshine Coast's regional escape spending goes to Brisbane – it's a staggering $1.2 billion! The drive time from Maroochydore to Brisbane is around 1 hour 20 minutes (105 kilometres); from Noosa it's just under two hours (150 kilometres) and from the closest major point, Caloundra, drive time is an hour and a quarter covering some 95 kilometres. So, a massive $1.2 billion in retail expenditure is escaping the region, mostly by driving one and a quarter to two hours, to purchase what it can't get at Sunshine Plaza. Market research and customer feedback highlight a customer dissatisfaction with the limited range currently available, with mid-tier fashion the most nominated gap in the retail offer. All that is about to change!
As it stands, Sunshine Plaza incorporates a Myer department store, Kmart, Target, Coles and Woolworths supermarkets, and mini-majors Rebel, Best & Less, Toys R Us and The Good Guys. Entertainment options include a 12-screen BCC Cinema complex which trades 74% higher than the Lendlease portfolio average turnover of eight cinema complexes. The waterway setting along Cornmeal Creek boasts a waterfront Riverwalk dining precinct offering some 16 different dining options. There are some 225 specialty shops which include most of the national chains, the likes of Country Road to Sussan and everything in between; food chain stores run from Roll'd to McDonald's, Hungry Jacks and all the usual suspects; in summation, it's a typical Big Gun mix with very few exceptions, the most visible of which is an acute shortage of 'mid-tier' fashion.
The redevelopment will see Sunshine Plaza expand from its present 73,000m2 by almost 50% to 107,000m2, ranking it the 6th largest in Queensland, 20th largest in Australia.
The new Sunshine Plaza will see the addition of a David Jones and a Big W, thereby incorporating the 'total major scenario' in Australia.
In addition, a further 1,200 car spaces will be provided and the total complement, now consisting of some 4,800 spots, will be transformed to incorporate a state-of-the-art, ticketless, managed parking system, facilitating the regular turnover of car spaces and optimising customer visitation and sales.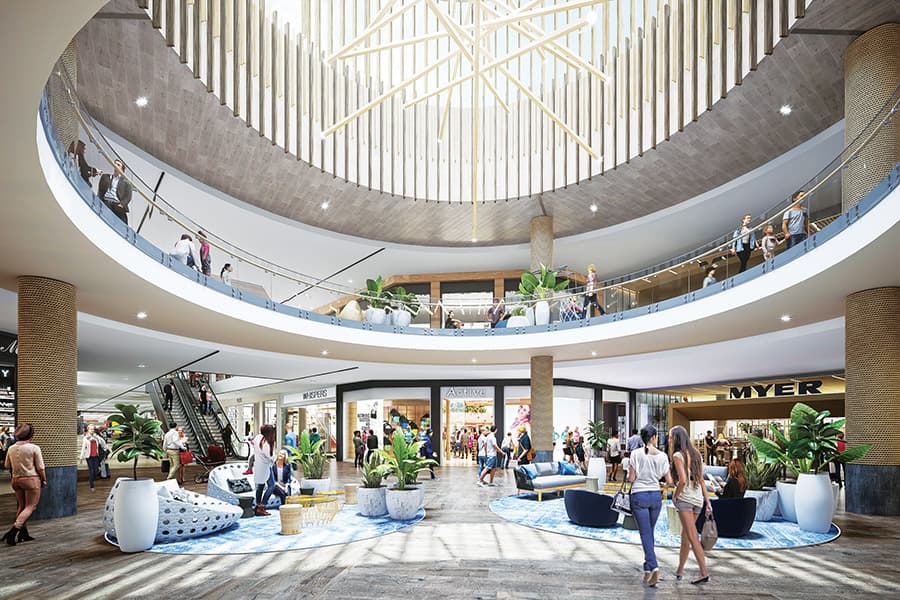 The transformation and redevelopment of Sunshine Plaza, the enormity of the project and its impact on the city of Maroochydore, all take it beyond the realm of a simple centre extension. The new Sunshine Plaza – its layout, its expanse, its huge indoor and outdoor components – can be more accurately described as being part of a massive urban renewal project for the city centre which will occur in tandem with other planned projects for this growing community. Current significant infrastructure plans include a major $2.1-billion redevelopment of the new Maroochydore CBD, next door to Sunshine Plaza. This CBD redevelopment is zoned for 124,500m2 of commercial offices, 65,000m2 retail and some 2,000 residential apartments; it will consolidate the administration of the region by relocating outlying Council offices in Nambour and Caloundra, bringing all departments under one roof in the new Maroochydore CBD.
In addition to this $2.1-billion project, a further $1.8 billion has been spent on the new Sunshine Coast University Public Hospital. If that's not enough, there is a planned expansion of the University of the Sunshine Coast as well as the aforementioned expansion of the Sunshine Coast Airport.
The retail extension is clever. It creates a brand new, two-level mall off the mid-point of the existing main mall (which links Myer with Coles). It's an impressive mall that will house over 100 specialties including large-format fashion, leading into the latest introduction, Big W.
This new mall runs alongside (in part) the existing boundary wall of the Myer store which, in turn, receives a total refurbishment. The new layout for Myer provides an additional major entry to the store on both levels, roughly at the mid-point of the new mall. It's off an impressive Centre Court spanning both levels: a stunning architectural feature at the centre of the new mall.
This new, iconic Centre Court connects both visually (from the upper level) and physically to the Cornmeal Promenade, enhancing the indoor/outdoor theme and the nautical, holiday feel of the centre as a whole.
It's a powerful addition: a brand new two-level mall emanating from the heart of the existing centre. On Ground level, it's anchored at one end by Big W with a new Myer entrance at its centre. The upper level sees a brand new, state-of- the-art David Jones (above Big W – see plans fig.1&2) and, as on the level below, a new Myer entrance at its mid-point. About an additional 100-plus specialties will be included, as well as mini-majors and new international brands.
It's a major move for David Jones; CEO David Thomas told SCN: "Queensland is an important market for us, and we are pleased to be opening our first store on the Sunshine Coast. This is a thriving and vibrant region with a discerning customer base made up of locals and a growing number of interstate and international visitors. We are excited to bring a world-class shopping experience to these customers and be part of the transformed Sunshine Plaza centre."
The new 8,000m2 store will offer an unrivalled mix of fashion, beauty, accessories and home with a product assortment curated specifically to suit the local customer, along with a range of premium services including Click & Collect and Personal Styling.
Leasing is well underway but, as usual, Lendlease is cautious when it comes to naming new tenants. However, when one looks at the numbers and the statistics, it's difficult to see why any major retail player wouldn't take space. With a trade area of some 400,000 now, climbing to 450,000 within a few years after opening, and being the only regional centre covering that market – the ninth most populous in Australia – the leasing exercise won't be a question of whether or not it can be fully leased, rather, it's a question of 'when the deals will be done'.
The new mall is stunning, with floor-to-ceiling shopfronts, circular and rectangular voids along its length, several huge courts with luxurious seating flanked by external mall seating outside cafes and restaurants, sections of glass roofing flooding in natural light, and the very best fixtures and embellishments including full-glass balustrades, natural timber handrails and some very distinctive column treatments.
The theme is 'coastal'; treatments show circular columns bound with smooth rope giving a nautical feel.
But it's the visual links and physical connections to the external elements of the centre that are distinctly unique. As you walk the new mall, Cornmeal Promenade is constantly in view via several exits and entrances, and it's this setting, this walk along the river, that sets Sunshine Plaza in a class of its own.
This is no 'architectural feature', some 'town square', or 'water attraction' that's been added to give the centre a point of difference. Cornmeal Creek doesn't belong to the centre; it doesn't belong to anyone. It's a live, active waterway, some 40 metres across – part of the natural landscape for thousands of years, long before the city of Maroochydore was even thought about. Sunshine Plaza's influence is confined to its banks either side, and this is an opportunity that the whole team, from design to project management to leasing, marketing and management, has seized with relish. And the result is nothing short of phenomenal!
To gain a true perspective, the Riverwalk and future Cornmeal Promenade should not be perceived as 'part of the centre'. Of course it is, but it's so much more. For a start, it's around a kilometre in length; walk it and the sensation is that you're in a precinct of the city rather than the central component of shopping centre. And that's how Sunshine Plaza presents itself, as a 'city precinct', or more accurately, as several city precincts, each with their own distinct identity and flavour.
Cornmeal Promenade – running alongside the full length of the new mall – will present as a stunning outdoor waterfront dining and leisure experience where customers can enjoy a range of restaurants, social and public spaces along a connected pedestrian pathway. It will incorporate new outdoor activity areas and a pedestrian bridge built across Cornmeal Creek, linking to the Woolworths Plaza Parade precinct and further enhancing customer access around the centre.
It's a feature totally embracing the character and personality of its trade-area population, brilliantly enunciated in Callison RTKL's holistic brand vision for the centre including Cornmeal Promenade: 'Home is my Holiday'.
The global architecture, planning and design firm led the creative design process for the centre expansion including the Cornmeal Promenade precinct.
Flanking two sides of the Woolworths supermarket is on-grade car parking, but on the other two, there is rich landscaping leading down to the water's edge. We are there on a Friday; a couple of families have spread rugs on the grass and are laying out food and drink for a picnic – and all this within the confines of a regional shopping centre! This 'natural' setting, the environmental protection, the featuring of the mangroves and other native species, are complemented by and fit in well with the boardwalk of the promenade which, in turn, provides the link to the built environment of the centre.
And that's not the half of it! Cornmeal Creek runs east-west, and the new mall sits on its northern side, incorporating on its external face the new Cornmeal Promenade, which will link directly with the existing external retail along the water's edge. Nearly a kilometre of external activity, restaurants, cafes, and alfresco seating along the entire length of the water's edge add up to a truly unique feature in the centre of the Sunshine Coast.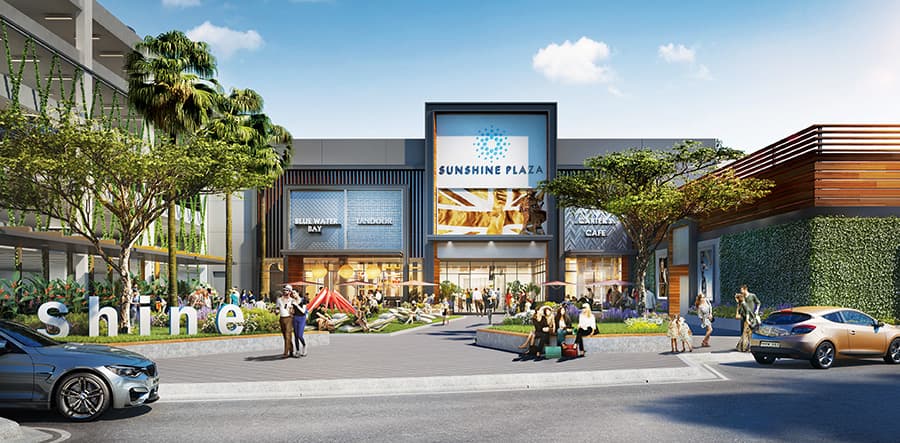 It's along Cornmeal Promenade and the southern side of Cornmeal Creek that the centre plans to open the first high ropes course in a retail centre in Australia – a massive series of aerial activities with around 150 challenges.
At tree-top height there will be high-level rope challenges from platform to platform, where fully equipped and safety-harnessed participants will journey across the series of courses which will be graded from green to black (beginner to daredevil). As we go to press, plans have been finalised and are presently under discussion with the authorities.
But no doubt the most exciting spectacle of all will be those zooming at centre rooftop height, across the creek on one of 10 ziplines to be constructed. These will span some 130 metres, stretching diagonally from the southern side of the creek to the northern side traversing a large section of Cornmeal Promenade en-route. Those bold enough will hang in specially equipped safety harnesses, launching themselves from tree-top height platforms to zoom across the creek, an attraction not just for Sunshine Plaza but for the city of Maroochydore and the Sunshine Coast itself.
The existing centre, riverfront retail and boardwalk will receive a major upgrade to fully integrate it with the new Riverwalk and redevelopment.
The description 'Retail, Leisure and Entertainment Centre' is often overused but at the redeveloped Sunshine Plaza, it's somewhat of an understatement. It's a massive total investment of $420 million in a redevelopment which will establish Sunshine Plaza as a major attraction on the Sunshine Coast.
What one experiences on a visit to the Sunshine Coast is that the line between residents and visitors (or tourists) is somewhat blurred. The atmosphere, the feel and the ambience at Caloundra, Mooloolaba, Coolum, Noosa et al, is very definitely one of 'holidaying, leisure, lifestyle'; it's the ocean, the coast, the beaches, or in the hinterland, the historic townships, the Glasshouse Mountains and the exotic tropical and subtropical landscapes.
People who live in this region embrace all that; it's part of their lifestyle and, when you observe a crowded alfresco dining area outside a restaurant or cafe, it's sometimes difficult to distinguish the tourists from the locals. Times, lifestyles, attitudes, spending patterns have all changed dramatically in the last quarter of a century since Sunshine Plaza was first developed. The region itself – the Sunshine Coast – in terms of its economy, population, built environment, and tourism component, is today unrecognisable from that earlier time. The population is different too; today they are well travelled, more aspirational and, more to the point, in retail terms, more affluent.
The size of the market for total apparel spending is close to half a billion dollars; at present Sunshine Plaza's apparel sales are $9,585/m2, some 26% above the industry benchmark. More specifically, women's apparel, at $9,000/m2 is 33% above the benchmark. The rapidly changing nature of the region can be no better demonstrated than by looking at the growth in mid-range fashion – the likes of Country Road, Lorna Jane, Witchery and Mimco. Overall, across Australia, this sector of the market has grown some 6% over the last four years; at Sunshine Plaza, the growth has been 15%!
It's a region that today, as distinct from yesteryear, has a very diverse population base with numerous and large pockets of affluence. 30% of Sunshine Plaza's customers have an estimated income over $65,000 – the Australian average is 20%, while the average household income is $90,000.
All this combines with an attendant shortage of retail shopping centre space. Gold Coast regional and sub-regional GLA per 1,000 residents is 1,092 square metres. Sydney metro, at 720m2, is close to Melbourne's at 767m2; the ACT is 937m2. The figure for Australia as a whole is 688m2. The figure for the Sunshine Coast is a dismal 435m2, which means that to bring it just to the national average needs an increase of some 58%! When viewing those numbers, it's obvious why the escape spending is so high.
Sunshine Plaza will begin to redress the imbalance; the market has changed and the new Sunshine Plaza will respond to that change. This is no 'add-on', no simple extension or even a 'major expansion'. This is a $420-million total redevelopment of the centre and, more significantly, part of the heart of Maroochydore itself.
Sunshine Plaza will become the 23rd centre in the country to exceed the 100,000m2 mark in terms of GLA. Five of those centres top the $1 billion mark in MAT, whilst a further three trade over $900 million. Sunshine Plaza, when this redevelopment is finalised, looks to be in that league. One statistic for this region is undisputed: growth. The Sunshine Coast is growing and the authorities are driving it, which is why the infrastructure programmes (including the airport expansion) are well beyond the planning stage. In SCN's view, Sunshine Plaza's MAT could well hit the $1 billion mark before the first five-year leases in the new mall are up for renewal!