Stockland Green Hills has transformed itself from the most powerful Little Gun in the country, into a super-prime regional and one of the major Big Gun centres in Australia.
It was a project of massive proportions – more than doubling the size of the centre – the country's largest redevelopment project of the year.
If you study the Trade Area of Stockland Green Hills and the retail supply chain within it, a somewhat startling fact emerges that most shopping centre experts in Australia would find difficult to believe.
Stockland Green Hills is located in the City of Maitland (NSW). It's a well-established, thriving city with roots stretching deep into the early history of Australia. In 1820, West Maitland was founded along with East Maitland and Morpeth, primarily as a result of their proximity to the Hunter River. In those early days, goods were unloaded here and distributed to the prosperous riverland region of the Hunter Valley. For almost 20 years, until the Victorian gold rush, Maitland was the second largest town in Australia. In 1945, the three separate municipalities were amalgamated to form the present day City of Maitland.
Today, the area thrives. The Hunter Valley is one of the nation's leading wine growing regions, with its semillon arguably the best in Australia. Other industries – coal, agriculture, tourism, manufacturing and healthcare – are all well-established and the region has a growth rate significantly higher than the national average.
At the heart of this prosperous region, Stockland Green Hills has a Primary and Secondary Trade Area population of some 120,000 with a Total Trade Area of about 250,000, which is predicted to grow to 280,000 by 2026.
The Total Trade Area retail expenditure is $3.67 billion with a forecasted growth rate of 4.7% between 2017 and 2021. The Primary Trade Area has an average household income of $94,257, significantly higher than the non-metro NSW average.
So, what is it that's difficult to believe?
It's a region, a huge and well-established total trade area, without a regional shopping centre; the nearest one is in the next city (Newcastle) some 45 minutes' drive away. There's no Big Gun!
It's a situation totally unique to the City of Maitland – there's not another case like it in the whole of Australia – you couldn't find a region or Trade Area with a population of 250,000 devoid of a Big Gun centre!
Of course, there's a de facto; we all know it as Stockland Green Hills, a 32,900m2 sub-regional that trades its proverbial off. Stockland Green Hills is undergoing change; it's about to drop its de facto status and emerge as a fully-fledged, super-prime regional.
Stockland Green Hills' performance is the stuff of legend. Go back about 13 years or so to 2004, and from then to the present day, we find that Stockland Green Hills in terms of MAT, MAT/m2 and Specialty MAT/m2, hasn't moved out of the top five for the whole of the period in any of the categories.
In terms of MAT, it's been either number two or three every year since 2004. On the MAT/m2 ladder, with the exception of only one year, for well over a decade Stockland Green Hills has occupied either the first, second or third spot. Move to Specialty MAT/m2 and it's even more impressive; every year since 2004 with only one exception, it's been ranked either first or second.
So, its credentials are unchallenged. With MAT/m2 sales at the $11,000 mark and Specialty MAT/m2 sales a staggering $14,262, Stockland Green Hills is the best performing sub-regional centre in Australia. But all that's 'old hat'. As we go to press, the new centre, Australia's latest Big Gun, has been unveiled. With only a few minor touch-ups left to complete, Stockland Green Hills, as the Trade Area's super-prime regional, is open and trading. The region now has a Big Gun.
So how has Stockland changed this Little Gun into a prime regional centre? For a start, its size has more than doubled. Formerly, Stockland Green Hills had a GLA of 32,900m2; it's now 74,000m2 – an increase of some 125%. However, the major story lies not only in the sheer size of the transformation but also in the impressive inclusions that make this a world-class development.
As a Little Gun, Stockland Green Hills was first and foremost a retail facility. Both major supermarkets – Coles and Woolworths – had full line stores; Big W and Best & Less were trading, alongside some 80 specialties. The centre thumped along; Big W and Woolworths ranked in their Top 10 nationally.
The specialties were among the highest trading in the country; at $14,262/m2 p.a. it ranked in the top five centres in Australia on any ladder – Big, Little or Mini Guns and the tenancy mix was powerful.
The Fashion component had the usual suspects – Dotti, Jacqui E, Lorna Jane, Portmans, Rockmans, Tarocash, Suzanne Grae, Just Jeans, Bras N Things and Millers, to name but a few. In the shoe business, Mathers were there as were Spendless, Athlete's Foot, Williams, Footlocker and so on. The national chain jewellers all had representation – Michael Hill, Prouds, Angus & Coote, Goldmark et al. The banks, services and mini-majors were there in force. It was a full mix and the vacancy factor, understandably, was zero.
So, there it was. A great centre with all (or nearly all) of the 'essential' retail components, but little or no room for anything else. At this point, let's explore why the centre had not been extended earlier. Prior to the GFC in 2008, the expansion of Stockland Green Hills had been planned. The GFC postponed it and, when the dust had settled a few years later, plans to include a Myer Store had driven the design concepts.
By 2013, it became clear that Myer was not an option so the focus shifted and, by then, other considerations had emerged. After the GFC, the Big Gun component of our industry in relation to retail planning changed significantly. New players in the form of international brand retailers entered the market; new mini-majors emerged, traditional shop sizes and retail formats were transitioning, giving way to larger spaces, two-level stores and new shopfront presentations. But perhaps the most dramatic change occurred in the 'lifestyle, leisure and entertainment' component.
The delay in re-developing Stockland Green Hills produced a somewhat serendipitous effect; had it been done earlier, it's unlikely that it would have met the demands of the current 'Big Gun customer'. The focus on the entertainment and leisure component in Big Gun centres took several massive leaps during the decade following the GFC to the present time. Stockland Green Hills has harnessed that trend with the result that the trade area population now has a centre as advanced as any in the country.
Retail wise, the centre has moved up a notch or two, now catering to a wider market including the more affluent, fashion conscious, as well as the trendy, younger shopper. David Jones has opened its very latest 6,225m2, single-level store; the specialty component has been expanded to include Sportsgirl, a brand-new City Beach, Tigerlily and a host of others.
At ground level, the revamped east-west mall, anchored by Best & Less at the eastern end, has now been extended and boasts a powerhouse retail component at the western end. A new Harris Scarfe department store sits adjacent to the new concept JB Hi-Fi Home and the latest H&M, a two-level massive outlet that takes centre stage (which opened May 17).
It's a long mall with a sophisticated presentation including distinctive timber strips that form the ceiling in parts, a terrazzo floor of coloured blocks, full-height shopfronts with smart, crisp kiosks as well as inviting seating in several resting places along the run.
The upper level mall is anchored by David Jones at the western end and the new format Target at the eastern, is classy, stylish and super smart. New additions Mecca Cosmetics, Gazman, Tigerlily, Decjuba, Midas, Collette Hayman and Ozmosis join the ranks and the Harry Hartog bookstore at the eastern end is outstanding. It's a long, wide mall with classy floor to ceiling shopfronts and stunning finishes. This is no 'country town' centre; you could pick it up and place it the middle of Sydney or Melbourne and it would complement any retail scene.
But where Stockland Green Hills comes into its own – where it really stands apart and makes the statement that it is the epicentre of the community and its gathering place – is the new Entertainment and Leisure Precinct.
This is not just a transformation of a shopping centre; it's an extension of the lifestyle options for the total community. Maitland and its surrounds have been there almost as long as modern Australia itself and, although it's a progressive community, its built environment hasn't experienced the dramatic changes that other major cities have in recent times; especially in the areas of entertainment and leisure.
Maitland has grown, but that growth has occurred along somewhat traditional lines. Of course, it has restaurants, bars, cafes (and in the surrounding region, some of the finest in Australia), but the city centre itself hasn't established a concentrated, all-encompassing leisure and entertainment hub. In most places in Australia where Big Guns dominate the retail scene, the shopping centre is the community focal point, so it follows that the major shopping centre provides and incorporates outstanding entertainment and leisure facilities. But that didn't happen in Maitland; Stockland Green Hills dominated the retail scene but the centre, being only a sub-regional, didn't have the capacity for the extended role.
All that has now changed for the better.
A few shops down from the David Jones entry court, another mall branches off. The leasing and retail planning is clever here because the corner belongs to the stunning Mecca Cosmetic store, a fabulous and most welcome addition to the Maitland retail scene. And further down this mall is the mini major City Beach with a wonderfully presented operation. The mall leads to the western section of a massive open garden, richly landscaped and packed with architectural design features. It's a huge open area fed by another mall at its eastern end, as well as offering a direct entrance from the perimeter road.
This massive gardened area is flanked entirely by retail, leisure and entertainment usages. The usual basic food operations – McDonald's, KFC and the like – are now joined by the new restaurants and they've pulled in some very hot favourites including Guzman Y Gomez, Oliver Brown, a great Thai restaurant, Indian, Kebabs and a huge TGIF. From fast food outlets to smart restaurants, to cafes, dessert bars, sushi outlets, cakes and delicacies, there's something special on offer to satisfy and tempt most palates. It's an indoor/outdoor casual dining precinct with some 550 seats in the inside Food Court and a further 1,150 spread throughout the garden and in the restaurants, giving a total capacity of some 1,700 seats.
The new area is spectacularly lit with some very sophisticated LED lighting emanating from under the surface of circular tree-like shade structures. They've even incorporated spectacular 'hologram effect' feature lighting displays to provide animated shows at various times throughout the year.
And of course, it's not just about food and beverage. This huge precinct, accessed directly from the road via a major entry statement, will operate well outside normal retail trading hours. Accessed directly off this major garden court area is a massive Timezone along with a huge EB Games/Zing Pop Culture outlet and the ever popular Chipmunks Play Centre is scheduled to open later this year. In addition, amusement outlets and some quirky retail stores are available and the precinct will be topped off with a brand-new Cinema complex opening June this year.
It's the very latest cinematic experience from HOYTS; a 900-seat cinema complex featuring powered recliner seats, two Xtremescreens with Dolby Atmos surround sound. Featuring the HOYTS LUX experience – watch a movie while enjoying gourmet food and wine from the 'in-cinema' dining service. Damian Keogh, HOYTS Group CEO says the complex will create a new cinema experience for the region, focusing on quality, atmosphere and comfort.
So, Stockland Green Hills has emerged as the nation's latest Big Gun; nothing has been spared in the $414 million redevelopment – the largest shopping centre project this year in Australia.
Car parking has been more than doubled, from 1,600 to more than 3,100 spaces, incorporating a fully integrated 'park assist' management system. Upgrades to the surrounding road networks have also been undertaken, including two intersections on the New England Highway and traffic light intersections into the centre. A brand-new Dan Murphy's outlet has been developed on a stand-alone site near the major entrance to the Entertainment and Leisure Precinct.
But this development is far more than just another Big Gun. What this project is fundamentally all about is a massive exercise in urban planning. Stockland Green Hills is no longer a box with retail inside. It's now a major retail, lifestyle, leisure and entertainment city precinct, located just off the New England Highway in East Maitland, catering to a trade area population in excess of some 250,000 people and serving as the community focal point for the entire Hunter Region. It will also undoubtedly attract a significant portion of the tourist trade, ever present in the region.
It's a redevelopment for which the city has been a long time waiting. The politicians were out in force at the opening and John Schroder, Stockland Group Executive and CEO said the cooperation between his company and the authorities has been outstanding.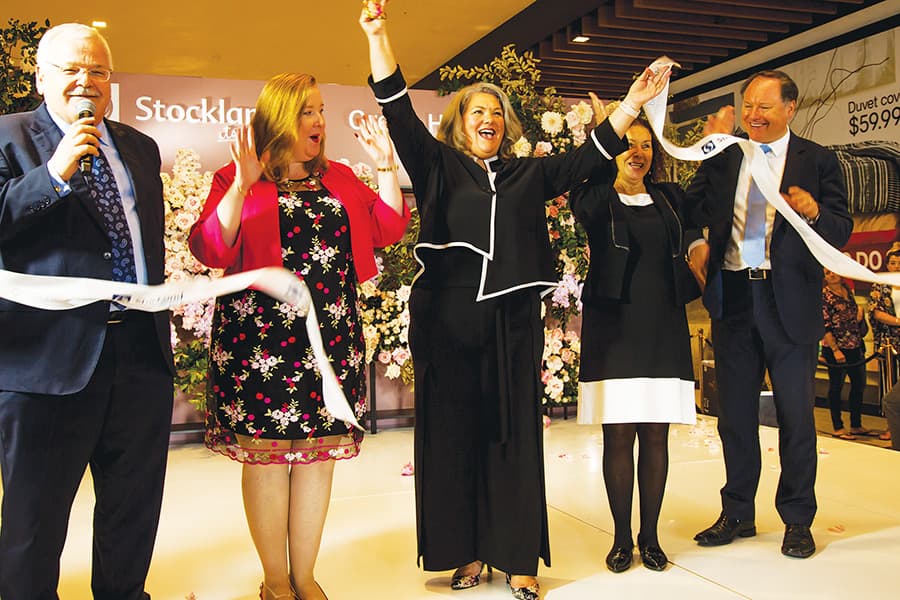 In a city like Maitland and the surrounding region, it's easy to see why these huge Big Gun Centres are the target of the most powerful global investment funds. They don't just provide for the retail needs of their trade areas but also become the community focal points of the regions in which they sit.
They are reflections of the population as a whole; their retail spending habits, their lifestyles, their leisure and entertainment pursuits, even their aspirations. In fact, they are so inextricably linked with the region and its commercial prosperity, so much a part of the community infrastructure, that they are representative of the economic health of the nation state.
As such, they transcend from the realm of simple property development and become a long-term investment in the community itself. Stockland Green Hills will fail therefore if the Hunter Region and the City of Maitland fail; they will fail if Australia fails. It looks like Stockland is on a pretty safe bet!
Solar Program
The redevelopment includes the installation of some 5,480 solar panels covering a roof area of more than 27,000m2. It's a system that will generate approximately 2,770,000kWh of renewable energy per year – enough to power some 300 homes – and will be operable around the end of May.
It's a partnership with Todae Solar and the installation, the second with Stockland, forms part of Australia's largest ever retail property solar program. Stockland has committed to a $23.5 million national investment in solar energy and is currently installing more than 39,000 Photo Voltaic (PV) panels – comparable in size to more than nine rugby fields – across ten retail centres throughout the country.
At Stockland Green Hills, the company is investing in charging facilities for electric vehicles, including two Tesla Destination chargers and two Chargepoint charging stations, which will be located in the car park, available for free use for customers.
A vast expanse of open and covered space, richly landscaped, forms the centrepiece of the entertainment and leisure precinct