This article by Chewy Chang, Sustainability Manager, Investment Management at Lendlease, forms part of a special sustainability feature, which was first published in SCN's – September/October Mini Guns edition. Premium subscribers can view the full digital magazine here.



Climate change and society's response are now recognised as foundational drivers of risk and opportunity within the global economy. Sustainability has always been a priority for Lendlease. We have a long and proud history of leading the evolution of the built form to be more sustainable with numerous sustainability firsts, because it's both the right thing to do, as well as the smart thing to do.
In 2021, Lendlease launched 'Mission Zero', which outlines our commitment to reach net zero carbon by 2025 and absolute zero carbon by 2040. Lendlease has also committed to creating $250 million of social value by 2025.
With more than 50 years' expertise in retail, we deliver high-quality customer experiences underpinned by community engagement, health and wellbeing and environmental sustainability initiatives.
Taking the lead environmentally
Our commitment to sustainability has been consistently recognised in benchmarks such as GRESB, which in 2020 placed Lendlease's three retail funds in the top three positions in the Australian and New Zealand retail sector peer group.
Climate change will not just impact our physical assets, it will also affect our communities and especially the most vulnerable within them. 
By creating places that are resilient to the impacts of future climate change, we are enabling the communities that use them to be resilient as well.
As part of Sunshine Plaza's redevelopment, in line with our goal to decarbonise, we installed a 2,700-panel, 1.1MW solar photovoltaic energy system. In FY21, this generated 1,762MWh of electricity – the equivalent to powering more than 300 homes on the Sunshine Coast – and avoided over 1,400 tonnes of carbon emissions, equivalent to the total carbon emissions emitted from 370 cars.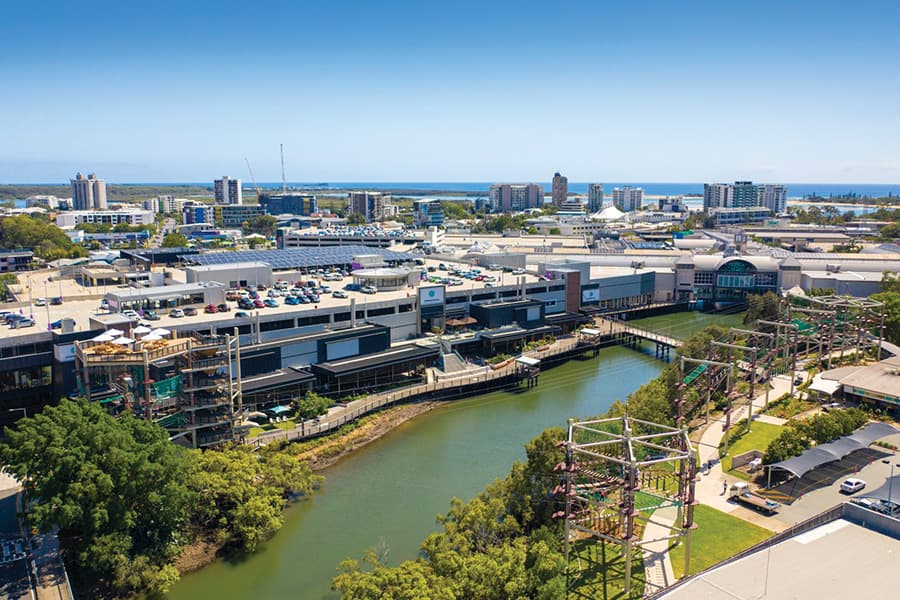 Sunshine Plaza's building fit-out incorporated energy efficient LED lighting, low volatile organic compounds (VOC) paints, adhesives and carpets, and a 283,000-litre rainwater capture system.
These measures were recognised by the International Council of Shopping Centres (ICSC) with Sunshine Plaza winning the Gold Sustainability Award at the 2019 ICSC Asia Pacific Shopping Centre Awards. In 2021, the Green Building Council of Australia awarded a 5 Star Green Star Design and As-Built certification to the redevelopment.
With improvements to air conditioning and lighting, Menai Marketplace has averaged more than 40% annual reductions in the centre's electricity usage and carbon emissions during the past two years. More than 400 tonnes of carbon emissions have been avoided annually – equivalent to the emissions of 110 cars on the road, with upgrades also improving retailer and shopper comfort.
Over the next few years, we'll be enacting a decarbonisation investment strategy and phasing out the use of diesel and gas across our assets. We've set a deadline for converting to 100% renewable electricity before 2030. Most importantly, we'll be collaborating with our supply chain partners and tenants to transition to zero carbon by 2040.
Delivering social value
Lendlease aims to leave a positive and lasting impact on the communities we interact with, creating accessible and safe places and improving the wellbeing of our local communities.
Lakeside Joondalup delivered the first accredited Changing Places facility in a WA shopping centre in 2018, providing facilities for people who cannot use standard accessible toilets. This includes a height-adjustable adult-sized change table, ceiling hoist and space for two carers. Since then, Changing Places facilities have been introduced at both Macarthur Square and Erina Fair centres, also a first in their respective regions.
Our centres also partner with local organisations that directly support the communities we operate in.
For the past 10 years, the Erina Fair team has worked in partnership with Coast Shelter, which provides specialist homelessness services and personal support programs to the Central Coast community. In 2021, a $70,000 grant was awarded to Coast Shelter through the Lendlease FutureSteps program to support delivery of another safe dwelling for those who need it in the community.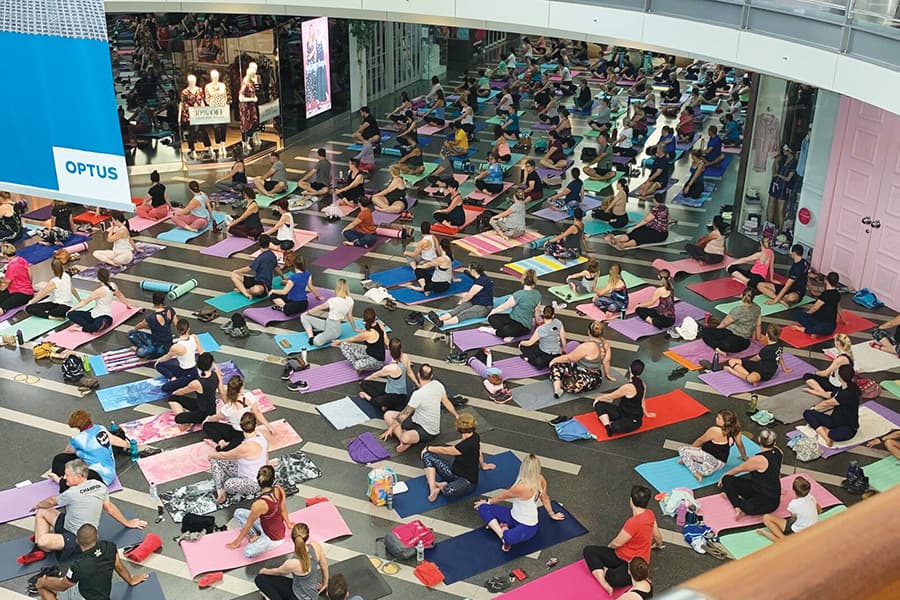 During Queensland Mental Health Week in 2019, Caneland Central in Mackay set the Australian record for the largest yoga lesson in a shopping centre with 356 attendees, while supporting local suicide prevention charity, Grapevine Group. The centre sought to repeat the efforts again in 2020; however, the event was held online due to COVID-19.
Reconciliation in action
Our current Elevate Reconciliation Action Plan (RAP) titled 'Country, Truth and our Shared Story', outlines our commitment to Australia's First Nations peoples by acknowledging their unbroken connection to country and creating respectful relationships to provide opportunities for equal social and economic outcomes.
Alongside community, we are continuing to progress work at our centres, to increase public awareness about the national reconciliation conversation and deliver on a range of actions, including promoting employment and procurement opportunities.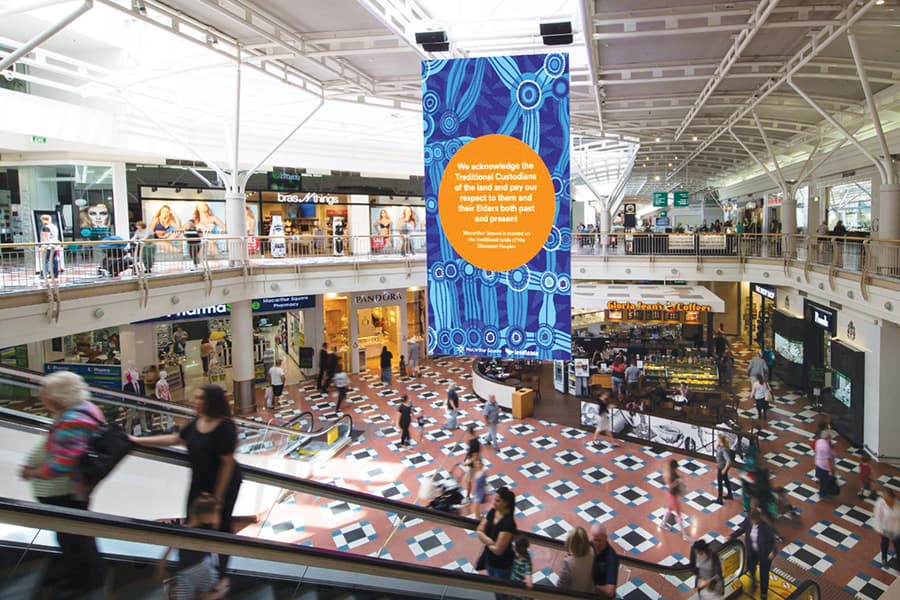 Our Retail Digital Network includes content focused on understanding and celebrating respectfully, First Nations people's cultures, history and languages. This platform is also a vehicle for our RAP partners to share stories about place and messages with community.
In FY21, our Retail Digital Network contributed $1.3 million of in-kind advertising and communications to First Nations businesses.
In line with our aim to promote diversity and inclusion in the local community, Cairns Central has had an ongoing relationship with Cairns Indigenous Art Fair (CIAF) since 2016. This year, the partnership with CIAF will see a focus on fashion and performance at Cairns Central while our Smithfield centre will support and celebrate music and the performing arts. This partnership provides First Nations artists platforms for promotion and exhibition, along with mentoring opportunities from our retailers and partners.