This Q&A with the team at Visual Inspirations forms part of a special Christmas feature published in SCN's Little Guns edition.


What does Christmas mean to you?
Christmas to the Visual Inspirations (VI) team means family, friends and community gathering. It's rewarding when the team returns to a completed installation and sees the happiness in people's faces. The joy of children and families is priceless.
What is your most memorable Christmas activation?
It's hard to pick a favourite as each one is unique and special to the team, but The Strand Arcade is one of our proudest projects to date. From the Australiana design to the complexity of the installation, this concept is simple, elegant and timeless, complementing The Strand's retailers and architecture perfectly.
How has your business adapted to the pandemic?
We have managed to keep all our staff engaged but reduced our usual call on contractors to assist us. We have also used this time to reorganise our warehousing and stock management and review our WHS plans. We have worked with our clients to refresh existing decorations when they haven't been able to order a whole new suite due to COVID-19 impacts on marketing budgets and unprecedented shipping delays.
What makes a truly successful Christmas campaign?
The secret is understanding the client brief and creating extraordinary decorations that stand out for the client and their customers. When our installations result in customers making memories and spending increased time in the establishment, we believe we have done our job and more.
What do you think Christmas in shopping centres will look like in the future?
With the online trend increasing due to the pandemic and other factors, we believe shopping centres will need to offer more diverse and exciting experiences to entice the consumer to be present in-store. Shopping centres are on their way to becoming living centres, making their offering more diverse and accessible to their consumers. When it comes to Christmas, shopping centres will need to excite all our senses by creating an inclusive and relatable Christmas and shopping experience.
Are in-store Santa experiences still essential?
Santa remains an endearing symbol of the joy of Christmas for children; it's hard to imagine this changing. We are in the digital age, and traditions and history can be easily overlooked, so a lovely family Christmas picture on a shelf provides wonderful memories and a fun day out. We absolutely believe Santa experiences are needed for tactile experiences that online cannot achieve at this stage.
What are the Christmas design trends for 2022?
There has been a significant shift over the past few years to make Christmas more traditional; previously, Christmas went very sculptural with large motifs, which was a trend in Europe, but of recent, we have opted to follow the UK and American style, which is traditional foliage and very generous proportions of detailed trim. Always invest in quality over quantity when it comes to decorations, meaning greater value for money and sustainability.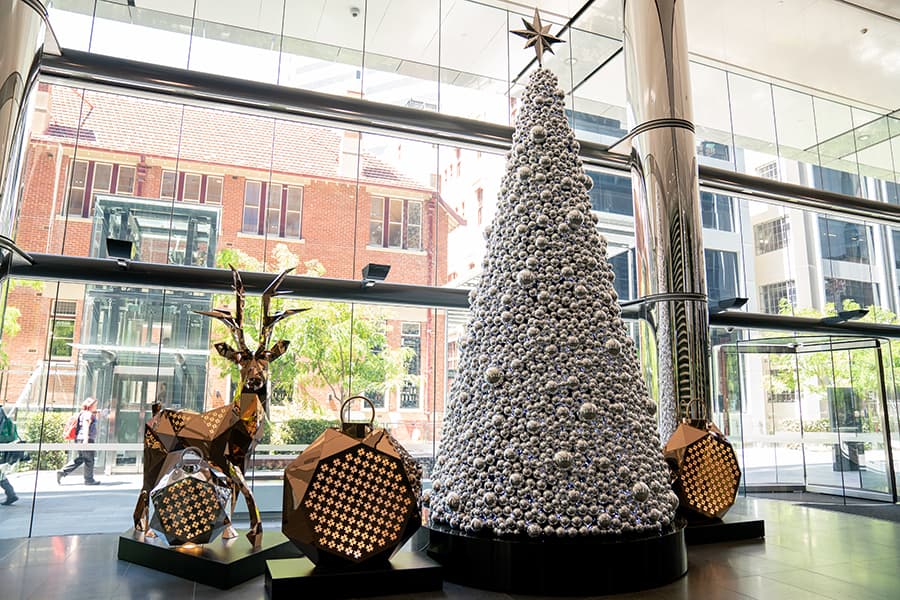 In your opinion, which centres have executed the best Christmas experiences?
We particularly admire Westfield's Christmas activations. The City of Perth has really stepped up their Christmas experiences in recent years, and The City of Sydney has such a huge consistent Christmas presence that brings the community together.
How can shopping centres enhance the shopper experience over the holidays?
By providing more rapid access and interactive experiences is one way. Shopping centres get very busy in the lead up to Christmas, and sometimes you just need a place to sit and rest for a while. Seating pods as part of the decoration suite is a great idea, as it doubles as a fun photo opportunity.
How can centres create a more inclusive Christmas?
Disability access is so important. Twinkling lights are such a classic part of Christmas decorations but turning them off at set times means that those with sensory sensitivities can enjoy the decorations too. Allowing access for wheelchairs and walking aids around Santa sets and selfie opportunities means no one misses out on photos of their experiences. There is no cost for the customer, meaning inclusivity for everyone.
Beyond Christmas, what else can a business like yours offer?
VI also produces bespoke high-end showcases for mannequins and product display as well as specialised mall and shop equipment, furniture and creative concepts for seasonal events. Several of VI's project managers have a background in visual merchandising and marketing, and this adds strength to the company's understanding of retailers' display products and how to support their product sales.