This article by Stewart Hutcheon Executive General Manager, Retail, Industrial and Healthcare, Dexus, forms part of a special CEO Outlook feature published in SCN's Big Guns 2022 edition.

Many of the issues and themes we encountered as we operated throughout the pandemic are still relevant today. What is evident, though, is that this time around, the recovery will be swift.
Sales in November 2021 demonstrated that when borders open and freedom of movement and travel are realised, consumer sentiment generally improves, benefitting the economy through the resumption of spending.
November was the first month of full trade for Victoria and New South Wales after months of lockdown, as consumers wanted to experience retail in person. The ABS data indicated that November recorded the fourth-strongest monthly rise in the series, with retail sales at their highest level ever recorded, and seasonally adjusted retail turnover increased by 5.8%. The 'Clothing, footwear and personal accessory' category started to show signs of growth after a period of hibernation, retailing on a m-o-m basis at 38.2% and on a y-o-y basis at 16.5%.
The cautious optimism we saw in December, following an increase in case numbers, tempered the strong recovery with consumer sentiment dropping back in response.
A heightened awareness of inflation, share market volatility, higher fuel prices and interest rate rises, as well as housing affordability, caused consumers to spend more conservatively. And for retailers, the hurdles were compounded by labour force shortages, a lack of students and international tourists, and supply chain issues.
With the opening of our international borders, some of these issues will be resolved quickly, and with transitory inflation, we can expect better revenue growth for retailers. So, while there are hurdles for consumers to overcome, retail is a key area of discretionary spend and the experiences we create to compel the consumer are pivotal as we move to the future.
We are focused on driving value and enhancing performance for our funds management partners, with our retail portfolio well-placed to leverage any uptick in demand through a quality portfolio that grew to circa $7 billion through the merger of AMP Capital Diversified Property Fund and Dexus Wholesale Property Fund, and the acquisition of Westfield Warringah Mall.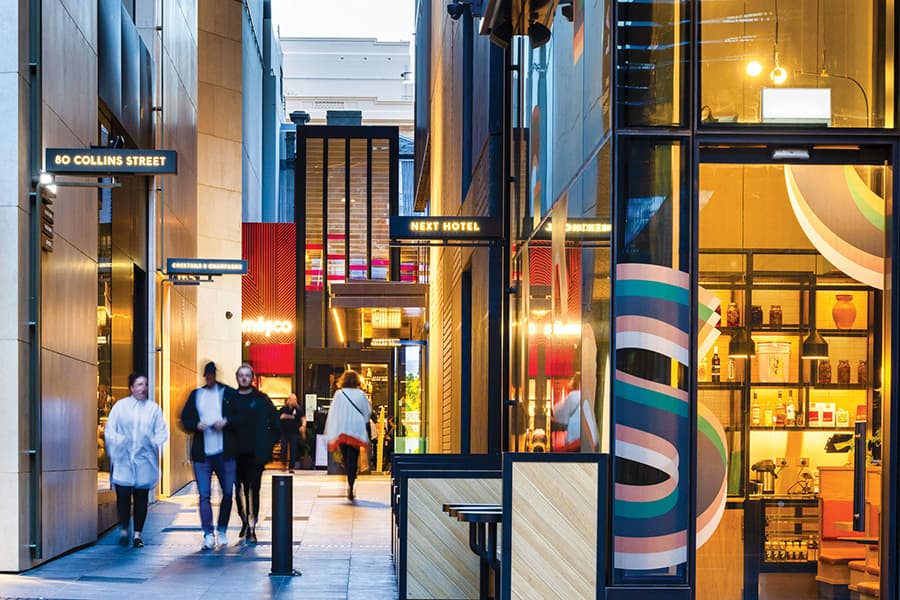 From 'push to pull'
Consumers have retail at their fingertips 24/7, and there is no doubt that a strong digital presence is an important part of the retail experience. While e-commerce is beneficial to productivity, there is a power shift at play. B2C is in some ways gravitating to C2B. The in-centre and in-store experiences matter to captivate and pull consumers through a frictionless experience from digital to physical. Bricks-and-mortar are important in the channel mix, and retailers are confident, planning on opening more stores, focusing on their network and opening in quality locations.
Physical retail spaces are a place to showcase the brand and product and are also behaving as a distribution point and the last mile solution of the logistics chain. While this is not a new idea, we are focused on working with the retailers to blend online with offline to create a seamless, integrated experience that is part of the DNA of our centres. Teasing consumers via the digital platform to convert in-centre sales will help retailers, and the activations and experiences that we curate in the centres will deliver strong engagement.
The retail services category is an opportunity to leverage digital technology, amenities and partnerships to elevate the approach to convenience and support everyday needs in a contemporary way.
Creating 'sticky' in-centre experiences by aligning social offers with service retail will increase engagement, dwell-time and spend. For city retail, collaborating with innovative retail operators to implement next-generation services such as enhanced pre-ordering and 'to-desk' delivery options will be a focus and natural progression for the operation of our mixed-use assets.
And while our business is focused on innovation and the next bastion of technological improvements, the human touchpoints should not be innovated out of our channel planning. It is us humans that make our centres relevant, allow communities to thrive, feel included and be engaged.
The November bounceback is testament to this – consumers were drawn back in-centre, and the recovery was solid.
Lead with purpose
Consumers are demanding more from brands based on their position on ESG related issues. The brands that have a social purpose have a higher impact – they generate almost three times more buyer intent, and they also outperform the market.
Retailers and landlords need to stand for something bigger than what they sell.
ESG is embedded in Dexus's strategies and operations, and our partnerships with Planet Ark and Black Dog Institute reinforce our commitment to environmental and social issues, not only for our own people but for our customers as well.
In the past year, Dexus built on its ESG track record, outperforming real estate companies globally to achieve a Gold Class distinction in the S&P Global Sustainability Yearbook 2022 and retaining its leadership on the Dow Jones Sustainability Index for the third year in a row.
Investors are seeking to partner with organisations that have a sharpened purpose to deliver a social value and subsequent economic return. While at the ground level, we recognise that meaningful, relevant and localised responses to sustainability make a positive impact on retailers and consumers. Working with retailers to design out waste and emissions, while keeping products and materials that optimise natural and social systems, is now 'business as usual'.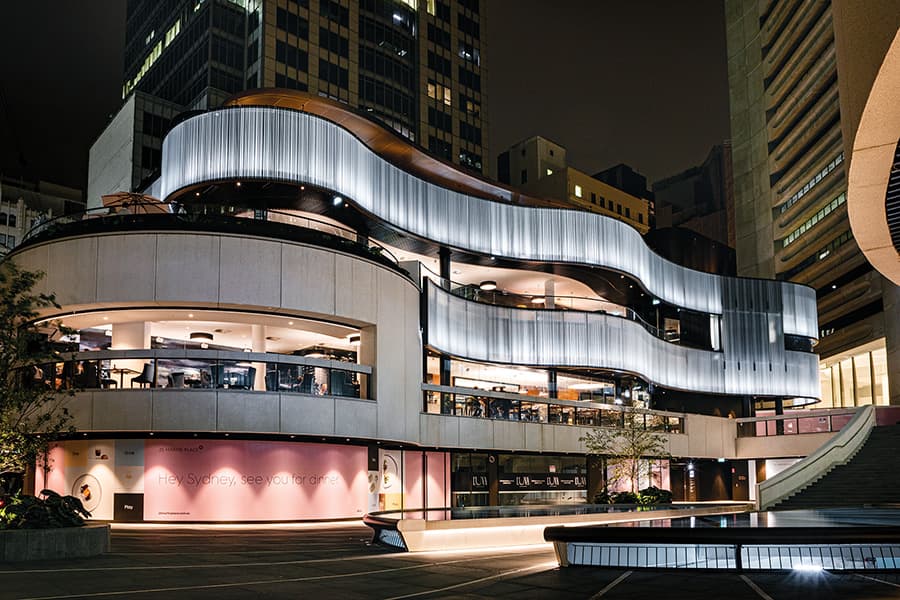 The future of the CBD
Australia's CBDs make an outsized contribution to the national economy and are reliant on the return of office workers, tourists and students to stimulate the economy and put life and energy back into our cities. The success of our CBDs is contingent on how many people choose to spend time in them.
Throughout 2021, our office portfolio continued to see a flight to quality, with customers seeking desirable CBD office locations with proximity to cultural and retail amenity, good connectivity and quality workspaces that will attract key talent.Attitudes towards working from home have changed through the pandemic and a greater uptake in flexible work practices means hybrid working is here to stay.
For top-performing organisations, the office will remain a key part of their workplace strategies, and CBDs, which accommodate those organisations, will continue to be very relevant.
CBDs are magnetic, and as the borders open and students start to flood back, so too will the opportunities for retail. In New South Wales, the government is investing in the 24/7 economy and strategies to extend the productivity of Sydney's daytime economy into the night. This will provide opportunities for businesses to extend their traditional hours of trade.
We are seeing life returning to 25 Martin Place in the centre of Sydney following the opening of the Theatre Royal and the new dining precinct. Our investment in city-shaping developments, including the $2.1 billion Waterfront Place in Brisbane and Central Place Sydney, a $2.5 billion joint venture that will sit at the gateway of the Tech Central precinct, demonstrate our confidence in the CBD now and in the long term.
The CBD will always have a special draw. By working together with the government, landlords and retailers, we can reimagine the future of our cities.