This article by Sam Curry General Manager Retail Services, ISPT, forms part of a special CEO Outlook feature published in SCN's Big Guns 2022 edition.

The resilience of the ISPT business and our partners demonstrated throughout 2021 will provide a great platform to launch from in the coming years. The path through 2022 will more than likely encounter plenty more bumps, but I believe we are in a great position having experienced and learnt from the recent past to deliver great outcomes.
The diversity of income and asset class within the ISPT business is well-suited to times of uncertainty where multiple options can be considered and utilised to stabilise performance and provide opportunities for growth.
Across the business, the key sectors of commercial, logistics and warehousing and retail have all experienced very different outcomes arising from the environment we are faced with. The opportunity going forward will be to see how all three areas can connect and integrate better for a collective outcome that sees investment risk minimised or spread more evenly.
All three sectors are intrinsically linked to each other for outcomes and for the retail sector, growth in the office markets (employment, wages growth, capital investment into business enterprise) and growth in logistics (more warehouse development, improved distribution, further flexibility in customer choice for collection of goods) will be key drivers for what the retail sector looks like in the coming years. The retail sector will need to innovate and adjust to capture these opportunities and to remain a critical piece of the national fabric.
Logistics partnerships
I wrote last year about the blurring of lines between the logistics and retail sectors. Through 2021, and, without doubt, into 2022, this will continue to blur given the acceleration of online. The opportunity for owners of shopping centres is to work productively and innovate with technical specialists to help solve the distribution issues currently facing retailers. While staff shortages and product supply issues are likely to remain for the immediate future – disrupting current operations – beyond these hurdles, we should be setting ourselves up to capture the future growth that online will deliver.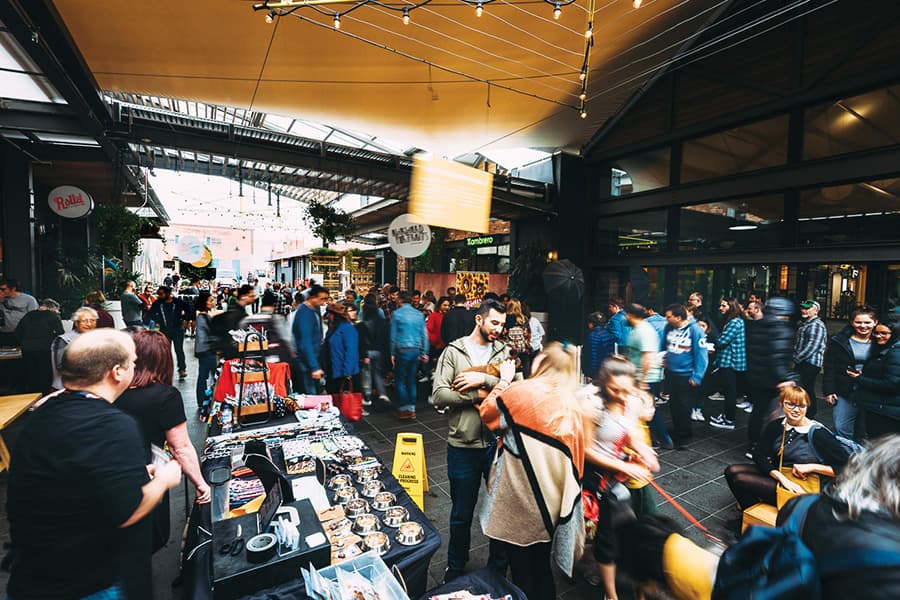 For retailers, providing a platform that offers a fully integrated service that reduces the friction consumers go through when purchasing is paramount. Having all services and products centralised into one touchpoint will be critical to differentiate from competitors. For centre owners, the partnership opportunity will be the ability to integrate into these platforms using our centres as collection and distribution points. There needs to be consideration around what service the centre owner can provide in this chain.
Time is becoming a critical factor for consumers, as is optionality for collecting and receiving goods, and technology is enabling much of this acceleration. The convenience of most shopping centre locations and the infrastructure associated with them has to be considered and must play a key part in logistics solutions.
Throughout 2022, ISPT will continue to investigate and has plans to deliver logistics solutions with key retail partnerships and third-party logistic providers.
Stores remain highly relevant in 2022 and beyond
While there has been an explosion in online shopping in the past two years, there remains an absolute need for a store presence for most retailers. I have seen many recent articles describing the 'digital fatigue' being suffered by consumers. A US report undertaken by Deloitte in late 2021, indicated about 32% of consumers said that since the COVID-19 pandemic began, they have felt overwhelmed by the number of devices they need to manage and the increased screen time for all family members, all heightened due to the work-from-home and homeschooling requirements. Moving to a permanent online shopping habit was not something most consumers felt was a long-term solution.
I would think retailers in 2022, while moving well into an omnichannel space, remain confident physical stores can create a point of difference to competitors by investing further into store technology to create amazing shopping environments that can't be replicated online. The data certainly suggests the physical store remains the most preferred shopping method for consumers as online remains a very singular way to shop. Stores can provide so much more diversity for retailers with improved in-store experiences, unmatched services and overall customer interaction. Online is improving in this space but is unlikely to match.
It is likely going forward that we will see many more stores operating longer and, perhaps at a point, using the store footprint 24/7 to service the consumer. The option to create a daytime experience for the consumer and a facility to service the online consumer throughout the evening with short turnaround times for product delivery should be explored and continue to have the physical store as a critical part of a retailer's business operations.
ISPT will continue to invest in our shopping centres in partnership with our retailers and look to pilot what a reset retail store could be in a true omnichannel environment.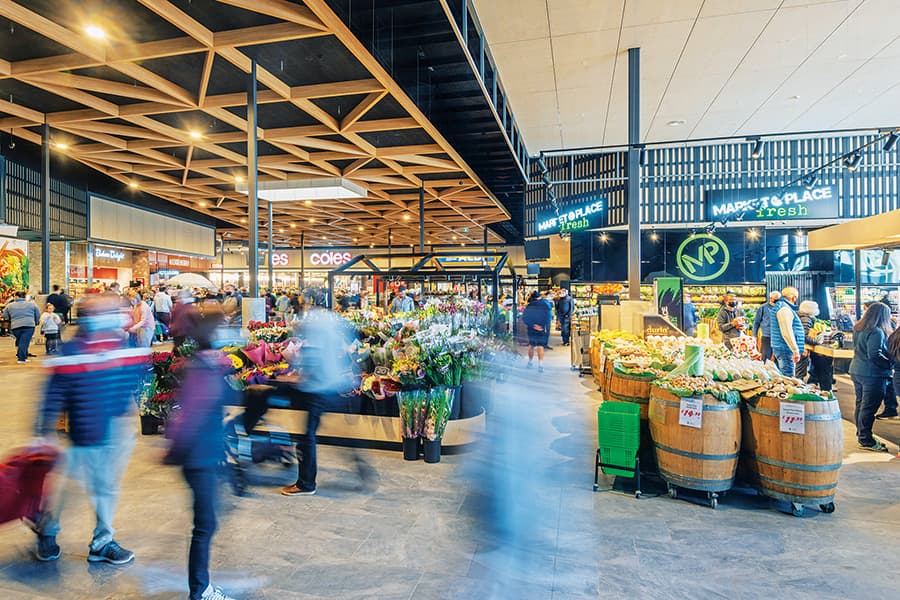 Consumers respond to investment
We have recently seen the value of investment into retail offers and the positive response from the consumers at Karingal Shopping Centre, south-east of Melbourne. Our $160 million redevelopment to upgrade and extend a key activity centre for the Frankston region has greatly enhanced the service offering. With a mix of existing and new retailers to the asset, we remain confident the physical store continues to play a key piece of fabric in the community.
After the successful unveiling of the centre's vibrant new market-style fresh food experience precinct in early 2021, the new fashion precinct that opened late 2021, has introduced a host of new retailers. The local community has embraced our revitalised, convenient offering and supported our fresh food precinct retailers – a very welcome result in the current retail climate.
Investment in sustainability remains a critical part of any business, and consumer expectation around this gathers momentum each year. My view remains greater efficiency and cost reduction can occur through clever partnering between retailers and centre owners. I view sustainability not as an exclusive piece of business IP but as an area that should be shared for improved overall community and social benefit. The challenge we face is trying to align businesses' strategies on this. I would like to see through 2022, ISPT being able to partner more extensively with our retailers in these areas, and we will take on this challenge to shift the thinking and gain momentum.
At ISPT, environmental, social and governance excellence is embedded in everything we do. By responsibly investing in property today, we are creating long-term, sustainable value for tomorrow. We have committed to becoming a net positive producer of carbon offsets by 2025 to protect the planet and align to the ever-changing needs of our investor base and their members, who represent the savings of over half of all Australians.
Renewable energy is an integral aspect of ISPT's carbon-neutral pathway, delivering reliable, low-cost and renewable energy to ISPT and our customers, and continues to be a core investment strategy for ISPT. Through 2022/23, we expect to have more than 50 buildings with solar PV panels installed saving many thousands of tonnes of CO2 emissions each year. Off the back of ISPT's partnership formed in 2020 with some of Melbourne's most prominent universities and businesses for the Melbourne Renewable Energy Project (MREP2), we have utilised this knowledge to establish an independent Purchase Power Agreement (PPA) to power our properties in NSW and ACT with renewable energy. As a result of these and our on-site rollout, we are 81% powered by renewable energy and are currently investigating a PPA for QLD, which we're aiming to go live in July this year.
Starting in July 2021, nearly 24GWh of electricity per year will be supplied from Bodangora Wind Farm in NSW. The agreement will reduce greenhouse gas pollution by 16,000 tonnes a year in NSW, comparable to taking 3,700 cars off the road every year. 23 properties in NSW, and 9 in ACT will be powered through the agreement for the next ten years.
Through this collaboration, we secured a long-term electricity contract that delivers value for our investors while significantly reducing carbon emissions across our portfolio. We have 22 properties in MREP2 and from July 2020, all electricity that has been procured is carbon neutral.
Positives for 2022 and beyond
I would like to see 2022 as a reset of how we operate and imagine our retail assets. We need to be investing and thinking for the next five to 10 years and not the next one to two years. The opportunities to work more effectively with our retailers to assist their growth through 2022 and beyond and collectively provide a great offer and service to the consumer in both a digital and physical space has to be front of mind for all. If we can manage the past two years and remain resilient, then what can be achieved m