This article by Michelle Abbey, Executive General Manager, Town Centres, Stockland, forms part of a special CEO Outlook feature published in SCN's Big Guns 2022 edition.

More than ever before, the retail industry has responded to the challenges COVID-19 has presented by thinking outside the box to put customers first. Our centres moved quickly to reassure customers that they could continue to access the essential goods and services they needed. As restrictions have eased, our customers are excited to be back inside our centres, feeling part of their local communities again.
Stockland's retailers and our team who support them have adapted to the restrictions and lockdowns with incredible resilience and community spirit. In my many interactions with centre-based teams and our tenants, I have heard again and again, 'we're all frontline workers too, committed to helping our customers'.
The spirit of being a 'frontline worker' has fostered a great sense of community service and a desire to make customers feel safe, secure and confident about returning to our centres.
Now, as we enter 2022, customers are ready to come back to our assets. As we learn to live with COVID-19, we are seeing a desire to reconnect with the in-person shopping experience to enjoy the retail experience again and the connection to the community.
The shop local boom – a trend set to stay
Curation, convenience and community underpin our retail proposition. With a footprint of 23 Town Centres across Australia – from small to large, geographically spread across Australia – Stockland is perfectly positioned to welcome customers into vibrant community hubs.
Our local Town Centres are 'go to' destinations for essential purchases, access to services and social connection. For some customers, this means rediscovering the convenience of doing shopping and life administration locally and catching up with a friend or colleague for a coffee or lunch while working remotely.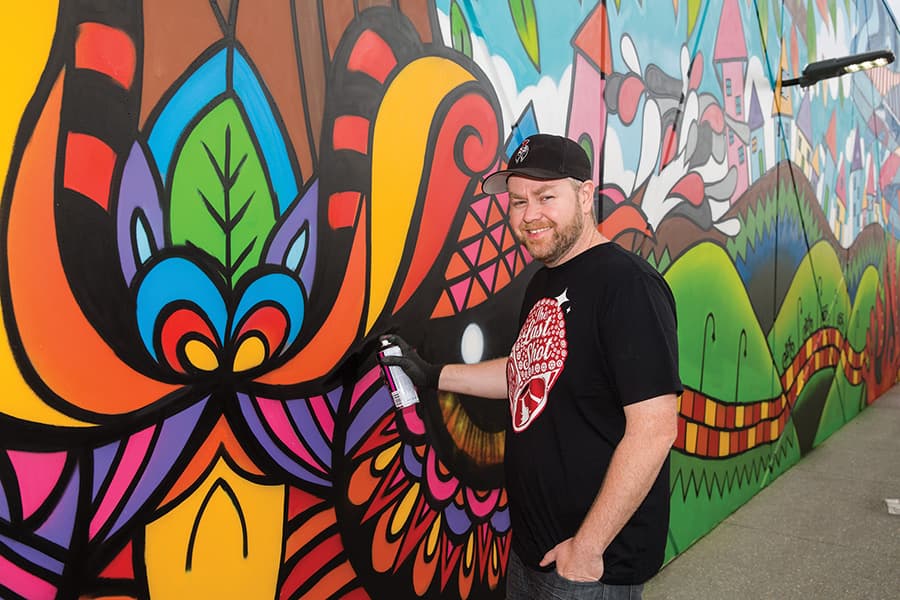 COVID-19 has fundamentally changed how we live, work, socialise and shop, and we have observed a substantial consumer shift towards supporting local businesses and an inclination to buy local products.
Our latest ShopperSAT Shopper Satisfaction survey reveals consumers' desire to seek-out local products and services rose from 66 % in September 2021 to 71% this year.
In addition, Roy Morgan's 2020 research stated that 93% of Australians are more likely to buy products made in Australia – up from 87% a year earlier.
While online shopping provides accessibility and convenience, in-store shopping – especially at a local level – provides experience and community connection. Increasingly, the role of the shopping centre as a destination or an experience builds a connection with customers that is more than just about transactional business.
It's all about place
The cornerstone of Stockland's Town Centre philosophy is curation – ensuring the space and offering meets local needs. People shop locally for more than just products and services. They shop for a memorable experience and great customer service.
We know customers will return more frequently when they feel a connection to our Town Centres. We also secure more share of wallet when we offer our customers exciting places to explore, from pop-up markets at Stockland Rockhampton to a Summer Eats and Beats Festival at Stockland Wetherill Park or an original artwork created by local artists and students as seen at Stockland Baldivis.
There's a window of opportunity right now; customers are thinking and acting locally. A consequence of COVID is that communities want to support their local businesses, and they're likely to continue to shop locally if their expectations are met. For Stockland, the 'sweet spot' is creating places where our customers experience personalised service, community connection and an inclusive environment.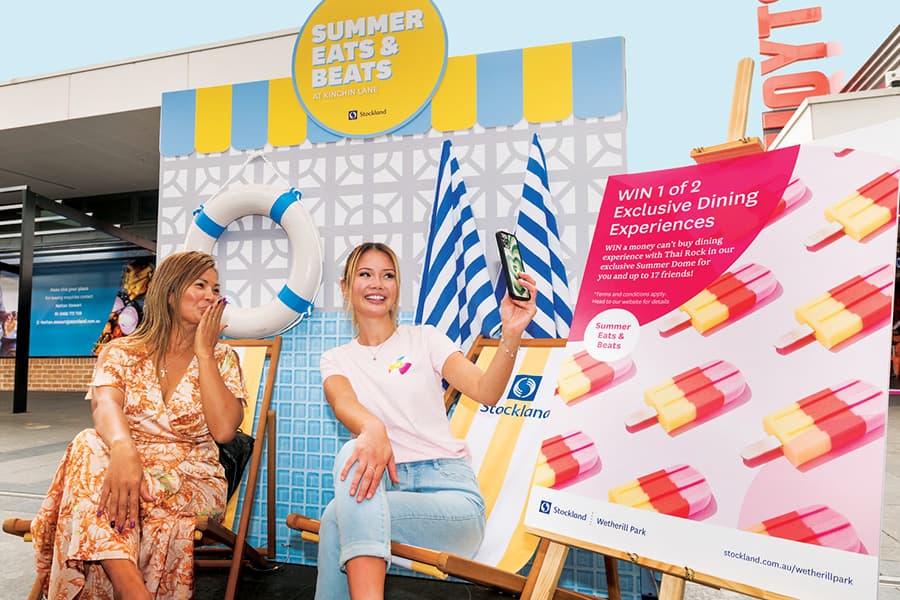 Investing in data and innovation
Our customers continue to demonstrate a desire for innovative in-centre features, tech-integrated amenities and convenience-led initiatives to enhance their everyday shopping experience. Australian shopping centres must continue to evolve and adapt to meet future retailer, customer and global demands.
Last year during the pandemic, we launched 'SStore', offering a way for many of our smaller retailers without an online presence to connect and sell to new customers through a unique Stockland online store. So far, more than 52,000 individual products listed across 130 stores have used SStore, and it continues to grow every week.
Through our dedicated internal innovation and research teams, we have launched a dynamic customer segmentation tool. This has been a significant innovation for our Town Centres, providing us with an asset-level understanding of the value of different shopper segments and monthly tracking of movements in spend and shopper behaviour.
The data also enables us to rapidly assess changes in customer patterns, particularly among high-value customer segments, to deliver on services and products our communities want and need.
Bringing our purpose to life at the local level
When it comes to supporting the community for us, it is about our purpose: we believe there is a better way to live. At our Town Centres, it is about understanding the services that will impact and benefit the local community: what is needed in Townsville won't be what is needed in Wetherill Park or Baldivis.
Significantly, our latest ShopperSAT Shopper Satisfaction survey saw 59% of people stating they would be more likely to support brands and shops that give back to their local community. We work with our local communities to tailor the services and activities we offer in different centres to ensure we continue to meet local needs.
Last year we launched our second Gidget House at Stockland Shellharbour. Gidget House provides specialised support services, including free individual psychological counselling for perinatal depression and anxiety and provides compassionate, holistic care for expectant or new parents and their families.
Similarly, we have partnered with BindiMaps, to offer a new pioneering technology that assists people with vision impairment navigate their way through a space such as a shopping centre. We also continue to roll-out inclusive and accessible play spaces to our retail centres.
We have also invested in more unique services to meet specific needs, such as discreet safe rooms to care for women attempting to escape domestic violence and multi-faith prayer rooms.
At Stockland, we are also incredibly proud to have the opportunity to give back at a local grassroots level with our annual CARE grants program, now entering its ninth year. In 2022, $300,000 will be available to organisations across the country to support local community-building initiatives and programs. The CARE grants enable us to recognise and invest in local community groups who make a difference to the social fabric of where we live, work, shop, and play, now and into the future.
Retail reset in 2022
Retail has proven itself to be resilient and more relevant than ever. Our ability to work with our retail partners to continue to reinvent what customers want keeps us all on our toes and is a challenge we relish.
We look forward to working with our retailers, staff, customers, and communities to continue to create Town Centres that are destinations that entertain, surprise and delight and provide places that bring communities together.