This article by Michael O'Brien, Managing Director, QIC Real Estate forms part of a special CEO Outlook feature published in SCN's Big Guns 2022 edition.

The past two years have certainly been one of the greatest disruptive periods for our industry. As with other landlords, QIC's retail portfolio has felt the impacts of the COVID-19 pandemic, but it has also shown strong signs of recovery, with centres proving their ability to quickly bounce back again and again.
While we expect some short-term impacts from the current Omicron outbreak, the strong underlying momentum in the labour market, as well as consumer sentiment, is undeniable. We are likely to see a quick return to positive employment developments and rising wage growth as the outbreak eases, and while consumer sentiment has fallen from its decade high earlier in 2021, sentiment remains in positive territory (above 100) and well above the lows recorded during 2020.
The retail sector has also weathered the COVID storm remarkably well. Overall, total retail sales for the 2021 calendar year were 5.6% higher than total 2020 sales, which were already 6.2% higher than 2019, before the outbreak of the COVID-19 pandemic. Yes, some of this has been driven by a switch to higher e-commerce spending, given the numerous lockdown restrictions placed on physical shopping, but total bricks-and-mortar retail sales in 2020 still grew 2.7% over 2019 levels, and rose another 3.4% in 2021. Bricks-and-mortar sales for the month of December 2021 were 9.7% higher than in December 2019, before the pandemic.
Last year saw another year of exciting milestones for QIC. We continue to deliver on our ESG priorities, and this year we undertook a refresh of our ESG strategy.
Our refreshed strategy, based on significant research and stakeholder engagement, recognises our ESG achievements and performance to date, and aims to refocus and amplify our efforts to ensure we continue to drive long-term sustainability results and enhance the value of the portfolio for our investors, retail partners and communities. In line with this strategy, work to achieve our 2028 net-zero carbon emissions target for our core portfolio continues with the rollout of the first tranche of our rooftop solar project, including the installation of more than 15MW of solar capacity across the portfolio. Once fully operational, we expect this to reduce carbon emissions by more than 17,000 metric tonnes per year.
Acknowledging that shopping centres are, of course, significant consumers of utilities, as well as producers of large amounts of waste, we are also prioritising work to garner greater efficiency in the way our buildings operate. Alongside recycling initiatives that are helping us divert more and more waste from landfill, QIC has installed smart building programs across our portfolio to integrate and monitor the key utilities consumed on site. The system collects real-time information on the performance of our building infrastructure, allowing us to identify and resolve issues efficiently, saving time, money and energy. This technology is an important enabler of the achievement of our broader ESG strategy and, over time, we see it evolving into an artificial intelligence model, where sophisticated programming will be deployed to improve customer experience in-centre and drive improved capital planning.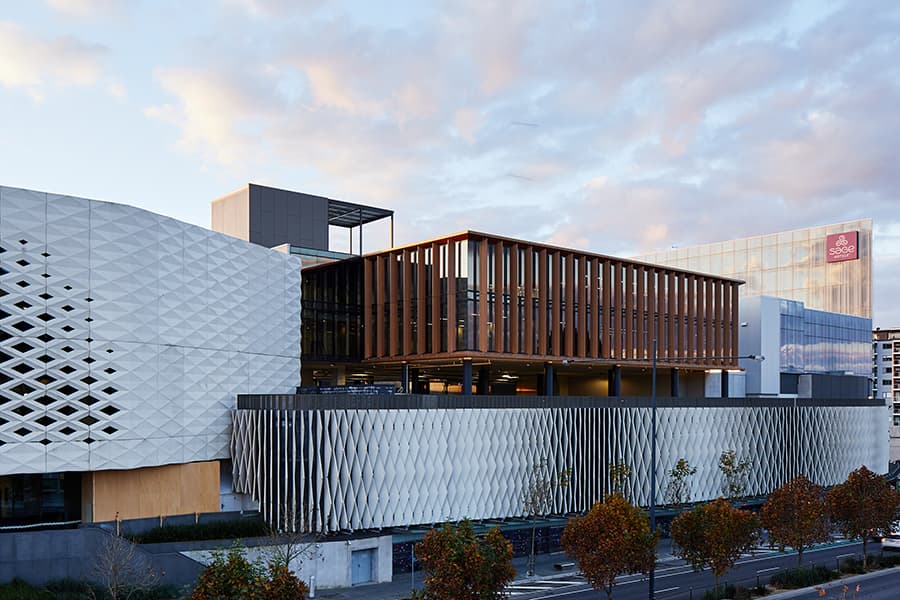 Our team has also developed a portfolio-wide community investment program, which will be rolled out this year, focused on improving the physical health and wellbeing of our communities. This program will deliver measurable positive impact and will be delivered in a way that best resonates with the local communities our assets are a part of.
Recognising the need to deliver omnichannel solutions for our retail partners, QIC recently partnered with Australia Post to provide in-centre fulfilment hubs at Victoria's Pacific Werribee and Eastland. The hubs provide our retail partners with an easier, more accessible and consolidated on-site delivery and receiving solution, and we will continue to evolve this model to deliver value for our retail partners and convenient solutions for our customers.
The cornerstone of QIC's success, of course, is our people, and especially those on the front line. I want to acknowledge particularly those hard-working team members.
With ever-growing challenges in securing the best people, the focus should be on both providing them with the roles that align with their career aspirations but also in delivering a culture they can be proud to be a part of. The key to fostering this culture is ensuring there is diversity in our teams, and that conversations around what this means in shopping centres is made visible.
At QIC, we have become members of ACON's Welcome Here Project, where we will be displaying our commitment to celebrating inclusivity and diversity, as well as ensuring everyone feels welcome and safe at our centres.
We couldn't be more excited to be heralding a new chapter for our real estate portfolio, executing on our long-held investment strategy to evolve our shopping centres into town centre destinations through a considered and staged mixed-use development pipeline. By incorporating a broader mix of uses within the retail assets and evolving traditional shopping destinations into multi-dimensional day and night experiences, our town centre strategy responds to the changing way people want to live, work and shop.
This in turn creates captive customer bases, securing the asset's place within the fabric of its community, uplifting opportunities for our retail partners and unlocking embedded value for our investors.
Our portfolio of highly productive assets provides a favourable canvas for the introduction of new mixed usages – particularly our larger assets such as Eastland, Canberra Centre, Watergardens, Castle Towers and Robina Town Centre.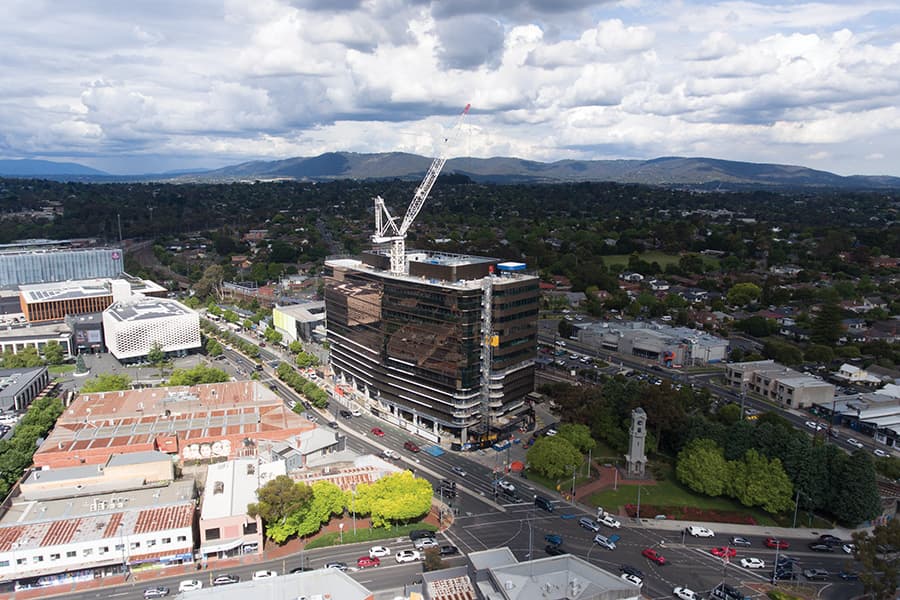 Over many years, we have strategically acquired land adjoining these assets and worked in partnership with local and state planning authorities to unlock zoning, density and height limits. Now we have terrific opportunities for value-add developments across a wide range of uses such as office, medical, childcare, education, residential and hotel at our fingertips, as well as the flexibility to deliver small, medium and large-scale opportunities as these align with tenant and consumer demand. Cognisant of our existing land holdings, planning support from government and the strong infrastructure around our larger assets, we can see that mixed-use may represent up to 35% of total GLA, with office and residential making up the bulk of that.
Eastland in Melbourne is a prime example of this strategy in action. Utilising the asset's strategic landholdings, which front major arterial roads and excellent public transport nodes, as well as favourable planning frameworks, during the past five years or so, we've been strategically evolving the asset into a commercial, civic and cultural centre for Melbourne's east.
First, through a major redevelopment, we doubled the size of Eastland, creating a sense of place that enabled us to introduce Town Square and Realm (a public library and learning centre on behalf of Council). The investment in this new civic space and the collaborative planning between QIC, state and local government, led to the State's significant investment ($66 million) in the upgrade of the adjacent Ringwood Train Station. We then opened a 120-room hotel on the site, the first hotel of its kind connected to a suburban shopping centre, and in 2020 we delivered the new Maroondah City Council offices adjacent to the Realm library and hotel.
Last year, we welcomed Waterman Business Centres to Level 3 of Eastland, integrating flexible office space into the centre, and I'm also pleased to say that EastCo, an 11-level commercial tower across from Eastland, is on track for a mid-2022 opening, fully leased to the Victorian Department of Transport. A development application has also been submitted for an additional office tower at Eastland, another important step towards realising our long-term masterplan.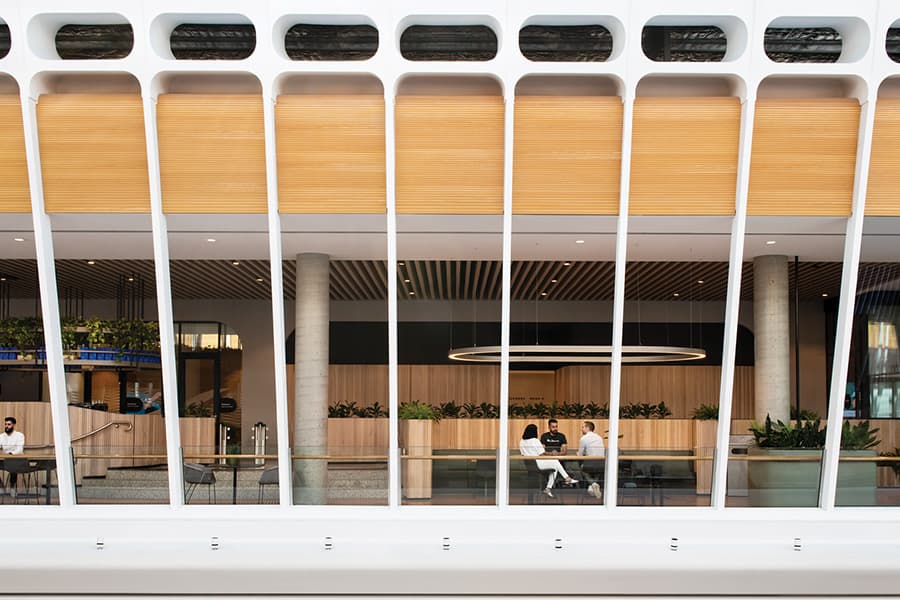 We've made similar significant strides in alignment with this strategy across the rest of the portfolio this past year. Our team certainly did not stand still. Construction has started on a new office building at Robina Town Centre, while in Canberra, we injected new energy into the CBD with the reopening of commercial building at 224 Bunda Street after a $25 million refurbishment that included a new-to-Canberra flexible workspace, conferencing centre and hospitality offer developed in partnership with premium boutique flexible office operator Work Club Global. At Canberra Centre, we've also commenced our North Quarter upgrade project, which will provide a refreshed and inviting new look and feel, along with a new-to-market multi-concept food and beverage experience for the CBD. And it doesn't end there for Canberra, as the current development approval enables the introduction of new commercial, hotel, retail and civic usages throughout the six city blocks of the CBD.
Watergardens has revitalised its Station Street precinct, introducing new restaurants and more options for alfresco dining, along with delivering on an upgrade for its food court. Excitingly, the centre has also embarked on its next phase of mixed-use evolution, with construction commencing on Quest Watergardens, an 86-room serviced-apartment hotel.
We also welcomed a raft of new retail partners last year to Merrifield City in its Stage Two opening, as part of a multi-year vision for Victoria's largest masterplanned community, which will see QIC and MAB deliver a town centre destination combining shopping, dining, civic and cultural experiences. Hyperdome's North Mall project was recognised, with the prestigious Prix Versailles Secretariat in Paris awarding it the 2021 Continental Special Prize Interior Award. QIC also acquired Craigieburn Junction, a 25,000m2 large-format retail centre in Melbourne's northern growth corridor, which is a great addition to our retail portfolio.
As another proof point of our mobilisation this past year, I'm pleased to say that QIC created two new key roles critical to the delivery of our town centre strategy, welcoming Nicholas Skulander as General Manager of Healthcare, and Natasha Devlin as Head of Residential Development.
With our high-quality portfolio, stellar team and the significant momentum we have already garnered, put quite simply, 2022 looks bright for QIC Real Estate.