This article by Marco Ettorre, Head of Retail and Investments, AMP Capital, forms part of a special CEO Outlook feature published in SCN's Big Guns 2022 edition.

Before I put pen to paper this year, I looked back over last year's CEO Outlook and the commentary on the challenges we faced in 2020. Last year felt much of the same, but this time we were better armed to deal with the blows COVID-19 threw at our sector.
It is clear that despite the past few years, we have shown that retail is resilient and that it has an important place in the community.
There couldn't be two better examples to demonstrate this retail resilience and our ability to execute in the face of COVID-19 than the successful delivery of two major developments during 2021 at Karrinyup in Perth and Marrickville Metro in Sydney's Inner West.
One of the reasons that shopping centres remain an important part of our society is because of the efforts of the people working in them. I want to again thank everyone across AMP Capital for their dedication to keeping our customers safe and our centres operational.
While our people remain focused on our customers, we've kept both the physical and mental health and wellbeing of our people front of mind. There is no doubt the past couple of years have taken a toll on everyone and we continue to support our staff with mental health days and provide access to support services for them. We've also kept up morale through team events and opportunities to connect.
Our people are our most important asset, and without them, our shopping centres will no longer be seen as a safe place for communities to visit and connect.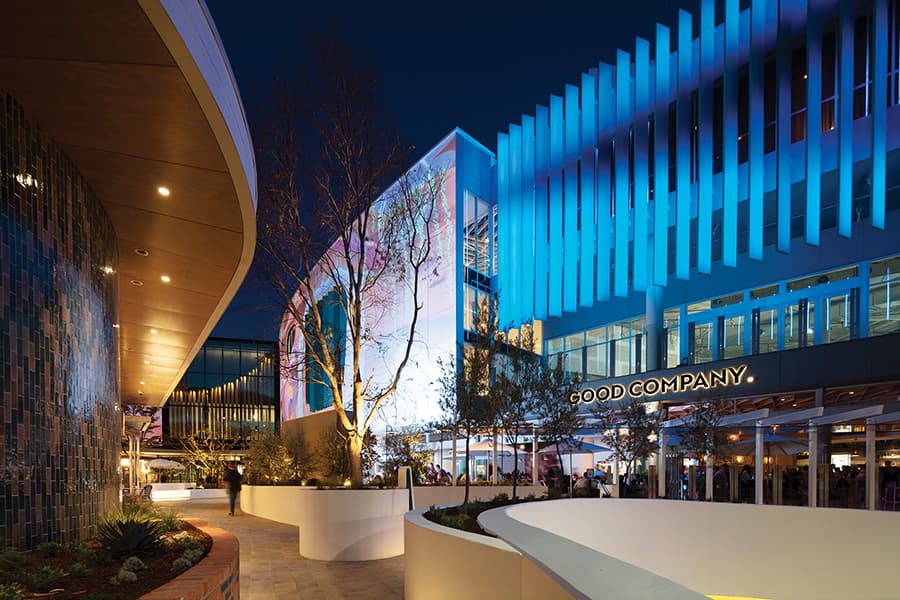 Looking forward
As COVID restrictions wane and consumers regain the confidence to go shopping, conditions for retail real estate are starting to look favourable again. And for all the pain of the pandemic, households in 2022 are in a better position to spend than they have been in a while.
The recent combination of restrictions on movement and government support has left Australians with $250 billion in excess savings with a saving ratio of about 20%, approximately three times post-GFC average. Unemployment is low, economic growth is bouncing back from COVID lows and wages are starting to rise. These are some of the strongest economic conditions in recent history.
Coupled with this, with many people still hesitant to travel, households have even more spare cash that can be spent shopping.
And amid it all, COVID triggered a correction in retail valuations in 2020 that has left the sector showing relative value compared to other real estate opportunities. Retail rents have been reset to more sustainable levels, and the way e-commerce will interact with our retailers and shopping centres is now built into the retail model.
We might not be back to pre-covid days, but thanks to the hard work of our teams, people are coming back.
Consumer preferences are changing
As a sector, retail itself is undergoing a transition that makes it very different from the centres of yesteryear. As consumer preferences change, shopping centres are adapting and offering new ways for the community to engage.
It can be underappreciated that traditional retail shopping – things like the food, clothing and household goods we buy in shopping centres – makes up only a third of the average household spending. The bulk of a household's spending goes on costs like housing, transport, education and healthcare.
Traditionally, these services are not a feature of shopping centres. But times are changing.
As the share of wallet spent on services grows, so too the mix of services in a shopping centre is evolving. We need to continue adapting our centres to make them relevant for the people who visit – mixed-use, multi-use and social and community infrastructure. Increasingly, shopping centres are starting to provide a raft of new services to their local communities.
As e-commerce grows, we need to not only adapt our centres but also our technology services. We see this as a key differentiator in both our operations and our customer service. Our teams are partnering with leading digital and PropTech organisations to deploy new solutions across our portfolio that help us unify data from more than 200 internal and external sources to generate insights that help us improve the customer experience and the way we run our assets. Our people counting and Wi-Fi technology, combined with external data sources such as social media and transit apps, allows us to understand customer behaviour in real-time to give us a deeper understanding of how our customers interact with and perceive our offering.
Shopping centres evolve
This new shopping centre evolution goes beyond dining and entertainment. COVID has also impacted the way people want to live.
Today's leading shopping centres are blurring the line across real estate categories by adding office space, residential, education facilities and healthcare under the same roof.
Apartment developments offer a great opportunity for many shopping centres, especially those located near good public transport links and with the ability to build up into the space over their retail centre. Office towers are also featuring in developments.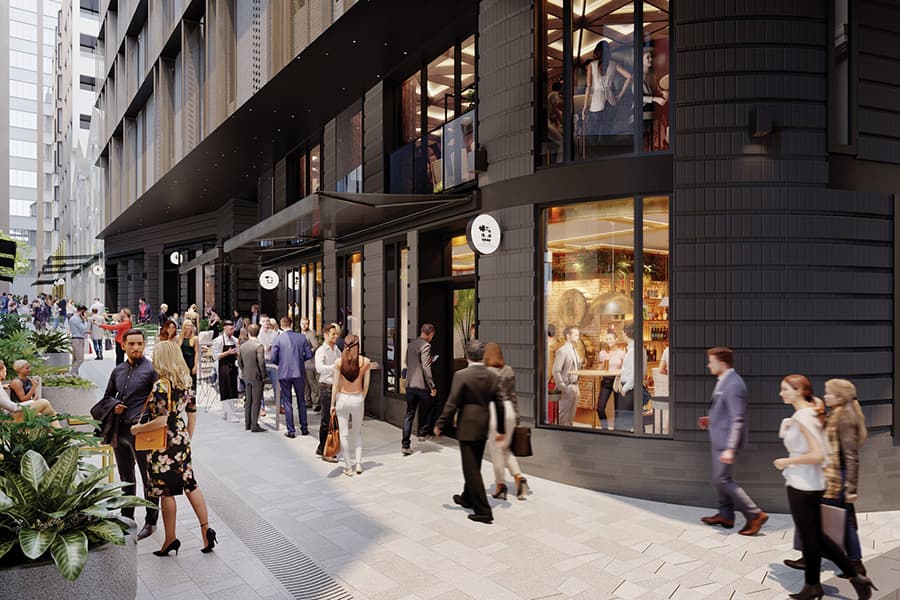 Macquarie Centre in Sydney's north has concept approval for residential and office towers. In Perth, Karrinyup shopping centre includes a piazza and main street with leisure, lifestyle and entertainment offerings, with a residential development underway.
Quay Quarter Sydney, AMP Capital's flagship development in Sydney's Circular Quay is another example – as well as the striking office tower, Quay Quarter includes luxury residential as well as a food and beverage retail set among the surrounding laneways.
These mixed-use developments reflect the way the community is evolving.
More people than ever live in apartments with high-rise living the fastest-growing part of this trend.
Shopping centres are well-placed to extend into these kinds of services because of the features that traditionally make a shopping centre successful – good transport links and high-profile locations in well-populated areas. But of course, we need to make sure we get this mix right.
One key challenge with the move into mixed-use development is execution. It's not a simple matter of just adding apartment and office space to a shopping centre.
Partly this is structural – many shopping centres were not designed for the addition of towers. But also, there is a raft of complexity related to bringing in new residents and office tenants into what in the past had been purely retail space.
In particular, noise and congestion considerations need to be taken into account, as well as ensuring access to green space, activation and other amenity, strong connectivity through the centre, along with access and linkages to the surrounding infrastructure.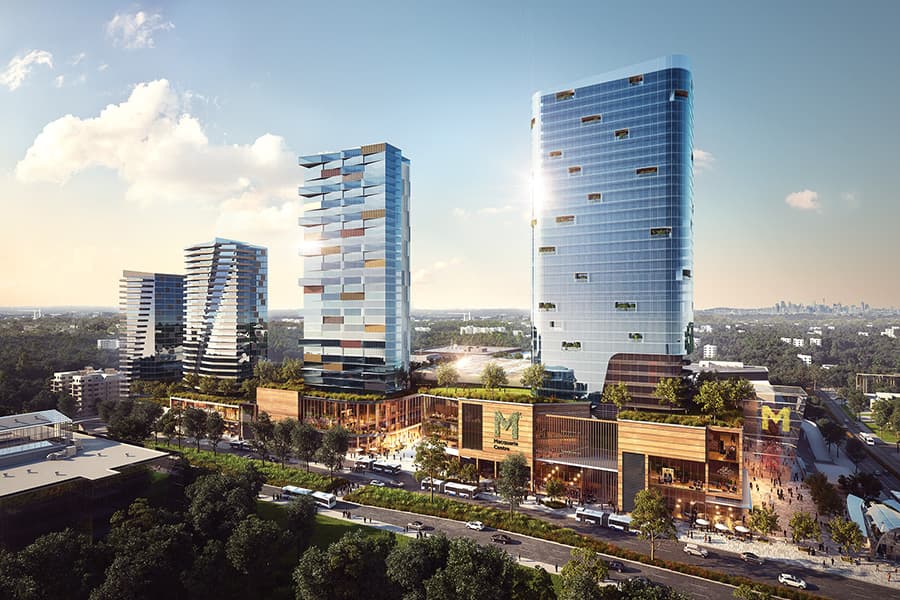 Sustainability
It is not news that customers are turning their attention to how shopping centres address sustainability and social responsibility issues. This increasing focus has led landlords and retailers to adopt a range of environmental and social strategies to support greater place-making and community engagement.
Our centre teams have incorporated best practice standards of accessibility for our customers. Last year, we unveiled our third adult changing facility, providing toilet and change rooms with specialised equipment that caters for people with high support needs, and have created multi-faith rooms for prayer and respite. Our teams continue to cater events for children with sensory needs.
We are also meeting customers demands on improving energy efficiency and reducing our landfill waste. Through partnerships with our retailers and the implementation of smart building technology, we have made inroads into improving our NABERS ratings across our managed portfolio resulting in a 18% reduction in energy consumption since 2019.
At the end of the day, we need to ensure we continue to deliver great experiences for those that live in and around our centres. While e-commerce can deliver goods straight to your home, shopping centres still provide a place for people to connect and be entertained. This shift from buying products to gaining experiences isn't a new concept. Shopping centres have, over time, transitioned from places to "just buy stuff" to become engaging places to "do stuff".
COVID-19 continues to reinforce the need to have a variety of experiences on offer, including general convenience right through to immersive event and experiences.