This article by Lillian Fadel, Director Customer Experience, Scentre Group, forms part of a special CEO Outlook feature published in SCN's Big Guns 2022 edition.

We're excited about the year ahead and confident in our customer strategy and growth ambition. The past 12 months have reinforced the strength and resilience of our platform, people and communities. Our team has been proactive and remained focused on the future.
Despite experiencing more COVID-19 interruptions and restrictions in 2021 than 2020, our platform of 42 Westfield Living Centres across Australia and New Zealand stayed open, every day.
Following periods of lockdowns, we continued to see an immediate return of customers to our centres when restrictions eased. We had 413 million customer visits throughout the year. This tells us that what we offer in our Westfield Living Centres is integral to our customers' day-to-day lives.
Our customer listening and engagement program is a rich source of insights and directly informs our strategy and operations. In September 2021, seven in 10 customers told us they were looking forward to returning to Westfield and shopping for pleasure, with four in 10 anticipating visiting more in the lead up to Christmas.
Our connection to the customer and ability to understand what they want is how we deliver on Our Purpose and Our Plan; to create the places more people choose to come, more often, for longer.
We hold a trusted place in our communities, and we have an ambition to grow by becoming essential to people, communities and the businesses that interact with them.
We aspire to move from; 'important' to 'essential'. To be the third-place outside of work and home where customers choose to spend their time.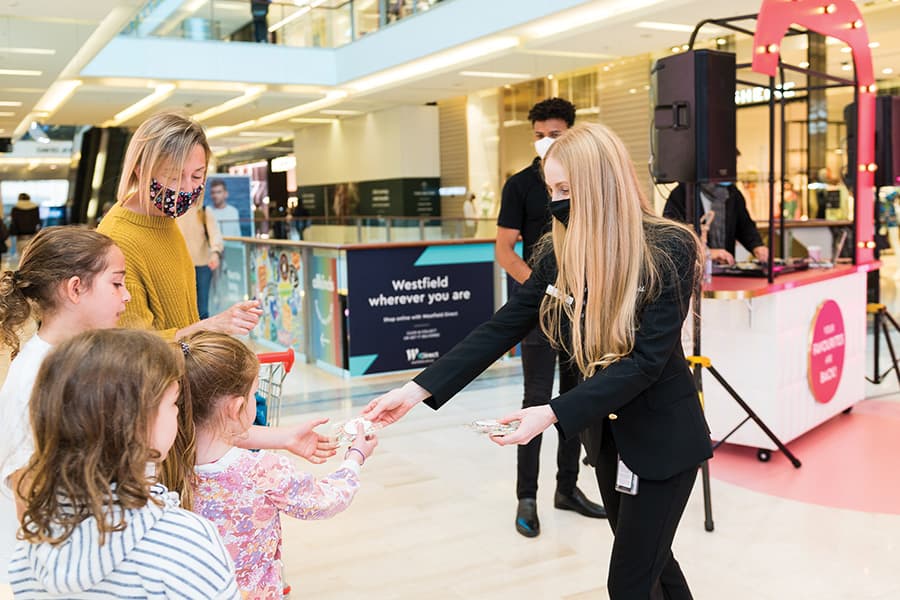 We also want to increase the number of people who experience Westfield by expanding and enhancing our platform, including channels that extend the in-centre experience. This includes Westfield Direct – our aggregated Click & Collect platform – and Westfield Plus, our membership program.
Connecting and enriching communities
Our Westfield Living Centres are strategically located in the heart of communities, in close proximity to 20 million people in Australia and New Zealand.
Our Living Centres are among the most highly frequented destinations in both markets. Each is unique, reflecting the specific needs of its local customers and community.
Our approach to the customer is based on the understanding that we compete for their time and attention. By listening to our customers, responding to and acting upon their feedback, we have seen continuous improvement in customer advocacy.
For example, in 2021, we were pleased to see improvement across the complete customer experience, including parking, range, dining, layout, services, cleaning and congestion. Our Net Promoter Score (NPS) increased by 2pts to 38.
We receive feedback through several customer touchpoints, including in-centre, online reviews, surveys via Westfield Plus, as well as our Westfield iQ research community. This community has more than 12,600 customers.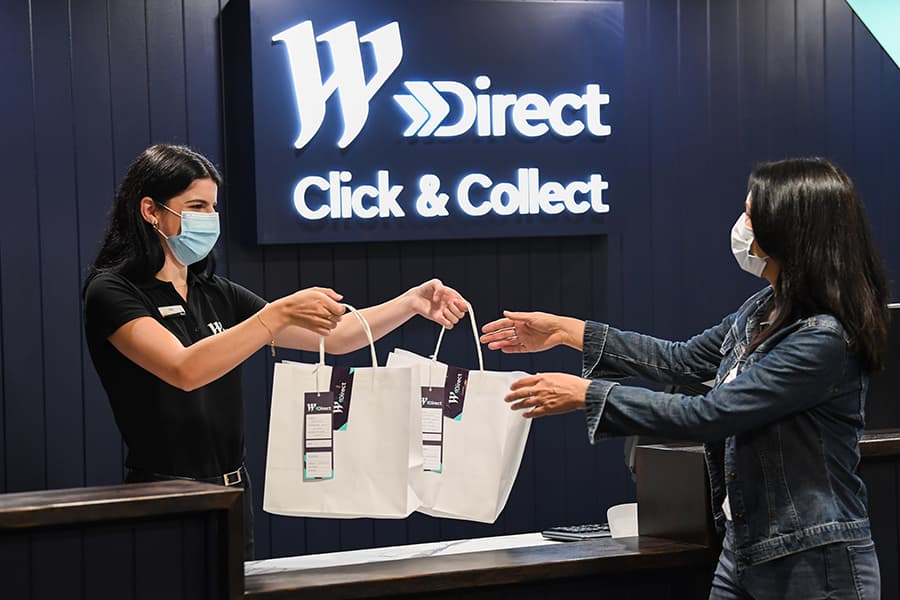 Leveraging the strengths of the Westfield platform
In 2021 we expanded the Westfield ecosystem with the launch of Westfield Direct.
Westfield Direct is an extension of the incentre experience. It allows customers to purchase from multiple businesses, from any Westfield at any time and opt to pick up in-centre or have it delivered to their door.
Our business partners, particularly our SMEs, recognise the value Westfield Direct offers. We are essentially growing their customer reach and sales potential, while alleviating the time and costs associated with fulfilment and delivery. More than 150 businesses are now live on the platform, with more joining every week.
In better understanding our customers, we are exploring ways to better personalise our engagement with them. Our membership platform Westfield Plus has grown exponentially, surpassing 2.2 million members – 1.6 million of these members joined in 2021.
Investing in future needs of customers and communities
Keeping pace with the customer means our Living Centres will keep evolving. We want to create destinations where people and communities in the future will want to spend their time.
Earlier this month, we opened a new rooftop dining, entertainment and lifestyle precinct at Westfield Mt Druitt. The $55 million investment features 15 restaurants and a large-scale Timezone.
Later this year, we will open the first stage of our $355 million investment in Westfield Knox. Following an extensive community consultation process, we will be delivering a world-class Living Destination designed specifically for Melbourne's East.
The first phase will feature the introduction of a new fresh food market on Level 1, including the addition of Woolworths and ALDI. The second stage, due to open next year, will unveil the new Knox Public Library, among other retail experiences and recreational spaces for the community to enjoy.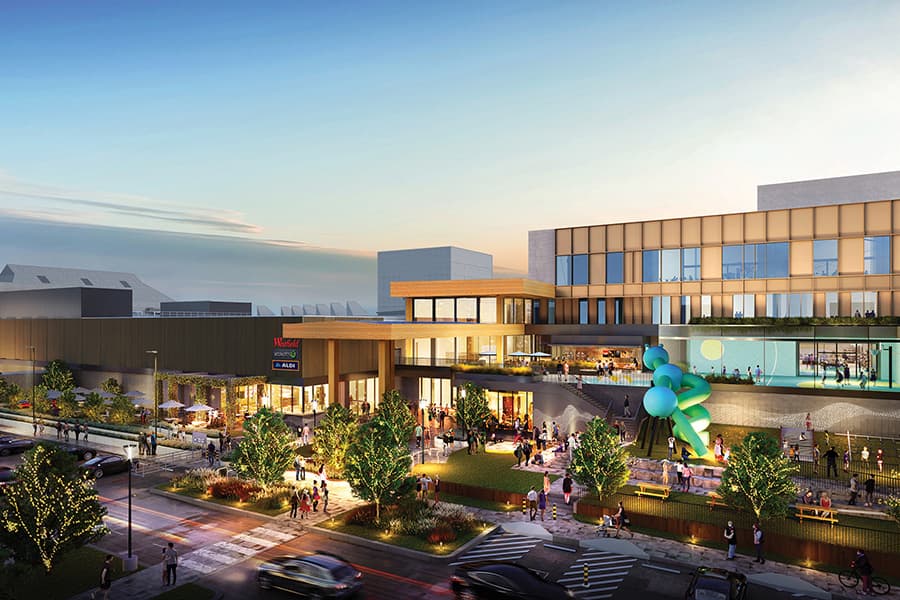 Works are also progressing well on behalf of Cbus Property to design and construct 101 Castlereagh Street in Sydney. Completion of the commercial and residential tower adjacent to Westfield Sydney is expected in 2023.
All our development projects feature sustainability initiatives that align with our responsible business strategy and seek to improve the energy, water and emissions intensity of our destinations.
Connecting more customers with our business partners
Our Westfield ecosystem provides efficient ways to connect with customers at scale. Our destinations consistently attract the most desirable and diverse range of brands and businesses. Demand for physical retail space in our centres remains strong.
During 2021, we completed 2,497 new deals and welcomed 267 new brands to the Westfield portfolio. Occupancy increased to 98.7% as at 31 December 2021. Customers spent $22.1 billion with our business partners.
At Westfield Newmarket, we welcomed 11 new and first-to-New Zealand luxury brands, the majority of which opened immediately following Auckland's extensive lockdown period.
At Westfield Sydney, we welcomed Piaget's first Sydney boutique with more exciting openings to follow in 2022.
We're now focused on expanding the volume of businesses we want to interact with and the range of business solutions we offer.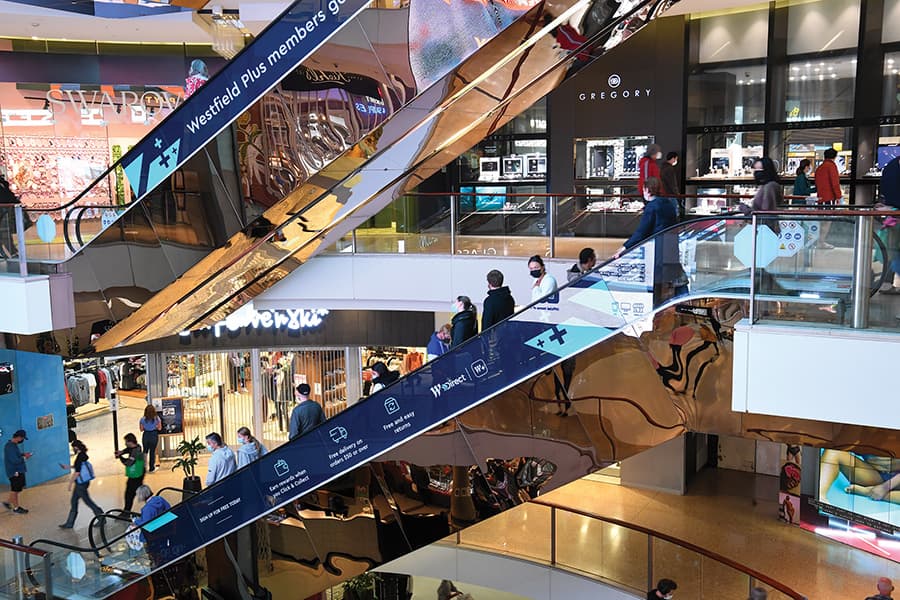 Progress on our responsible business initiatives
We acknowledge the role we play in decarbonising the economy and creating destinations that deliver on our energy, water and waste targets and initiatives. We continue to make good progress.
Last year, we announced our interim target to achieve 50% of our net-zero emissions target by 2025. Our New Zealand centres operate with 100% renewable electricity.
We were pleased to be recognised as Overall Global Sector Leader for retail in the GRESB Real Estate Development benchmark. We also achieved 'A' leadership Climate Leader Status and rating in the Carbon Disclosure Project (CDP) – the only company across Australia and New Zealand to do so in 2021.
We have commenced new on-site solar projects at Westfield Fountain Gate and Westfield Knox, which together will generate an additional 6,200MWh.
This builds on our existing on-site solar generation program, which started in 2016 with rooftop solar panels progressively installed across five Westfield Living Centres – Westfield Marion (Adelaide, SA), Westfield Kotara (Newcastle, NSW), Westfield Plenty Valley (Melbourne, Victoria), Westfield Carousel (Perth, WA) and Westfield Coomera (Gold Coast, Queensland).
We are committed to supporting our business partners with their own environmental initiatives, for example, by providing renewable electricity products to meet their net-zero targets.
We know that eight in 10 customers prefer to shop with retailers whom are behaving sustainably, particularly in terms of impact on the environment. We have plans to engage with our customers more to inform them of the work our team are already undertaking in our Living Centres, particularly water, waste and energy efficiency initiatives.
For our community pillar, this year marks five years since we established the Westfield Local Heroes program. To date, we've recognised and celebrated 489 individuals, with $4.88 million in community grants distributed to the organisations they represent.
We are incredibly proud of the relationships we hold with Westfield Local Heroes alumni and continue to work closely with them.
Our team culture continues to strengthen, and our most recent employee survey recorded an engagement score of 85%, which places us in the top 5% of companies globally.
Well-positioned for growth
We are confident about the future and our team's ability to listen to customers and communities and deliver what they want. We have a clear path and ambition for growth.
The Australian and New Zealand economies are well progressed on their economic recovery. The return of international visitors, low unemployment, high household savings and high vaccination rates present every advantage and every opportunity for continued growth.
We will maintain our focus on customers and continue to deliver on Our Purpose; creating extraordinary places, connecting and enriching communities.