This article by Grant Kelley, CEO, Vicinity Centres forms part of a special CEO Outlook feature published in SCN's Big Guns 2022 edition.

The pandemic required us, in many respects, to manage Vicinity tactically and reactively. However, at the same time, our team has been even more committed to managing and driving our long-term strategy.
After two challenging years for our industry, we are optimistic that we are now commencing a sustained recovery for our business and the retail sector.
The strong performance of our retail portfolio during the past six months demonstrates the resilience of the retail sector and points to a recovery of retailer and shopper confidence.
Adding to our growing optimism is the improved macroeconomic environment. The Australian economy is recovering well, underpinned by strong consumer confidence.
Consumers are currently enjoying a wealth effect created by persistent growth in housing prices, as well as an extraordinarily tight labour market, where job ads have risen by a factor of 2.2 times since January last year. At the same time, unemployment has reduced by 3.2%. And, of particular note, the household savings rate is, once again, more than double the five-year average and almost three-times pre-pandemic levels. Our experience is that households start spending as COVID-restrictions ease. Absent any major changes to current COVID-related conditions, we expect our centres to once again benefit from the redeployment of household savings into consumption.
While consumer confidence softened in January due to the emergence of Omicron, it remained in line with pre-pandemic levels, which – considering the extent of the recent disruption and dislocation – is remarkable.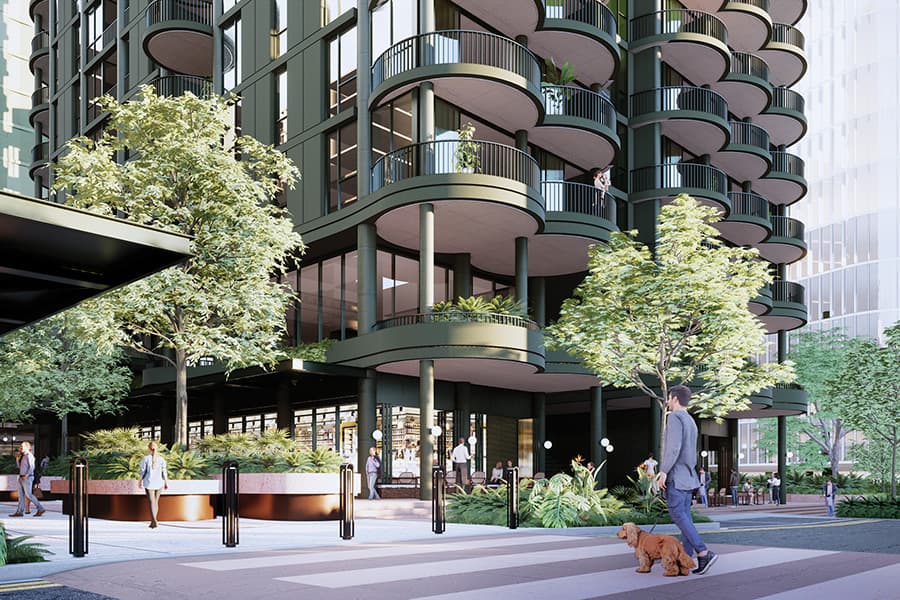 The strong rebound in visits to our centres when restrictions eased has been a consistent theme throughout the pandemic, highlighting the ongoing relevance and importance of physical retail to consumers.
While foot traffic remains below pre-pandemic levels, more purposeful shopping is underpinning consistently strong spend per visit as shoppers visit less frequently but spend significantly more. In November and December 2021, spend per visit was nearly 30% higher versus pre-pandemic levels. Strong spend per visit has supported our retailers, which has in turn, supported our 98.2% occupancy and improved leasing spreads.
While our CBDs along the east coast have been impacted significantly by the pandemic, particularly mid-week, we are encouraged by increasing visitation on weekends – driven by consumers seeking retail experiences only available to them in major cities. Welcoming international students and tourism back to Australia will also play a key role in the revitalisation of CBDs. Collaboration between government, industry bodies and major businesses gives us further confidence that CBDs will return to their former vibrancy in the medium-long term.
Approximately 350 million customers visited our centres during the past 12 months. Our team continues to focus on creating a safe environment and improving the convenience of shopping in our centres, connecting with our customers in new and unique ways.
New types of engagement included the unveiling of an NFT Christmas tree at The Galeries in Sydney, the support of local musicians and entertainers as part of our Spotlight Series and, most recently, our partnership with Hasbro to bring the game of Monopoly to 50 of our centres. Each campaign is unique and an effective way to create a human connection. Importantly, this provides more reasons to visit our centres and support our retailers.
Another important avenue by which we are leveraging our existing assets to create value is the acceleration of our development and mixed-use projects.
We have seen the 'work near home' model grow this last year, which has major implications for the way Australians live, work and play. In response, we're listening to our local communities, understanding their evolving needs, and creating plans to meet these expectations now and into the future.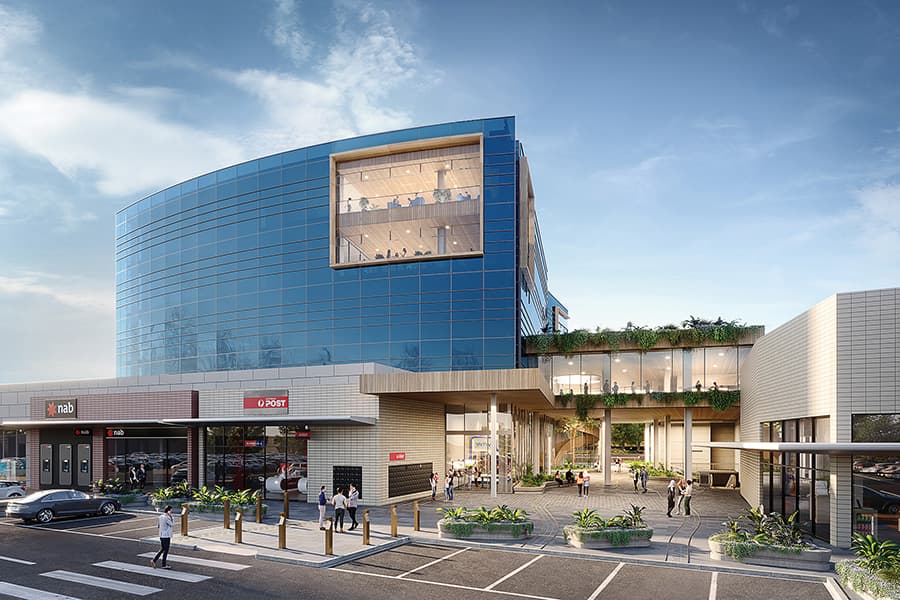 Our development pipeline is gaining momentum, and we've achieved some significant milestones over the past six months. We signed the second-largest Melbourne suburban office leasing deal with Officeworks HQ moving to a refurbished office tower at Chadstone and partnered with Hub Australia to bring co-working spaces to Box Hill South, with more locations to come. Strengthening our mixed-use offer is critical to our long-term growth. Some great examples of this are our recent announcements of significant projects at Bankstown Central, Box Hill Central and Chatswood Chase. At Queensland's Buranda Village, we plan to completely transform the site, developing an 8,200m2 retail and dining precinct with up to 600 residential dwellings and 50,000m2 of office space.
In addition to the larger-scale, mixed-use pipeline, we are also working on several smaller-scale retail modernisation projects.
These developments and innovations will deliver leading customer experiences, and importantly, will have a focus on sustainability.
The Global Real Estate Sustainability Benchmark recently ranked Vicinity as the Regional Sector Leader and Number 3 globally in the Listed Shopping Centres category. We've also progressed our Reconciliation Action Plan in the past year and released our inaugural Modern Slavery Statement. These are outstanding achievements and demonstrate the emphasis our team members place on sustainability.
As highlighted earlier, we have started 2022 with great optimism about the recovery and resilience of the retail industry. We're excited about creating shared value and experiences with our retailers to continue meeting the evolving needs of Australian shoppers.