This article by Chandni Mishra, Sustainability Manager – Retail at AMP Capital, forms part of a special sustainability feature, which was first published in SCN's – September/October Mini Guns edition. Premium subscribers can view the full digital magazine here.



Shopping centres have been meeting the needs of customers and communities for many generations, playing a critical role in providing essential services and helping people feel part of an inclusive community. Even before the pandemic, growing evidence showed that, at a minimum, customers expect their shopping centre to offer safety and security, a strong retail mix and a variety of experiences. This expectation has been highlighted even more so during the past 18 months while we have been living in and adapting to the COVID-19 pandemic, with customers now turning their attention to how shopping centres are addressing sustainability and social responsibility issues.
Consumers are making more thoughtful purchasing decisions, aligning their values with where they shop and what brands they choose.
This has led to a convergence of responsibilities between consumers, retailers and landlords to adopt a raft of environmental, sustainability and governance strategies that address key issues such as energy efficiency, waste management, community support, inclusion and diversity and accessibility.
Delivering on sustainability initiatives
The AMP Capital retail teams have been working closely with retailers, customers and local communities to tackle the challenges brought on by COVID-19, while continuing to deliver some significant achievements across the environmental and social spectrum during the past 12 months. Some of the highlights are below.
Operational efficiency
In terms of energy efficiency, the average electricity consumption for our retail portfolio has been reduced by 12% compared to 2019, contributing to improved NABERS energy ratings in eight of our 12 rated centres nationally. We are proud that 50% of our shopping centre portfolio is currently above a 5-star NABERS energy rating, with Royal Randwick Shopping Centre in Sydney achieving the highest 6-star rating (without GreenPower). We have also achieved some significant savings in water consumption, with an average reduction of 23% across the shopping centre portfolio, and nine centres obtaining an improved NABERS water rating.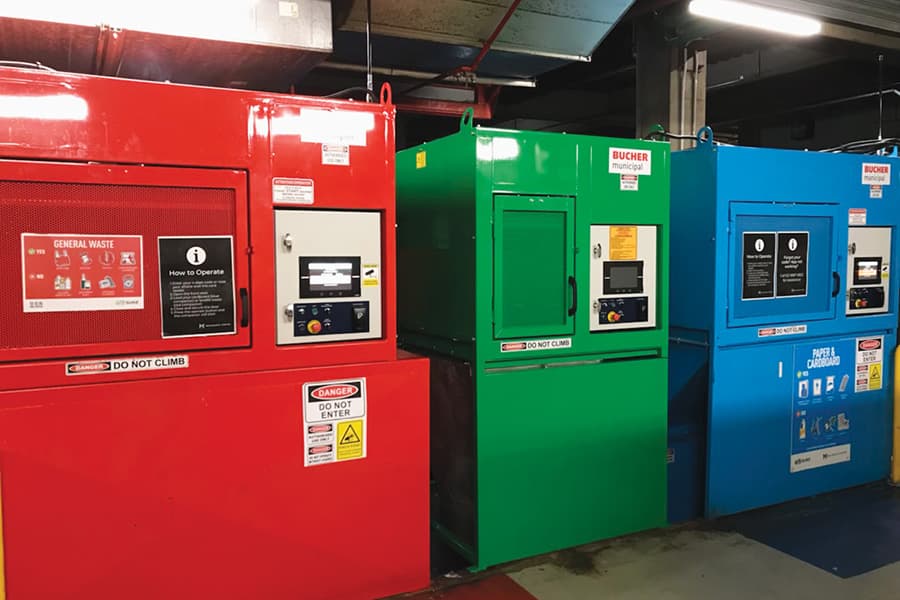 While COVID-19 lockdown restrictions may have impacted these results, ongoing reductions and operational efficiencies have still been achieved. These efficiencies have been realised as a result of energy savings in capital projects, with our centre teams implementing initiatives such as proactive building controls to cope with the changing operational environment, the introduction of Switch Automation and Brain Box AI (autonomous HVAC control technology) as well as IOT water meters to ensure we are getting real-time data on water consumption.
The government predicts that by the year 2030, 26% of new vehicle sales will be electric cars. To support the growing demand for electric vehicles, we have installed 40 Electric Vehicle charging facilities across the portfolio, most recently installing six Tesla Superchargers at Karrinyup Shopping Centre – a first for Perth.
Waste management
We have improved our waste mangement practices across the portfolio, enabling an increase in our recycling rate by at least 5% and reducing waste intensity by 18%. This will have the impact of reducing waste from 22.3kg/m2 in 2019 to 18.3kg/m2 in 2020.
Following last year's installation of 33 smart waste compactors across our centres, we have launched a tenant waste portal for shopping centres to better track and manage waste. This initiative helped Pacific Fair Shopping Centre in Queensland to improve their recycling rate to 54% by prioritising education and support on circular solutions for high waste generating retailers.
Based on a survey conducted by a key retailer, reducing waste to landfill and plastic packaging was the number one concern when it comes to environmental issues in retail. We are also seeing more food retailers focusing on sustainability by switching to more sustainable and compostable packaging.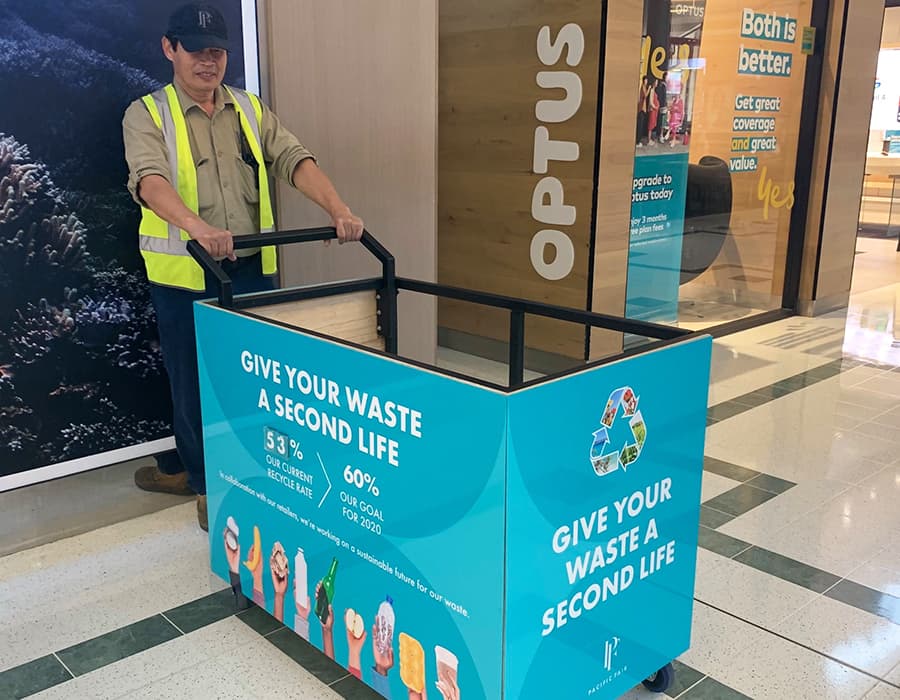 Off the back of this survey, this year we launched a pilot, supported by the NSW Government Environment Protection Authority on the use of compostable packaging in food courts.
Helping our communities
Helping our communities and our people has never been more important for our shopping centres. As we saw with the bushfires in 2019/20, storms and floods in 2020/21 and the ongoing impact of COVID-19 on all our retailers, customers and communities, it has been a difficult few years. Despite lockdowns and restrictions, we have endeavoured to find ways to support causes our customers and communities believe in.
In 2020, our shopping centres raised more than $190,000 in charitable donations, including $4,380 for bushfire relief related causes. In addition, centres donated more than $127,000 in short-term leasing space to local community partners such as the RSL, Cancer Council, local schools and hospitals.During the month of Ramadan this year, Sydney's Casula Mall launched the 'Zakat Project', a charity drive to collect non-perishable food to donate to families in need.
Inclusion and diversity
Ocean Keys Shopping Centre in Perth introduced the 'Paint Wanneroo REaD initiative', a free reading space for the community in collaboration with the Rotary Club of Mindarie and the Clarkson Library. This initiative aims to encourage parents and families to read to children from birth, so that children arrive at school with more developed communication skills.
The physical, emotional and mental wellbeing of all our customers and people has been paramount during the COVID-19 pandemic. 
Our centres have embraced the need for customers and children to stay active, both physically and mentally. As an example, Pacific Fair Shopping Centre introduced a free games area for kids and Indooroopilly Shopping Centre has a free indoor skating rink.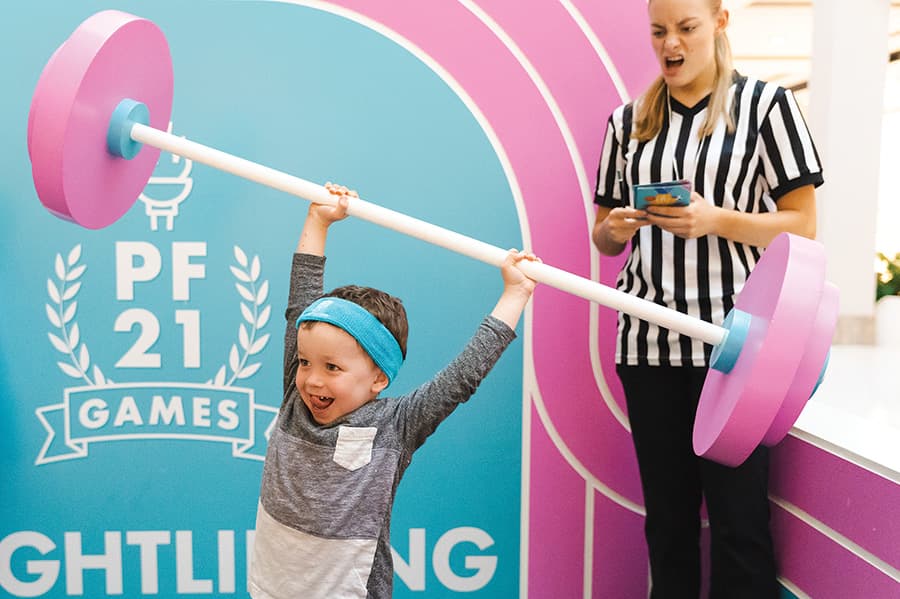 Accessibility
AMP Capital Shopping Centres aim to incorporate best practice standards of accessibility for our customers. For example, we recently unveiled our third adult changing facility – providing toilet and change rooms with specialised equipment that caters for people with high support needs and their carers. We have also created multi-faith rooms for prayer and respite in Casula Mall in Sydney and Bayfair Shopping Centre in New Zealand. We hope with more inclusive designs such as these, we can create spaces within our shopping centres that are inclusive and easily accessible for all our customers.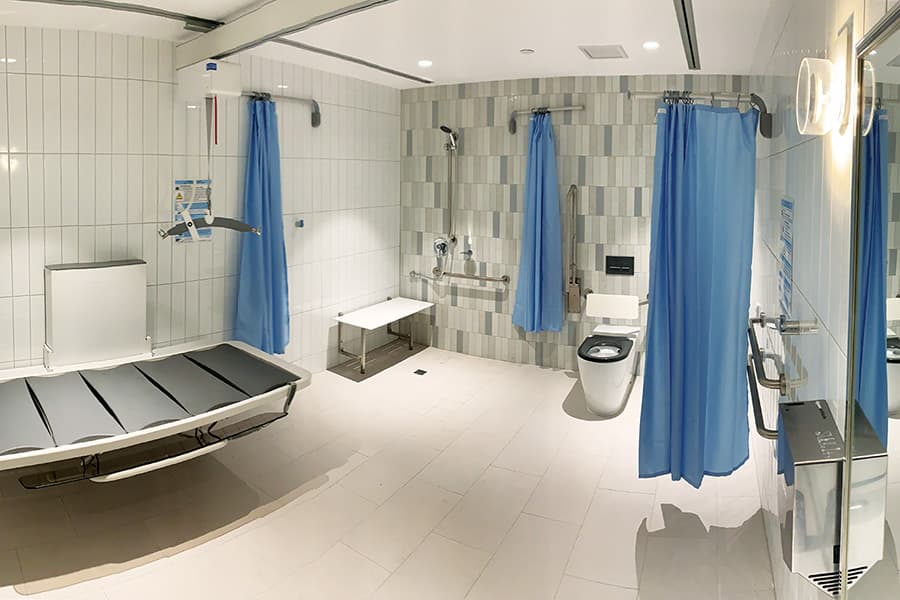 Where to next?
While our shopping centres as we know them are changing, they will always remain important community hubs and workspaces, our go-to for essential shopping and services and places for experiences and connection.
No matter what the future holds, AMP Capital remains committed to achieving long-term sustainable outcomes in all our retail centres. We will continue to focus on environmental sustainability and social responsibility and working together within all the communities in which we operate.