Following in the footsteps of supermarket giants Woolworths with Metro stores, and Coles with the 'Coles Local' concept, ALDI Australia has launched the first of its kind 'Corner Store' concept – a new ALDI store format for Australian shoppers.
The 'Corner Store' concept offers an enhanced shopping trip for customers including a new store layout to maximise efficiency for cosmopolitan customers, with a modern interior design complemented by simple navigation, self-checkouts and extended trading hours.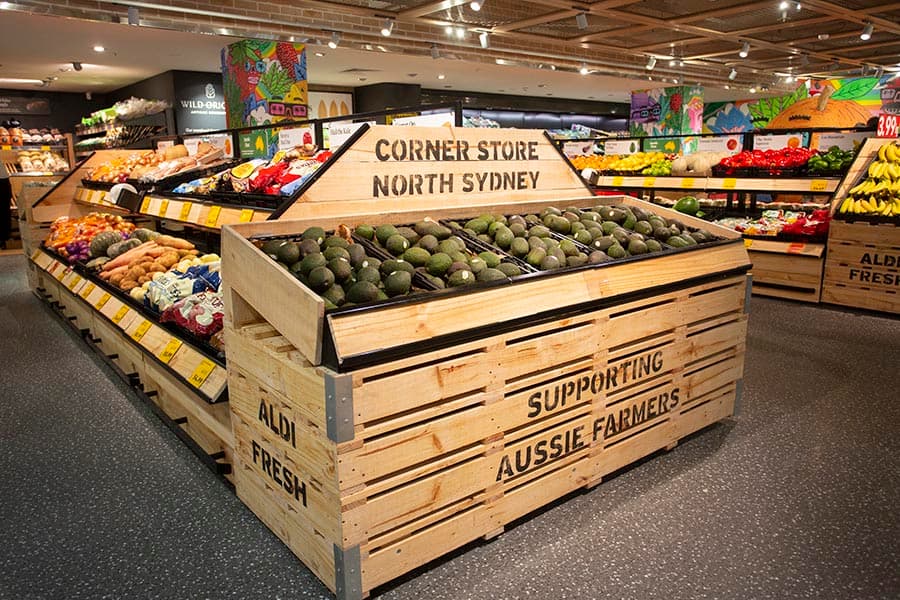 ALDI's first Corner Store opened in North Sydney and features an extensive range of convenient grab-and-go meal options, a coffee kiosk operated by Sonoma with locally roasted, barista-made coffee, an artisan bakery section and a collection of ALDI's famous 'Special Buys'.
"We have proceeded with opening the new ALDI Corner Store in North Sydney, taking into account all the current COVID restrictions. Given the lockdowns in Greater Sydney, we don't feel it is appropriate to drive interest or additional customer traffic to Corner Store at this time. We are fortunate that as an essential service we are open for trade, and in these challenging times feel it is our responsibility to ensure North Sydney locals have access to the re-opened store to make their essential grocery purchases as needed", said an ALDI Australia spokesperson.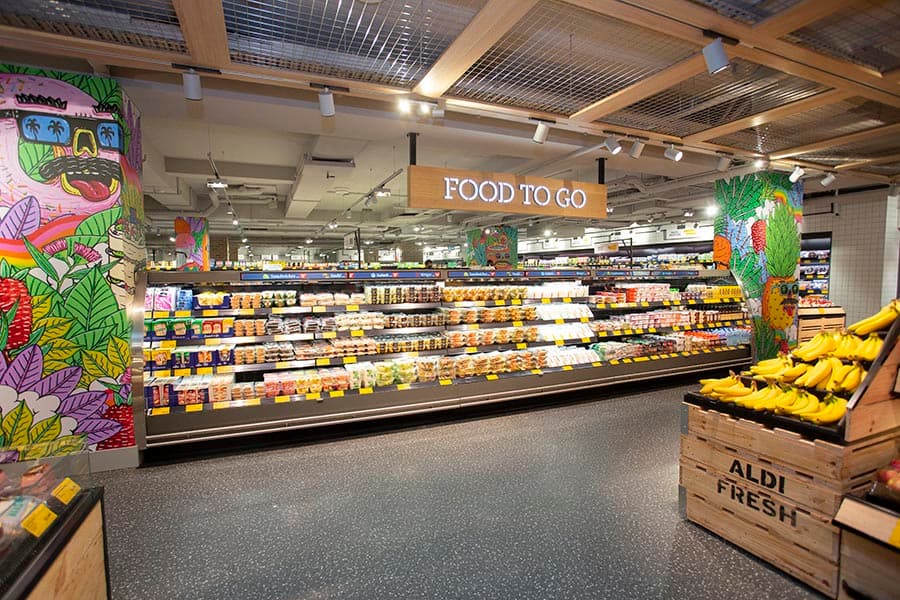 ALDI Australia have partnered with local suppliers to offer a convenient range of ready-to-eat options instore. Perfect for time-poor commuters, busy professionals, and those after a healthy pick-me-up, ALDI Corner Store will offer a variety of sushi, salad pots, sandwiches and wraps from as little as $3.29, as well as prepared fruit and snack combo packs from $2.99.
The new artisan 'Wild Origins' bakery range offers a wide variety of sweet and savoury goods, including 12 types of sourdough bread, vegan burger buns, chocolate croissants, pretzels, and multi-pack cookies.
The Corner Store will also feature an OzHarvest 'Juice For Good' vending machine that supports Australian farmers by using blemished oranges, with all profits of the juice sales going to OzHarvest. ALDI Corner Store customers can receive a fresh cup of orange juice, squeezed in front of their eyes from fresh, rescued oranges, ensuring that good quality produce does not go to waste. Every juice sold is the equivalent to one meal being donated.
The store interior features artwork by talented street artist and muralist Joel Moore, aka Mulga who is known for his unique Australian creations and signature style of intricate line work and bright colours. Mulga's captivating artworks for ALDI's first Corner Store celebrate the store's surrounding neighbourhood, as well as ALDI's amazing quality and award winning products.
ALDI Corner Store was designed by Landini Associates. Scope of works included naming, identity, interior design, all graphic in-store communications (environmental signage, way-finding, tone of voice, and uniforms), mural artwork direction and the commission of Mulga. The project was delivered by Retail Specialists, Mainbrace Constructions.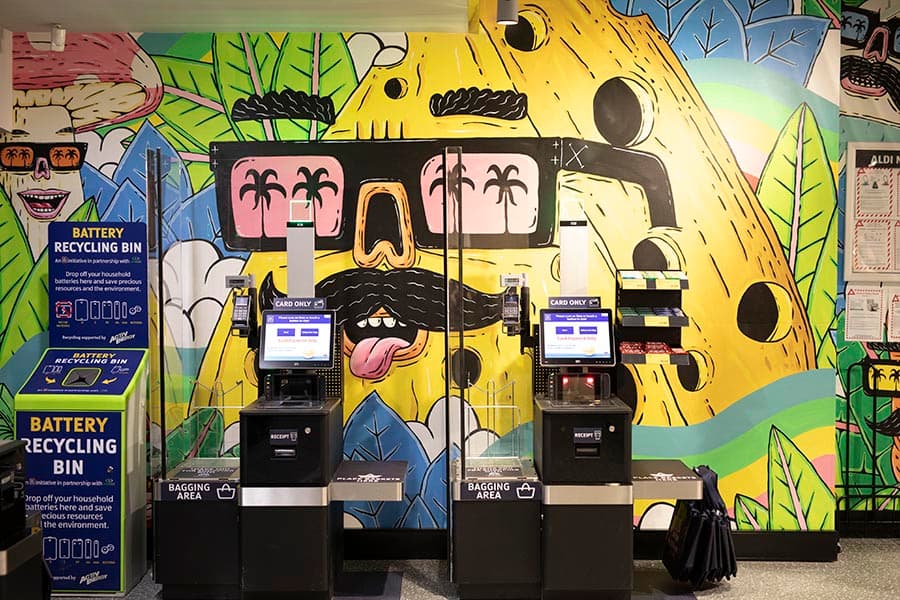 Additionally, the store's interior celebrates ALDI's sustainability initiatives with new signage pointing to ALDI's environmental commitments. This includes that ALDI Corner Store, like all ALDI Australia's stores and warehouses, is powered by 100% renewable electricity and ALDI's commitment to reduce plastic and food waste. ALDI Corner Store will also package its new range of convenience food products with recyclable packaging.