It is the natural Australian spirit to help each other in times of crisis. The recent and ongoing unprecedented bushfires has changed the nation in so many ways – but what is evident is how the business community have stepped up to support the relief efforts across the country. The retail and shopping centre industry is a significant industry touching many Australians everyday. So it makes sense that in a time of crisis, shopping centres are actively helping their communities when they need it the most.
There are too many businesses to mention that are assisting in both monetary and service ways, but we thought as a collective it was worth Shopping Centre News highlighting some of the efforts our industry is making. It's times like this when companies can band together to make a difference.

The Perich family who co-owns Narellan Town Centre and developed Oran Park town through the Greenfields development company has generously donated $1 million to farmers affected by the ongoing drought crisis.
Tony Perich and his family have been heavily involved in farming for decades and he told the Advertiser it was terrible to see the devastation Australia's primary producers were enduring.
Industry organisation NSW Farmers has launched a bushfire relief fund, which is where the Perich family has donated their money. "More than 9,000 farmers have been affected by these bushfires. They've lost pastures, they've lost fences, sheds and more. They need fodder to keep their stock fed, they need equipment. We've donated $1 million to kick this fund off, and we hope to raise $10 million for the NSW Farmers bushfire relief fund." Perich said.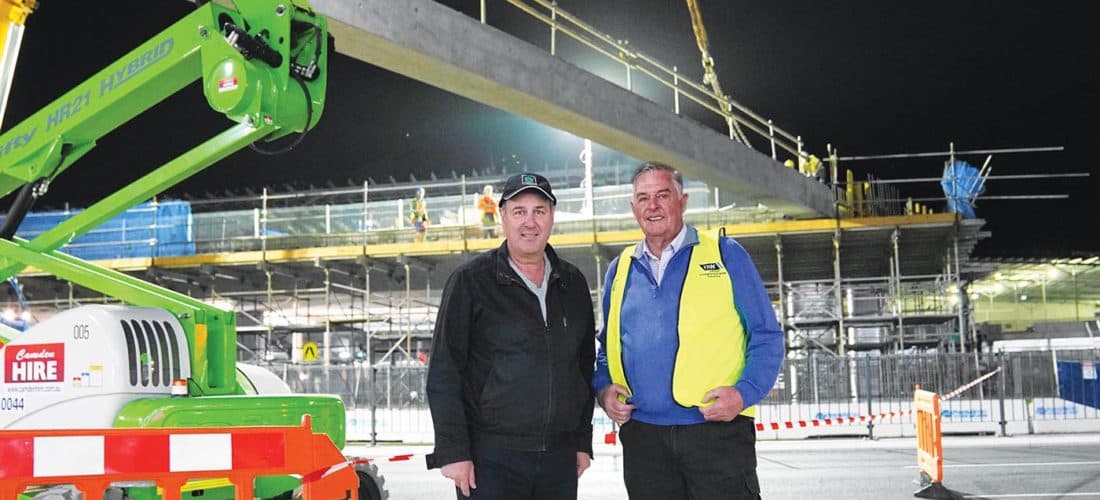 Lendlease has donated $500,000 to the Australian Red Cross, and has pledged to match individual donations from its employees to the charity on a dollar-for-dollar basis. Many of their stores are also contributing to the Bushfire Disaster Appeal, while customers can make a cash donation at the Customer Service Centre to the Salvation Army at Lendlease shopping centres.
Scentre Group have provided a cash donation of $500,000 to the Salvation Army along with additional in-kind support via the company's digital screen and media network and community desks across its Westfield Living Centres to support the charity's relief and recovery appeal in the wake of the bushfire emergencies.
Scentre Group CEO Peter Allen said the scale and impact of the bushfires across Australia has been devastating and the company was partnering with the Salvos in a number of ways to support what is needed now and in the future.
"On behalf of our company, I want to express our deepest condolences to the families who have lost their loved ones, homes, businesses and communities. We also express our deep admiration and gratitude to all of the volunteer firefighters and emergency services personnel for their efforts,"
Additionally, the group will provide access to community desks to facilitate fundraising at their centres.
Stockland has also pledged a donation of $500,000 to support the relief, recovery and rebuilding efforts. 
Stockland Managing Director and CEO Mark Steinert said: "Like all Australians, we are devastated to witness the impact of the bushfires on so many communities and animals across our country, and we extend our deepest condolences to the families who have lost loved ones, their home or business, and to everyone experiencing the effects of the fires. The toll this is taking on people's livelihoods, their health and wellbeing, our environment, animals and businesses cannot be underestimated, and we acknowledge the incredible efforts of everyone involved in managing this unprecedented situation. Our $500,000 donation will go towards the Foundation for Regional and Rural Renewal (FRRR) and other charity organisations assisting with the immediate relief effort in affected communities, and contribute towards funding the significant recovery and rebuilding efforts which will be required by communities over the coming years." 
Steinert continued: "Over the coming weeks we will also consider other initiatives where, in addition to our initial cash donation, Stockland assets or resources could be used to accelerate recovery efforts and help affected communities get back on their feet more quickly. 
"We are incredibly grateful for the tireless work of the country and rural fire services across Australia and for their ongoing professionalism, communication and dedication to community safety in extremely difficult circumstances. We also sincerely thank the many volunteers and people working in government, emergency services, relief and support organisations for their ongoing commitment to managing this incredibly difficult situation." Steinhart said.
During December Stockland provided a donation of $20,000 to the NSW Rural Fire Service and QLD Rural Fire Brigade and also donated $35,000 through its annual Christmas giving program to the Foundation for Regional and Rural Renewal (FRRR), contributing towards drought relief in impacted communities.
AMP Capital confirmed its employees and the AMP Foundation have so far donated more than $250,000 to the Red Cross Disaster Relief and Recovery Fund, helping support communities and individuals that have been affected by the bushfires. AMP Capital managed Pacific Fair raised over $307,000 for the bush fire appeal with Magic Millions ambassadors, customers and celebrities raising money at the recent Pacific Fair Magic Millions Polo event.
In addition, Pacific Fair donated $25,000 to the local Currumbin Wildlife Hospital Foundation which will provide vital services for any injured wildlife. For the past five years Pacific Fair has been a proud partner of the Currumbin Wildlife Hospital Foundation, raising much needed funds to treat thousands of animals each year.
It costs on average $7,000 to treat, rehabilitate and release a single koala. In 2008, the Currumbin Wildlife Hospital treated 27 koalas, in 2019 they saw 600 and now in 2020 as a result if the horrible bushfires burning in Australia, the number is unknown but expected to be in the thousands, along with the many other wildlife who will need their help.
The centre said "We are also working with the Currumbin Wildlife Hospital Foundation team for how we can continue to support them again in 2020, including an upcoming fundraising event, as the long term effects of these fires continues to be made known."
Vicinity Centres announced a package of assistance to help support the many teams of people and organisations coordinating firefighting and disaster relief and recovery efforts across Australia. The statement said "Our thoughts are with the people affected by the unprecedented disaster, and with the brave men and women at the fire front who are working tirelessly to keep our communities safe." 
Vicinity contributed an initial $250,000 to help those affected by the ongoing bushfire crisis, which will be distributed evenly between The Salvation Army and Foundation for Rural and Regional Renewal and will continue to match all donations made by employees to official bushfire-related charities.
The package of assistance also includes offering community space at its 60+ centres, for organisations coordinating a response to the crisis, free digital advertising space across Vicinity's screen network to continue to raise awareness of bushfire appeals, establishment of mobile blood units to support the blood drive for bushfire victims and extended volunteer leave for people giving time to charities dedicated to the bushfire relief and recovery.
With many communities across Australia suffering unimaginable loss and devastation as a result of ongoing bushfires The GPT Group has donated $200,000 to organisations supporting the crisis, including the Australian Red Cross, The Salvation Army and NSW Rural Fire Services. The Group will also match staff donations to registered organisations helping with firefighting, relief and recovery efforts, by giving two dollars for every one dollar donated, to a total of $50,000.
Mirvac backs volunteers with unlimited, fully-paid leave, and is supported a number of volunteers who are Mirvac employees. To lend help to those on the frontline, Mirvac are also matching our employee donations, dollar-for-dollar, and have supported the Australian Red Cross with a corporate donation. With climate-related emergencies such as these expected to increase in both their frequency and intensity, Mirvac are more committed than ever to sustainability and to proactively reducing our impact on the planet.
Queensland based Retail First and All Purpose Transport has extended the Queensland Foodbank food donation drive which raised more than 40 tonnes of food to date, until the end of January to help those who are homeless or displaced during the bushfire crisis.
With so many retail businesses affected across the nation the peak retailer bodies quickly instigated resources for retailers:
Australian Retailer's Association
To donate or offer help here is a full listing
Mental Health Support
Lifeline Australia: 13 11 14
BeyondBlue: 1300 224 636
Shopping Centre News would like to thank all the work of the emergency services and volunteers in helping with the bushfire crisis.
Until 17 March 2020, Shopping Centre News will donate $100 from each new subscription to the bushfire relief. Subscribe here