Scentre Group's Australian customers can now shop from any Westfield any time, with the launch of Westfield Direct. Today's launch is just the beginning of the Westfield Direct experience with more than 100 existing business partners and brands from across a diverse range of categories on board, with new businesses joining every day.
Westfield Direct connects into, and is powered by, Westfield's market-leading physical destination network offering aggregated Click and Collect and home delivery.
Following a successful pilot in 2020, Westfield Direct extends the in-centre experience by enabling customers to purchase from multiple Westfield business partners across any Australian centre, in one online transaction.
Westfield Direct offers more convenience and flexibility to more customers by leveraging the strategic locations of 37 Westfield Living Centres across Australia.
Once an order is placed, customers can Click and Collect from the Westfield Direct service desk at their local Westfield or choose home delivery. Signage in-centre has been updated in preparation for increased Click and Collect customer visitation. Westfield Plus members will receive reward credits on all Click and Collect orders giving them further incentive to visit their local Westfield.
Customers can shop from big name brands to loved locals, including men's and women's fashion labels; MJ Bale, Cue, General Pants, Saba, Ted Baker, Sportscraft and Gorman, to homewares and leisure brands; Wheel & Barrow, Habitania, House, My House, Build-a-bear, Kidstuff and HobbyCo, to health and beauty with Aesop and L'Occitane; and much more.
Scentre Group Chief Customer and Business Development Officer Phil McAveety said Westfield Direct builds on the company's core business to create more opportunities for customers to connect with Westfield and its business partners: "We are bringing the Westfield experience to more people. This is fundamental to our customer strategy and our ambition to grow.
"Westfield Direct offers more convenience, flexibility and choice for customers to shop Westfield, any time, anywhere – still with the human connection they value.
"Westfield Direct provides our business partners with the opportunity to increase the productivity of their physical store networks whilst alleviating the time-intensive and costly process of fulfilling and delivering orders.
"Westfield Direct also presents a significant growth opportunity for our SME retail partners, many of whom only have one or two physical stores with us and no online presence. We're looking forward to supporting them through this transition and introducing them to new Westfield customers particularly in the lead up to the Christmas period."
Cue Executive Director Melanie Levis said:"Cue and Westfield have built their businesses together over the decades and we're pleased to partner on this next phase. Our customers have gone from checking our Westfield store locations and opening hours online to now being able to explore the entire Cue range anywhere, anytime on Westfield Direct.
"From today, you can shop the entire Cue summer collection online at Westfield Direct."
Every Australian Westfield Living Centre will be a Westfield Direct distribution hub – facilitating inter-centre and interstate product transfers. Westfield handles the end-to-end experience, including order fulfilment logistics, last mile delivery and customer service.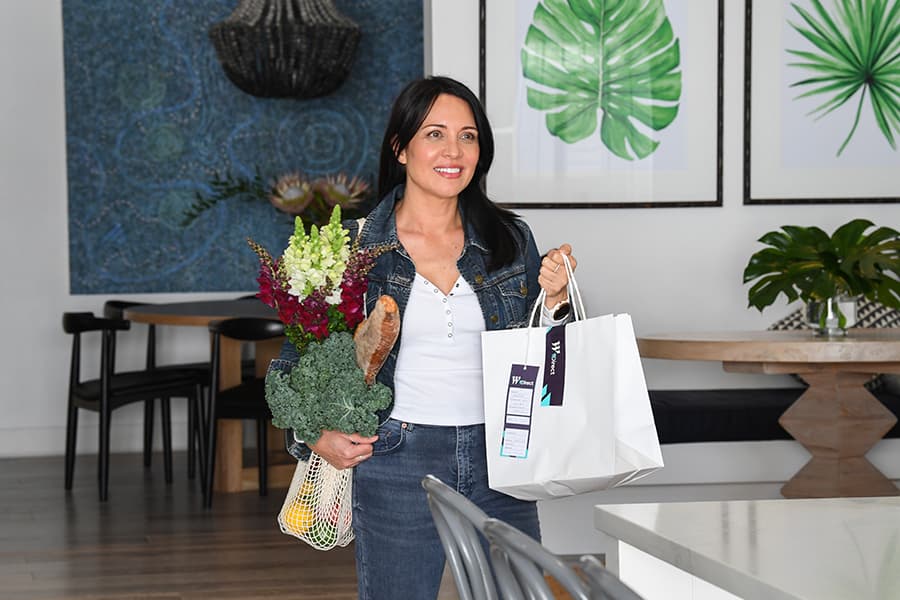 How Westfield Direct works:
Every business on the Westfield Direct platform has their own unique virtual storefront; an extension of their in-centre experience
Customers can browse Westfield Direct by category or curated collections, visit a business' virtual storefront or search by specific product to order from any Westfield, no matter where they are in Australia
Once an order is placed, customers can opt to Click & Collect at any Westfield location or have their items delivered straight to their door. Customers can expect to receive their orders within 1 – 5 business days for Click and Collect and within 10 business days for home delivery
Westfield handles the end-to-end experience, including order fulfilment logistics, customer service and last mile delivery.
Every Australian Westfield Living Centre is a Westfield Direct distribution hub – facilitating inter-centre and interstate product transfers
There are dedicated Westfield Direct service desks in every centre and friendly staff to assist with on-the-spot returns and other queries. Signage has been updated to help customers navigate Click and Collect. There is also an Australia-based customer care team that can be contacted via live chat or email
Special offers and benefits are available exclusively for Westfield Plus members via the Westfield Direct platform
Westfield Plus members can earn 10% reward credit on Click and Collect orders, redeemable as a Westfield Digital Gift Card once their reward balance reaches $20 or more.
Westfield Direct is now available at www.westfield.com.au. Customers can shop all Westfield Direct businesses, browse curated collections, and search for specific products and brands using the search bar.