Sandhurst Retail & Logistics (SRL) has submitted an Urban Design Framework (UDF) to the city of Hume for its $100 million major town centre in Sunbury South, expanding the build-and-hold developer's $1bn portfolio of projects in Melbourne's fastest-growing residential corridors.
In line with SRL's goal of re-imagining growth-area amenity, the company has announced the appointment of world-renowned architecture practice OMA to design the centre.
Stage 1 will comprise a full-line supermarket, discount department store, premium commercial and retail spaces, and innovative outdoor amenities including a pedestrian-friendly environment, urban interfaces, green space, seating, undercover areas. SRL will also be incorporating medium and high-density residential options in future stages of the Sunbury scheme.
OMA set out to redefine what a town centre could be for SRL's Sunbury project, explains director Paul Jones, whose team focused on urban integration, activation, and diversity of uses, in addition to permeability, transparency and connectivity as part of its strategy to heighten user experience to coincide with its innovative design approach.
"We're using good urban principles and planning strategies to bring urban design, architecture and landscape together to deliver a completely different type of outcome – I don't think there is anything like it.
"We definitely looked to reinvent the concept of a town centre – we've consolidated uses around very clear public circulation strategies; rather than spreading uses broadly around the precinct, we're tightening it up and bringing it closer together, so there's a better concentration of use, activation and connection for people," Jones said.
SRL managing director Vivek Subramanian believes the submission to council is an important step for the company."We have strong relationships with Hume, existing Sunbury residents and the residential developers delivering the growth to this new area, and we are looking forward to engaging with these key stakeholders in the delivery of this long term vision," Subramanian said.
The major town centre will cater to the needs of the rapidly growing population of Sunbury, which is set to more than double in the next 20 years as attractive house prices, government home buying incentives and lifestyle preferences fuel the current population shift towards the regions.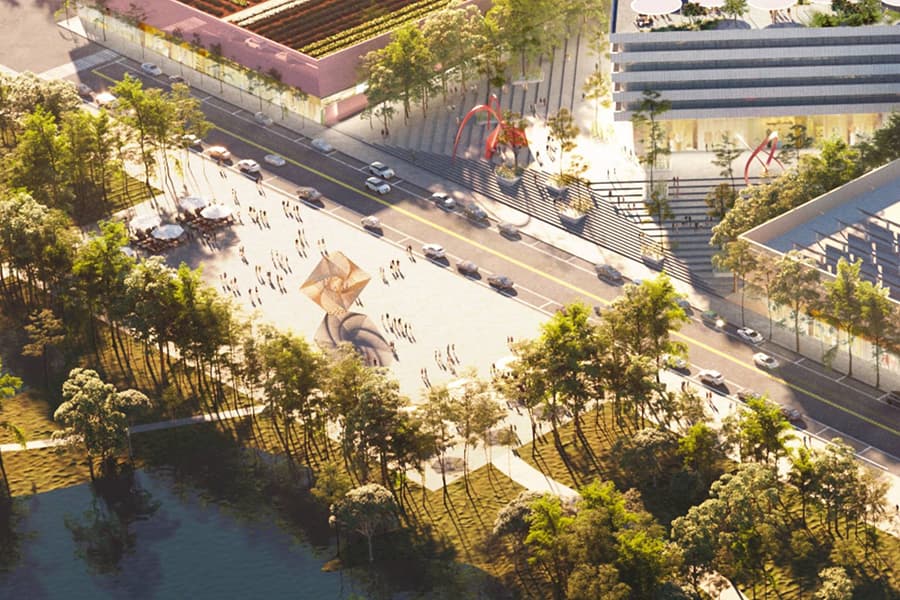 Forecasts by .id reveal that the population of Sunbury will more than double in the next 20 years, jumping from 42,494 in 2021 to 86,640 in 2041, cementing the demand for high-quality retail assets to complement the growing population.
Josh Bull, State MP for Sunbury, is eager for the community to experience the economic and social benefits the centre will bring to the area. "The Sunbury South major town centre presents a unique and wonderful opportunity for our growing community – local residents speak with me often about the need for greater retail options, more local jobs and more opportunities close to home."
"This project is genuinely exciting and I look forward to its delivery and what it will mean for Sunbury and surrounding suburbs in the North West," Bull said.
Cr Joseph Haweil, Mayor of Hume City, is looking forward to the contribution that the new major town centre will make to the growing locale of Sunbury.
"We are looking forward to seeing SRL's new community-focused space come to life, with its premium retail, entertainment and leisure in one location – I think the centre will become a social space that facilitates community and economic growth, that the residents of Sunbury will benefit from for years to come.
"The centre will also create employment opportunities for local residents alongside other economic benefits, increasing employment rates and expenditure in the area. The full-line supermarket and speciality tenancies, as well as construction, will offer a variety of opportunities for our community," Haweil said.
The Sunbury South major town centre will become the second collaboration between SRL and OMA in the developer's $1bn portfolio; last year SRL announced the Dutch practice's Australian office would lead the architecture on its 9,000m2 Wollert neighbourhood centre.