In partnership with Wing Australia, healthy QSR brand Roll'd Vietnamese and global restaurant chain KFC, have taken to the skies in a bid to bring their range of freshly prepared takeaway to more Australians, while reducing CO2 emissions and keeping staff in reliable employment.
With innovation and modern technology front of mind, investing in drones and all its benefits has always been a priority for Roll'd's CEO and Founder, Bao Hoang, who believes streamlining and modernising traditional delivery methods will be pivotal in setting an example for other Australian retailers in a combined effort to tackle national CO2 emissions, and costs associated with updating infrastructure and road congestion.
"Drone delivery will elevate Australia to be the world's most modern delivery country for food and parcels, expanding the choices and reach for local businesses, consumers and our community. Through our partnership with Wing, Roll'd will be a key player alongside other businesses to reduce the costs of infrastructure on roads and slash congestion.
With drone delivery technology having the potential to replace 2.3 billion Australian vehicle kms each year by 2030, we'll see huge national reductions in CO2 emissions," says Hoang.
Freshly prepared Roll'd Vietnamese orders are being delivered by drones to local homes and businesses in the communities of Logan, Queensland, and Gungahlin, Canberra. The Wing drones autonomously carry orders in their custom-designed packages at an average speed of more than 110kmh. Once at the delivery location, the drone descends to seven metres, hovers, and the package is lowered to the ground on a tether and automatically released in the delivery area – generally the driveway or front yard of the person who ordered it.
KFC franchisee Collins Foods is also partnering with Wing to expand its digital and delivery offering, launching the nation's first KFC drone delivery pilot in southeast Queensland.
An Australian-first for KFC, the pilot will initially be available to a small number of households in the South East Queensland suburbs of Kingston, Logan Central, Slacks Creek, Underwood, and Woodridge, and service will gradually expand to include other nearby locations.
"We're always looking for ways to enhance the customer experience, so we're thrilled to be teaming up with Wing to provide the Logan community this Aussie first," said Kristi Woolrych, CMO KFC Australia. "Given the last 18 months, Australians have relied on delivery more and more, so it's great to be making life easier for fans who want to get their hands on KFC in a flash. You know the future truly is here when you can get hot, fresh Kentucky Fried Chicken delivered by a drone from the click of a few buttons!"
Customers simply download the Wing delivery app from the App Store or Google Play, enter their address, and submit their order. Their KFC food items will be prepared fresh by the KFC team at the Wing delivery site, for delivery within minutes by drone, with no delivery fee.
A 'cloud' kitchen has been developed to freshly prepare KFC's chicken ready for drone delivery, allowing customers to get their KFC within minutes.
Dave Ojiako-Pettit, Wing's City Manager, Queensland, said: "We're excited to be teaming up with KFC, to expand their delivery options for customers by taking its customer favourites to new heights, through the skies of Logan, Queensland – the drone delivery capital of the world,"
"We've seen a significant increase in use of our on-demand drone delivery service in South East Queensland. Wing made more than 100,000 deliveries to the Logan community in 2021, with many customers finding on-demand drone delivery especially useful as they stayed home, and relied on our contactless service to deliver the things they needed."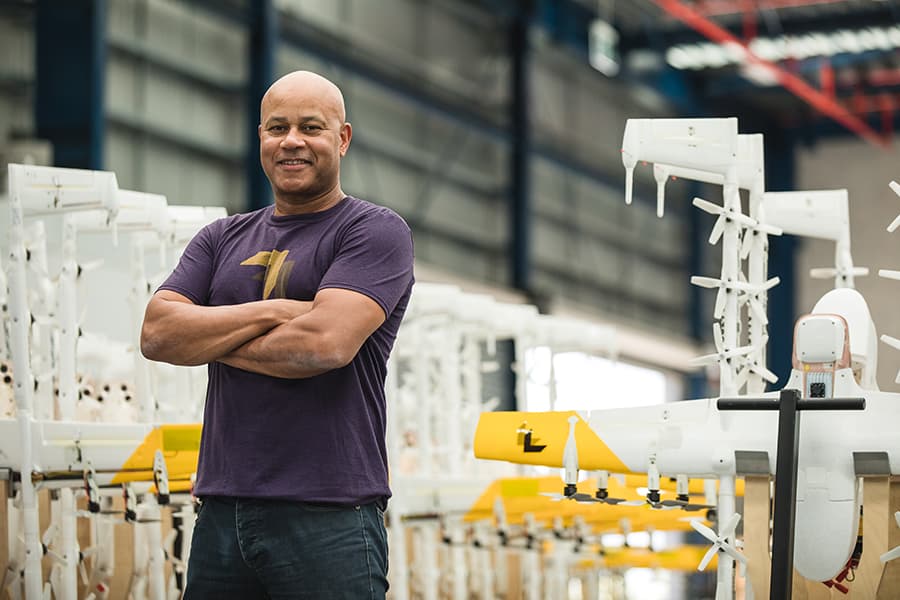 Last year, Vicinity Centres partnered with Wing as part of its distribution and fulfilment strategy, to improve the omnichannel experience of retailers and customers, and enhance efficiency.
Vicinity's Chief Innovation and Information Officer, Justin Mills, said: "The retail industry is changing, and Vicinity is employing a test and learn approach in areas critical to the role of Australian shopping centres in the future. We believe the partnership with Wing will be an important component of our overall distribution and fulfillment strategy and support our new growth strategy."
Vicinity and Wing have been piloting the world-first service from the rooftop of Grand Plaza shopping centre in Logan, Queensland since mid-August 2021 with participating businesses including Sushi Hub, Boost Juice, Chatime and TerryWhite Chemmart. The service will soon expand to more customers and offer delivery from other businesses located at the centre.
Wing, run by Google's parent company Alphabet, is the world's first on-demand drone delivery service, delivering direct to homes and businesses across Australia. Wing saw a 600% increase in deliveries worldwide in 2021 over 2020, and strong demand for drone delivery has continued in 2022.
Recent data from AlphaBeta shows that not only will drone delivery have the potential to grow retail sales in Australia by $2.2 billion by 2030, it's also expected to slash delivery costs for businesses by up to $800 million per year by 2030, with delivery costs for takeaway food to fall in the long term by up to 80-90%.