The heart of Sydney's CBD has a new dining scene to indulge in with new restaurants and bars opening at 25 Martin Place. The new venues add to 25 Martin Place's growing lineup of quality dining establishments.
Dexus is in the final stages of a circa $170 million development that will transform 25 Martin Place into a vibrant precinct offering luxury and premium retail, dining and cultural spaces.
Dexus Head of Retail and Healthcare Leasing, Eddie Giraldo said: "This week we welcomed the long-awaited Botswana Butchery and Cabana Bar at 25 Martin Place. Botswana Butchery is a striking addition to our iconic plaza and will deliver a distinctive and relaxed dining experience with the best of local and New Zealand produce and wine. Cabana Bar is an exciting lush open-air terrace overlooking Martin Place and serving up relaxed dining, wine and cocktails. The perfect place to enjoy lunch or a late-night meal after a show. And this is just the beginning as we unveil compelling dining experiences at 25 Martin Place over the coming months."
"These new restaurants and bars support the exciting transformation of 25 Martin Place, invigorating the precinct with an al fresco setting overlooking Martin Place in the heart of the city for everyone to enjoy, including the office workers, shoppers, theatre-goers and tourists alike."
With 14 years of history in New Zealand, Botswana Butchery is a premium fun dining experience with an emphasis on innovative dining. Botswana Butchery's diverse menu is all about flavour and has a strong focus on fine cut meats and locally sourced foods.
"We're excited to bring our signature brand Botswana Butchery to Sydney, marking our first venue launch across the ditch. Focusing on quality, simplicity and celebrating the best locally sourced food and beverages that Australia and New Zealand has to offer, we look forward to delivering a premium and fun dining experience." said Good Group Hospitality CEO and Director, Russell Gray.
Striking the perfect balance between poised and playful, cheeky and classy, Cabana Bar delivers the ultimate staycation experience in the heart of Sydney's concrete jungle for Sydneysiders and visitors alike. The open-air terrace spanning more than 100 meters overlooking Martin Place, operates on 'Cabana Time' where the kitchen is open all day, every day, patrons can enjoy lunch on the run, a late-night meal after a show, or an afternoon spent wining and dining with friends.
"Cabana Bar is going to be the premier playground, right in the heart of Sydney's CBD. We want to excite and impress with first-class service, inventive food, wine and cocktail menus, and a luxe resort fit-out to encourage memorable experiences. Above all, we want it to be fun and playful, and a place where you can escape reality, in a time no more relevant than right now." said Cabana Bar CEO, Nick Wills.
Supported by the iconic office tower, 25 Martin Place will deliver approximately 6,000m2 of enhanced retail space across four levels, offering more than 50 diverse retail experiences.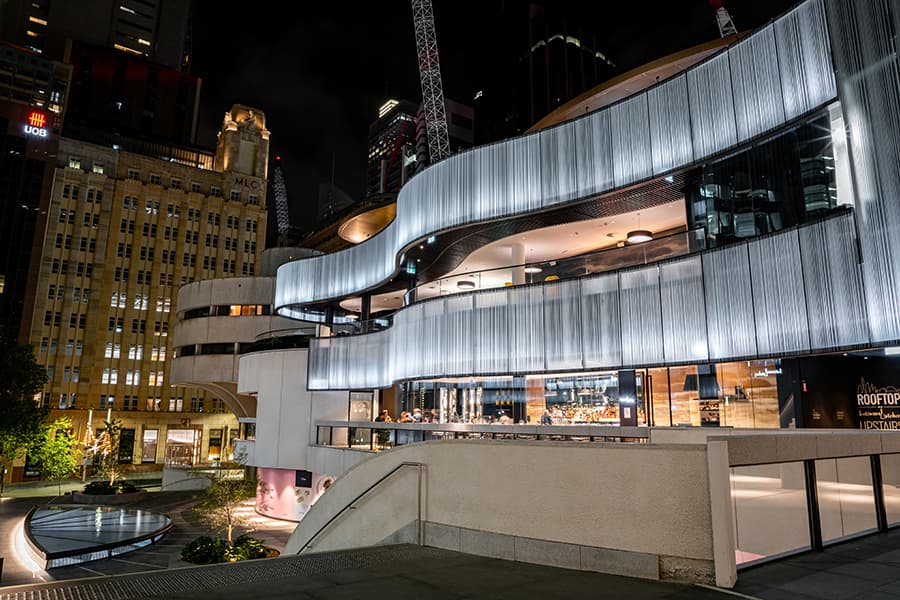 On completion, it is estimated that 25 Martin Place will generate more than 300 new retail, hospitality and theatre jobs and attract locals and tourists to the city's centre each day.
25 Martin Place (previously the MLC Centre) has been an Australian living landmark for over 40 years. Established in 1978 by visionary architect Harry Seidler, 25 Martin Place has been an architectural icon of Sydney's CBD. At the time, the building was the tallest skyscraper in the Southern Hemisphere, an outstanding white beacon of concrete, granite and glass that propelled the Sydney skyline into the future. Over 40 years on, 25 Martin Place celebrates its new identity for a new generation of customers, while still keeping with the building's integrity and legacy.
Working with Harry Seidler and Associates, architect Woods Bagot has built on Harry Seidler's original design principles to deliver a contemporary precinct and revitalised public spaces for Sydney's CBD.
The redevelopment of the 25 Martin Place precinct is expected to be completed in 2022.