Mirvac is celebrating its ongoing commitment to truly supporting the LGBTQI+ community, this year rolling out the Progressive Pride Flag colours for the first time. It's a reminder for the communities of Mirvac's 15 shopping centres and workplaces that each destination is a safe and inclusive space, elevating its partnership with Australia's largest sexuality and gender diverse health organisation,ACON's 'Welcome Here Project'.
A safe space initiative that creates and promotes environments that are visibly welcoming and inclusive of the LGBTQI+ community, every shopping centre across NSW, VIC, QLD and ACT displays ACON's rainbow logo stickers at the front entrances of the centres raising awareness that it is visibly welcoming and inclusive of all people, every day, not just during Mardi Gras. While all of Mirvac's office buildings, also displaying the stickers, are distributing lanyards to workers featuring the new Progressive Pride Flag colours.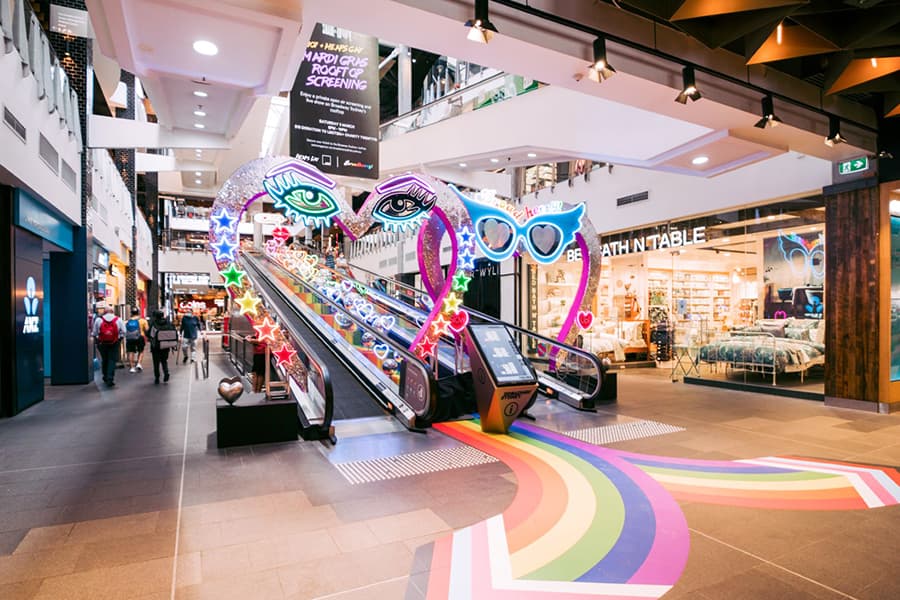 Designed in 2018 by graphic designer, Daniel Quasar, the Progressive Pride Flag has officially replaced the Rainbow Flag across The City of Sydney Council to better represent the diversity of the LGBTQI+ community. The new flag adds five arrow-like stripes to the traditional Rainbow Flag, incorporating a brown and black stripe to represent people of colour and the white, pink and blue stripe of the trans flag, in order to create a more inclusive representation of the LGBTQI+ community.
Passionate about genuinely supporting diversity and inclusivity in all ways across their workplaces and precincts, Mirvac's shopping centres were the first in Australia to be included in ACON's 'Welcome Here Project', with the entire company going on to sign up for ACON's Pride in Diversity program. Focusing on organisational change and equality in the workplace, the training program is rolled out to Guest Services, Security, Cleaning, HR and Recruitment employees enhancing understanding and providing practical advice and actions for promoting inclusive spaces.
"Mirvac loudly and proudly supports inclusivity and diversity and it's important that our communities feel safe in all of our precincts and buildings. This year we are thrilled to be flying the new Progressive Pride Flag, importantly acknowledging our First Nations people and intersex and gender diverse communities," says Kelly Miller, General Manager, Mirvac Retail.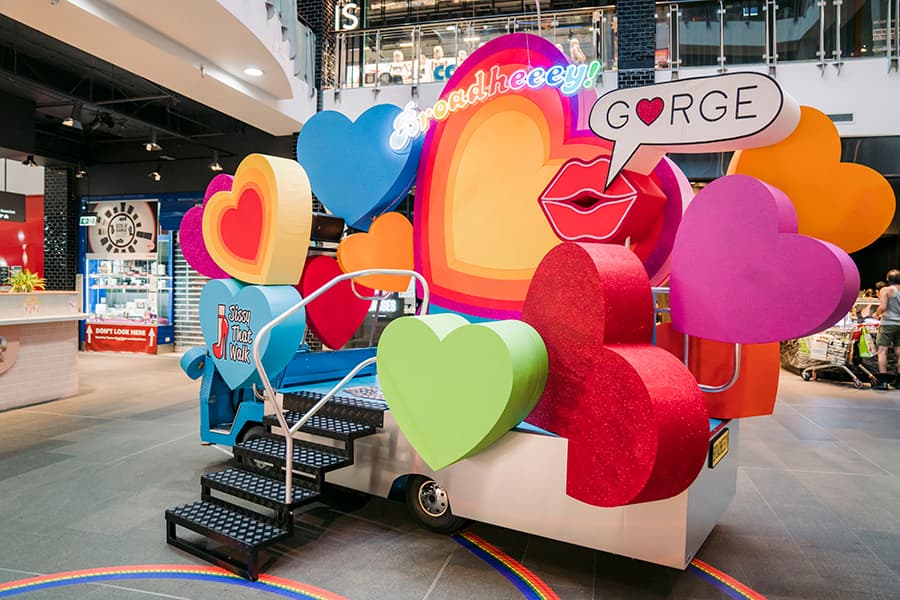 With the Sydney parade now officially moved to the SCG, Broadheey (AKA Broadway Sydney) and East Village are going extra this Mardi Gras, inviting everyone to "Share the Love" with a fantabulous array of fun activations, events and interactive installations. Sit in the driver's seat of the Broadheey Mardi Gras float installation surrounded by huge hearts and neon Doodad & Fandango designed symbols and tag @broadwaysydney to go in the draw to win a $1k shopping voucher.
"The teams at Broadway Sydney and East Village do such an incredible job at putting on a colourful array of events and activations that bring communities and families from all over Sydney together. While our commitment to supporting the LGBTQI+ communities is visible year-round, for two weeks, we get to have some real fun celebrating what is arguably the biggest festival in Sydney with people travelling to our destinations to participate in a workshop, attend an event, hang with a Drag Queen or just take a pic and Share the Love," said Miller.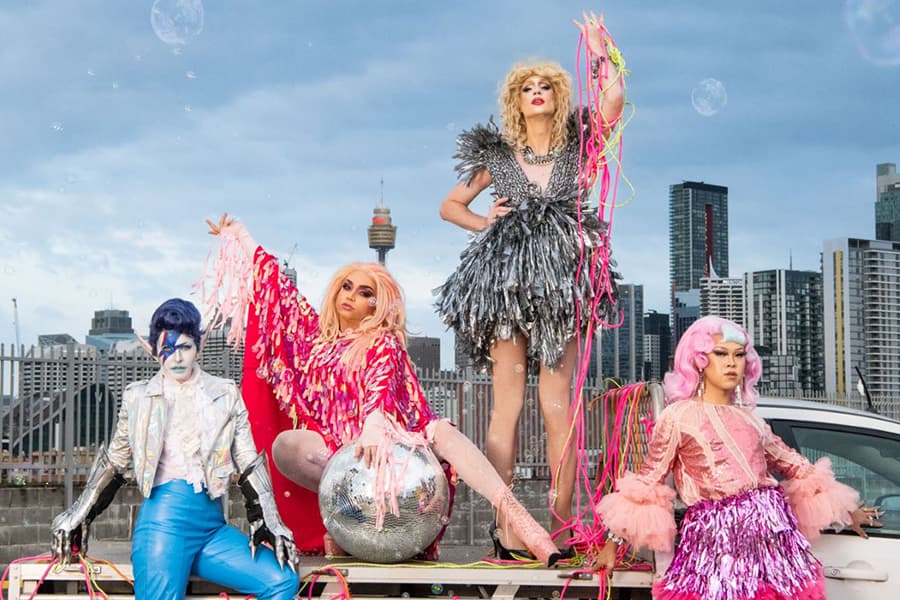 Broadheey Rooftop Parade
Partnering with Heaps Gay and 107 Projects, Broadway Sydney will host its first Rooftop Parade Screening party, transforming its rooftop carpark into a queer heaven on Saturday 5 March. The event is hosted by Sharon Manhattan and Stelly G, and with performances from Twiggy Styx, Marlena Dali, Tyra from Bankstown, Radha and Lady Fur. There's also Drag Bingo hosted by The Liquor Sisters and incredibly Instagram-worthy installations, including travelator heart arches, which this year adorn signature Doodad & Fandago heart earrings, glammed up glasses and sassy neon winky eyes.
It's a vibe at East Village!
Share the Love under the spectacular Disco Tree, have a dance in the fan-fave Disco Lift, or stop by the Glitter Bar. And supporting Mirvac's long-standing relationship with Rainbow Families, Australia's leading organisation supporting LGBTQI+ parents and their children, there's kid's workshops, a Drag and Draw event and a host of fun entertainment and activities including Live Drag Queen Shows, Drag Trivia and Drag Bingo.
With borders open and restrictions eased, Mardi Gras is back with new energy in 2022!