Mirvac Retail has today mandated masks be worn by all their staff in their centres where they are public facing to further enhance their safety and prevention procedures for the COVID-19 pandemic. Management, security, cleaners and all frontline centre personnel have been advised of the requirement, effective across the portfolio of 16 centres in Queensland, NSW, ACT and Victoria.
Kelly Miller, General Manager, Retail at Mirvac said any efforts to reduce transmission and encourage safe behaviour in public were important across Australia as this time of heightened anxiety and continuing risk from the spread of the virus.
"Several of our retail partners are also mandating masks and we believe more will follow to protect the community while maintaining our many essential services and supporting the continuation of retail trade.
"We have this important opportunity to lead by example within our communities and help reduce the transmission of COVID-19. There is no more visible way to demonstrate how serious we are at Mirvac Retail centres about promoting proactive safety, hygiene and social distancing measures to keep our customers, retail partners and our teams, safe," said Miller.
Mirvac Retail rapidly implemented extensive additional cleaning and sanitising regimes from the start of the pandemic in March and has continually introduced more information and actions with its retail partners and the public to adhere to social distancing rules and the use of in centre sanitising stations.
Communication to the public has included multi-lingual signage and advice on Department of Health Guidelines at relevant centres.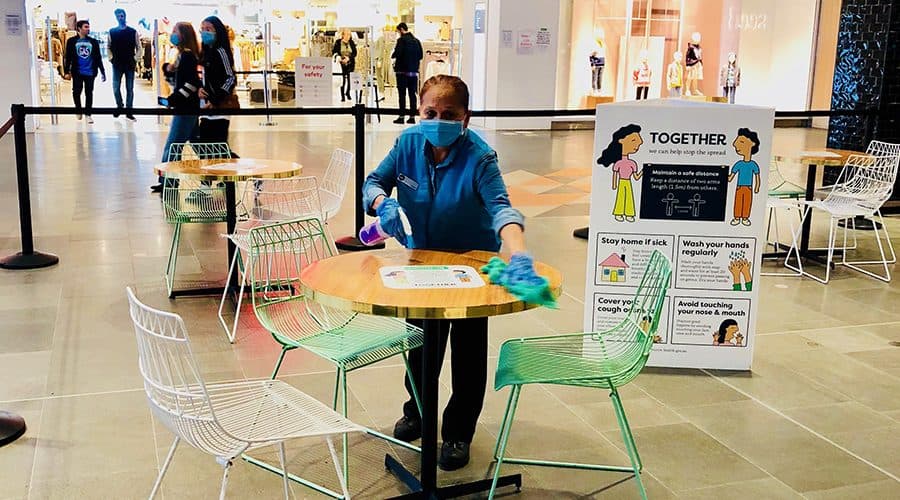 All centres have also reconfigured seating and dining areas to adhere to the distancing rules along with a significant increase in signage and visibility of Centre Management with COVIDSafe vests for identification at all sites.
A recently implemented Traffic Tracker tool on every centre website allows customers to further take their own precautions by accessing data about centre customer numbers by day and time from the previous week, enabling them to plan visitation.
In addition, contactless wave technology has been implemented to activate car park ticket machines at Broadway Sydney, Rhodes Waterside, Tramsheds and Stanhope Village, further reducing customer contact points. Increased hand sanitising stations at the carpark pay stations has also been supplied and antibacterial and microbial silver-ionised safety film added to all pay station ticket machines at these centres.
Contactless customer services and shopping experiences have been implemented nationally, with a particular emphasis on more vulnerable members of the community having access to essentials shopping items via delivery in key areas.