Mirvac is moving forward in its plans to transform Harbourside, Darling Harbour into a new, world-class destination for Sydney, with the appointment of Snøhetta+Hassell Studio to lead the design for the proposed new precinct, following an international design excellence competition.
The Harbourside design excellence competition jury comprised six influential urban design experts including Director Design Governance, Government Architect NSW, Paulo Macchia (Chair), Parramatta City Architect, Kim Crestani and City of Sydney, Director Planning, Development & Transport, Graham Jahn, as well as representatives nominated by Place Management NSW and Mirvac.
Mirvac Chief Investment Officer, Brett Draffen said, "The proposed $2 billion redevelopment of the Harbourside precinct is a landmark project in Mirvac's $28 billion national development pipeline. We are delighted to reach this important milestone and progress the formal design excellence process for the revitalisation of Harbourside, working alongside Place Management NSW.
"This project will reimagine the Darling Harbour waterfront for the 21st century and create an iconic new precinct in the heart of Sydney. The winning Snøhetta+Hassell design was selected by the jury because it emphatically embraced our vision for Harbourside: to create a place that brings people together.
The concept for Harbourside is defined and characterised by a network of welcoming public open spaces featuring natural materials and vegetation. At its heart, Guardian Square will become Pyrmont's new neighbourhood park and community meeting place, with landscaping and moments of art and activation planned to deliver an enlivened precinct that provides locals and visitors alike with a powerful sense of belonging, community and ownership.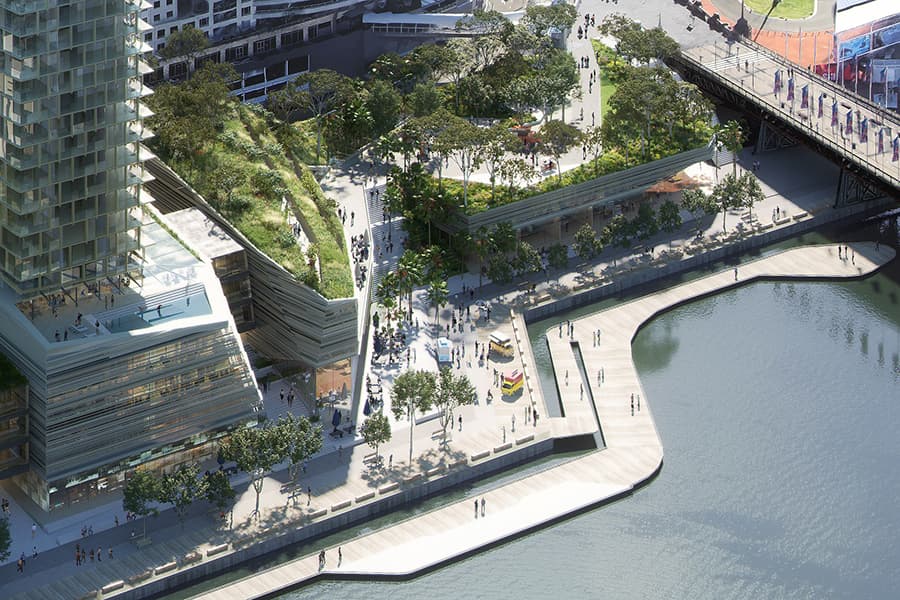 "For thousands of years, Aboriginal people lived in and around this area which to them was an important gathering place known as Tumbalong, named after the harbour's abundance of seafood. Elements of Sydney's natural landscape have been weaved into the overall design concept for the new precinct."
Following the submission of its proposal for review, and subject to obtaining necessary approvals from the NSW Government, Harbourside is expected to deliver approximately 24,000m2 of office space, 7,000m2 of retail and 350 luxury apartments. As part of the project, Mirvac will also deliver 10,000m2 of public domain, including the proposed 3,500m2 Guardian Square, as well as a widened waterfront promenade for the community to visit and enjoy.
"We will leverage our extensive experience in delivering iconic mixed-use projects across Australia to transform this precinct, and deliver on our purpose to reimagine urban life in Sydney. We look forward to working closely with Snøhetta+Hassell, alongside government and the community, to ensure this project leaves a legacy for generations to come," said Draffen.
Hassell Principal, Liz Westgarth said, "The landmark Sydney site of Darling Harbour, previously known as Tumbalong, has a long, rich, and layered history, which provides a unique context for world-class architecture and place-making to inspire future story creation. The continued development of the site's exceptional character and identity follows in the tradition of the local first nation Gadigal and Wangal people. The intention for Harbourside is to create a contextual and timeless design that is a place for all."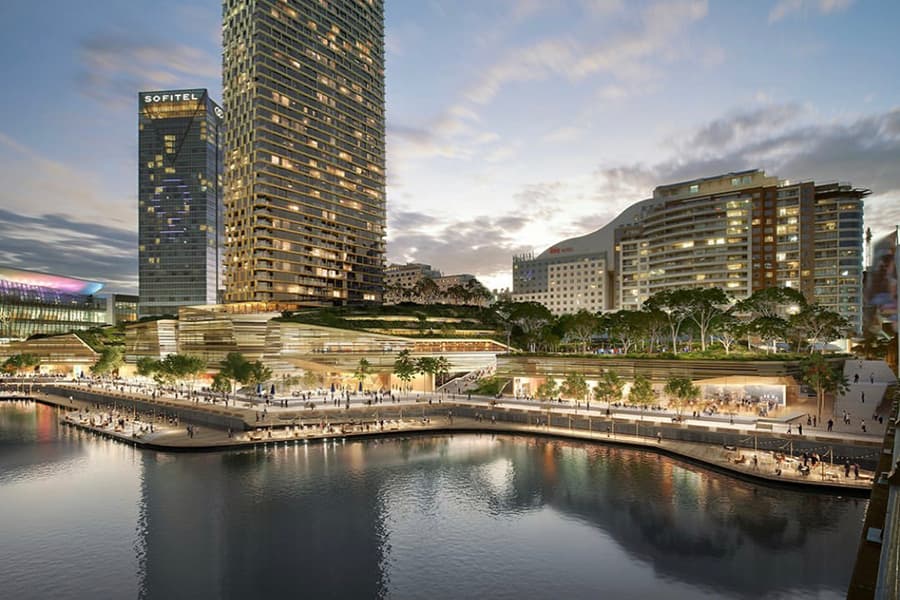 Kaare Krokene, Managing Director of Snøhetta Australasia said, "We are extremely proud of a design that acknowledges the historic sandstone escarpment landscape of Tumbalong, now known as Darling Harbour. This continues the tradition of shared public space, honouring the first nations Gadigal and Wangal people who saw this as a shared country."
As Australia's first property company to achieve net carbon positive, Mirvac has ambitious plans for Harbourside to become one of Australia's most sustainable precincts, targeting a combination of 5 and 6 Star Green Star and WELL ratings.
Luxury apartments will be designed to meet the high-standards of sustainability and liveability. Next generation office space will feature smart technology to facilitate enhanced productivity and flexibility, while an exciting array of shops, eateries and other attractions will appeal to the precinct's diverse resident and visitor base.
Harbourside is expected to commence construction in 2023 once approvals are secured.