From a unique waterside location, Mānawa Bay is being purpose-built to transform the New Zealand retail outlet shopping experience.
Located on park-like grounds on the Manukau Harbour and at the north-eastern edge of the Auckland Airport precinct, Mānawa Bay starts life with striking advantages in location – and, as shown in detailed planning unveiled by Auckland Airport this week, an equally clear mission to transform New Zealand outlet shopping.
Five years into the planning, the development has reached another construction milestone with initial earthworks completed on the 150,000 m² site. The next phase of construction is planned to begin in spring. When it opens in 2024, this $200 million-plus investment by Auckland Airport will house 100 stores in 24,000m² of retail space ranging in size from 50 m² to 1500 m² serving wide preferences while showcasing the world's and New Zealand's most-loved brands.
From here, more than 90% of Auckland's 1.6 million population are within a half-hour drive. Seven hotels (with more under construction) and 20,000 people working in 900 airport businesses are all within a short drive.
The airport's position as New Zealand's largest, and Australasia's third-busiest, also makes Mānawa Bay a nationwide destination. 2021 research by Forward Insight found shoppers from around the country are already keen to visit – reflecting the appeal of a centre designed expressly to deliver a truly premium customer experience.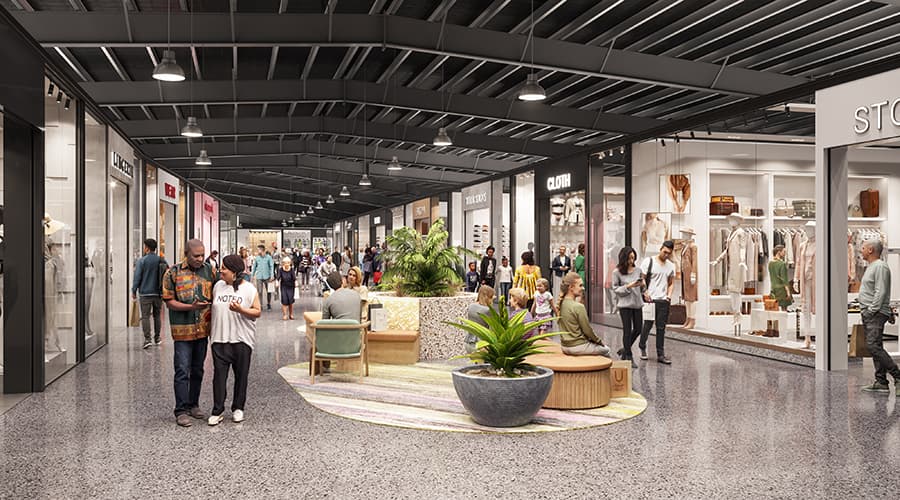 Gone are the days when an outlet centre adapted itself to pre-existing buildings. Instead, Mānawa Bay will welcome visitors into a light and airy environment, nestled on the former Aviation Golf Club and shaped in a figure-of-eight internal layout with three entry points for central walkways and easy access and intuitive customer navigation of its stores.
"Our vision," says Mark Thomson, General Manager Property and Commercial at the Airport, "is to inspire New Zealanders with the best imaginable outlet shopping experience."
Location and customer experience
Outlet shopping centres are enjoying a revival around the world, says Graham Taylor, the principal architect of Australia's TRCB leading the design of Mānawa Bay and whose firm also led the design of the DFO Perth outlet centre at Perth Airport.
"Today's customers want authentic, convenient shopping experiences with a multitude of choice. Premium outlet centres are growing as a distinct and popular retail category, particularly at airport locations. They're no longer a place just to buy seconds or last season's fashion goods at discount prices – they've evolved to a much more upmarket and immersive shopping experience."
Mānawa Bay's park-like setting will make it one of the leading outlet centres in Australasia, says Taylor, "With a food-and-beverage area at the heart of the centre, it will offer indoor/outdoor seating and large windows maximising water views, natural light and northern sun. The interior will be purposefully pared-back, with polished concrete floors and an overall 'retail warehouse' finish, apart from the customer amenities and other 'touchpoints' – which introduce 'warm colour, natural tones and comfortable, tactile textures.
"We're creating a space every customer feels comfortable in, whether shopping for a new t-shirt or high-end fashion accessories.
"For the exterior, we've been inspired by the ideas of flight and 'air', reflecting the centre's links to the airport, as opposed to traditional, rectangular shapes."
The outlet centre has been named Mānawa Bay, reflecting the airport's unique location on the Māngere Peninsula and the historical and cultural significance of this area to tangata whenua. In te reo Māori, Mānawa means mangroves – a coastal plant species that have long featured in the waterways surrounding the land Auckland Airport sits on. Auckland Airport is working closely with local iwi on the project. Mānawa Bay will be built with an emphasis on sustainable design principles and long-lasting materials with minimal energy requirements. Auckland Airport is targeting 5-Star Green design and build with the development.
Over recent years Auckland Airport has invested more than $160 million in surrounding roads to prioritise public transport and ensure smooth journeys to the larger precinct, with further upgrades to take place before the centre opens. On arrival at Mānawa Bay, visitors will have the comfort of 1,400 dedicated car parks.
A substantial untapped market
With a large nationwide catchment, the opportunity is vast. Forward Insight found that 65% of Aucklanders surveyed intended to visit the centre. But strikingly, so did 58% of those from elsewhere in New Zealand, of whom one in three would make the centre the focus of a dedicated visit to the city. 50% of these shoppers intended to visit the new Mānawa Bay centre every two to three months, with the same proportion saying they would make their trip to Auckland a full-day shopping experience.
Inspired by leadership
Mark Thomson says the Airport is creating an experience that is both premium and offers a wide range of choices, "connecting shoppers to sought-after international and local brands, we will be providing an exciting and rewarding experience in a uniquely New Zealand way."
Fashion outlets at the centre bring together a range of iconic and designer brands in a single special destination. Other stores will offer a curated collection of lifestyle and home décor. The attractive, light-filled food and beverage centre will cater to wide dining tastes in an environment where shoppers will be able to meet up, take a break and enjoy a mix of dining styles in surroundings that flow out to courtyards and parkland.
Customer research and market feedback suggest a step up like this is something New Zealand shoppers are eager for – and perhaps wondering why it hasn't been done already.
Michael Bate, Head of Colliers Retail, says a typical response from retail brand representatives is, "At long last, New Zealand has a truly premium outlet mall."
"We've been delighted by the positive response we've had, with strong interest from both local and international brands," Mark Thomson says.
"We know from overseas airport fashion outlet centres that these are a proven and resilient retail model and the go-to destination for shoppers. We can't wait to open the doors in 2024."