Leading Australian retail owner managers, institutional funds and heavyweight offshore investors are expected to lead the bidding for landmark stakes in the Gold Coast's Pacific Fair Shopping Centre and Sydney's Macquarie Centre – the first super regional shopping centre opportunities to be offered in Australia since 2019.
Dexus Wholesale Property Fund has appointed CBRE's Simon Rooney, together with Nick Willis and Sam Hatcher of JLL, to steer the Expressions of Interest campaign for the 20% interest in Pacific Fair and 25% stake in the Macquarie Centre, amid significantly enhanced investor demand for core retail assets.
The sought-after interests were held within the AMP Capital Diversified Property Fund ahead of a recent merger with Dexus Wholesale Property Fund.
The public sale campaign provides an extremely rare opportunity to secure stakes in two of Australia's most dominant and best performing super regional shopping centres, with the most recent transactions in this market sector involving the late 2019 sales of Westfield Marion in South Australia (50%) for $670m from APPF to Singapore Press Holdings and Garden City Booragoon in Western Australia (50%) for $575 million from AMP to Scentre Group.
The circa 150,000m2 Pacific Fair Shopping Centre is the fifth largest shopping centre in Australia by gross lettable area (GLA). According to the annual Shopping Centre News Big Guns rankings, the centre is ranked in the top 10 performers in Australia with more than $890 million in Moving Annual Turnover (MAT).
Of the last 12 super-regionals sold in the past 10 years, none have ranked in the top 10 for total MAT.
"The positive turnaround in institutional investor sentiment and capital reallocation back to retail is in its early stages, but clearly evident and is centred on assets which are considered the "best of the best – criteria clearly met by Pacific Fair and Macquarie Centre," CBRE's Head of Retail Capital Markets, Simon Rooney, said.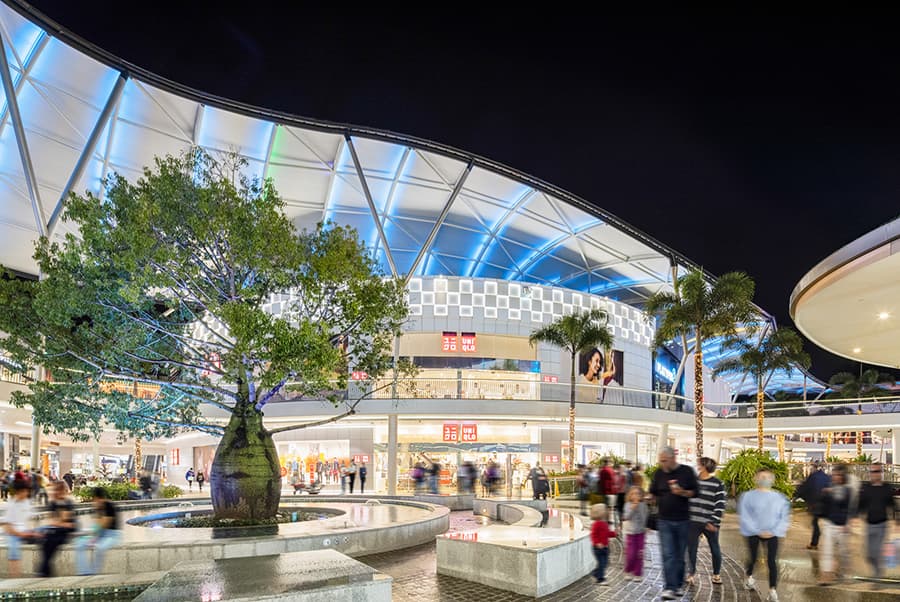 "We have seen a material rebasing in retail asset values over the past 12 to 18 months, together with a 'mark to market' rental reset. This, combined with monthly sales and traffic growth and the historically attractive retail yields on offer, is clearly compelling – presenting a real window of opportunity for major domestic and offshore investors."
JLL's Nick Willis added, "Pacific Fair and Macquarie Centre are two of Australia's leading retail destinations. They are more than just shopping centres – their scale and integration in the market make them core pieces of infrastructure that shape their respective markets."
"Retail has performed well coming out of lockdowns, and the best quality assets will continue to outperform. The opportunity to acquire a top 1% asset, regardless of the real estate sector, is very rare; this is one of those opportunities," Willis said.
Following a significant $670 million refurbishment in 2016, the centre is considered one of Australia's top luxury retail destinations. The centre is home to leading brands including Louis Vuitton, Tiffany & Co., Prada, Hermes, Bulgari, Gucci, Myer, David Jones, Coles, Woolworths, Event Cinemas, and more than 300 additional specialty stores.
The circa 135,000m2 Macquarie Centre is located just 19 km from the Sydney CBD, close to the demographic epicentre of metropolitan Sydney.
It represents the first formal offering of a super-regional Sydney shopping centre in over 19 years.
The centre is strategically located adjacent to the Macquarie Metro Station and Macquarie University, in the heart of the Macquarie Park business park – Australia's largest non-CBD office market.
It offers significant medium-term, mixed-use development potential, with a current concept approval for a further 148,000m2 of mixed-use gross floor area, including commercial, living, and alternatives.
Michael Lloyd, SCN's Publisher, recently wrote an opinion piece on the potential opportunity to purchase a 100% interest in Pacific Fair, the article was first published in the latest issue of SCN.