A 100% interest in Crossroads is being offered to market, providing investors with the opportunity to acquire the 143,520m2 freehold Sydney metropolitan landholding over four separate titles.
Crossroads Centre at Casula, in southwest Sydney, boasts a market-leading total centre GLA of 52,138m2 – being part of an elite collective of only five other Large Format Retail (LFR) centres in Australia under a single ownership with a GLA exceeding 50,000m2.
JLL's Retail Investments Team – (Australia) Sam Hatcher and Nick Willis alongside Stonebridge's Philip Gartland, Carl Molony and Jonathan Fox have been exclusively appointed to sell Crossroads on behalf of AsheMorgan via an International Expressions-Of-Interest campaign.
Willis said, "Crossroads' prospects as an income-producing landbank are unmatched for flexibility. A hub for retail, logistics, office and accommodation uses surrounds the future of the asset – and presents an opportunity to an incoming purchaser to capitalise on."
"The size of the significant landholding drives the investment underwrite, with a scarcity of land across the Sydney metropolitan area being a major contributor to total investment returns. The rarity of Crossroads' landholding is further bolstered by its ability to be utilised for an array of industrial uses subject to approvals," said Willis.
Hatcher said, "Crossroads is within the top five large-format assets nationally for total GLA and is backed by a heavyweight tenant mix with over 99% of gross income anchored by national and chain retailers. The 5.1-year WALE (by income) provides a secure platform for growth and repositioning potential – allowing a sizeable portion of income to be underwritten. At the same time, under-rented tenancies are unlocked for positive reversions or future repositioning potential."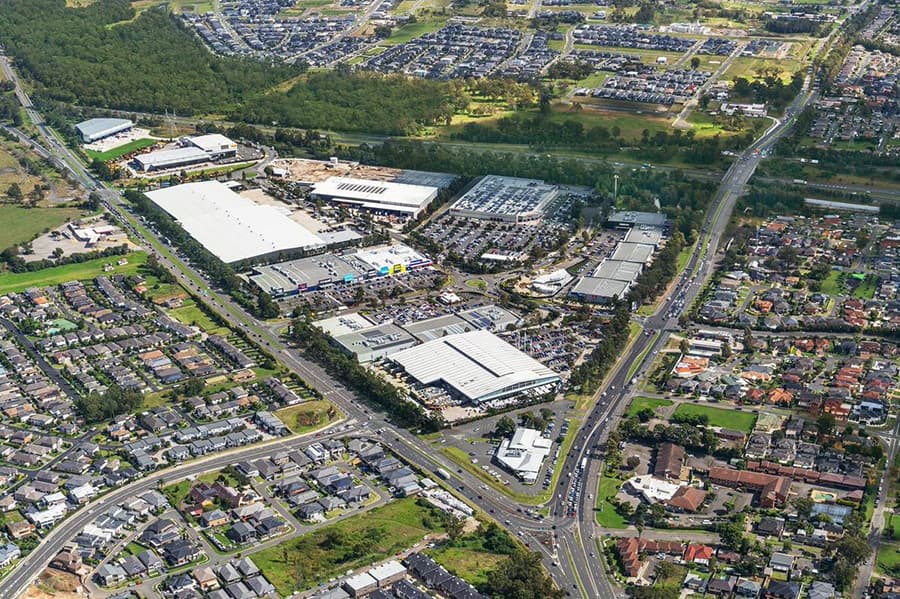 The centre has a fully leased tenancy profile with a collective of 38 tenants comprising top brands nationally and globally, including Bunnings Warehouse, Freedom, Fantastic Furniture, Planet Fitness, Nick Scali and Officeworks. Crossroads has co-locational tenancies such as Costco Wholesale, Crossroads Hotel (which recently sold for $160 million) and industrial uses including Electrolux, Cosentino, WesTrac, Hunter Transportation and Versiclad.
Crossroads offers a number of immediate development opportunities and long-term prospects, with B5 Zoning providing an array of additional permitted uses (STCA) including light industries, warehouse and distribution, storage premises, office premises, hotel and motel accommodation and medical centres.
Molony said, "Retail and industrial property are becoming increasingly interlinked with demand for high quality, strategically linked land holdings that can accommodate this growing trend continuing to rise."
Gartland said, "The scarcity of such an offering coupled with the strength and versatility of the underlying property fundamentals will appeal to a variety of buyer groups which is rarely available in the market."
The centre was built in 2000 and has recently undergone its latest redevelopment, a $3 million Food & Beverage precinct significantly enhancing the asset's amenity and offering.
Willis said, "The scale of Crossroads is rarely replicated or traded within Australia. On record, Crossroads is the largest land parcel in the LFR sub-sector to have traded and the second largest by total GLA. Since January 2010, only four LFR Centres above $150 million have sold."
Large format retail performed exceptionally well in 2020 and 2021. Yields compressed by 105 bps since the end of 2019 (to 4Q21), with some recent transactions reflecting yields below 5% for the first time on record.
JLL's Retail Research – Australia, Senior Director Andrew Quillfeldt said, "Spending on household goods, the category which drives large format retailer performance, is 23% (or $13 billion p.a.) higher than pre-COVID levels. The boost in sales growth was initially driven by working from home and lockdown conditions, then propelled by strong residential renovation activity.
"Large format retailers are wanting to grow and expand their businesses as a result of the strong sales growth in this category, but space availability is limited and leading to rental growth pressure. Large Format Retail is the only retail property sub-sector to record a decline in vacancy rates since the onset of COVID-19," said Quillfeldt.
Situated in Sydney's burgeoning southwest growth corridor, Crossroads is primed to capitalise on the strong forecast population growth within the catchment averaging 1.4% per annum. This growth is being supercharged by the completion of the $1.5 billion Ed Square infill development and the proposed Glenfield Place Master Plan – delivering over 8,000 combined dwellings within 2 km of the Centre over the next 20 years.
Further, the new $11 billion Western Sydney Airport and Aerotropolis is expected to deliver 200,000 jobs during construction and boost the population of this outer western portion of Sydney to 500,000 residents over the next 20-years.