Member for Cairns and Assistant Tourism Minister Michael Healy joined Lendlease to celebrate the official opening of Cairns Central's $60 million redevelopment.
Cairns Central is the largest shopping Centre in Far North Queensland and offers an extensive range of stores and services. It has over 160 stores together with Myer, Target, Kmart, Coles, and Vmax screens at Event Cinemas.
Lendlease Head of Retail, David McNamara said: "Today's opening is an exciting milestone, not only for Cairns Central, but also for the Cairns region.  The Centre has been the premier retail, fashion and community destination since it first opened in 1997.
"We've delivered on our vision to give customers exceptional shopping experiences that reflect Cairns' vibrant and diverse community. The expanded fashion, beauty and food offer cements our position as the largest and leading shopping destination in Tropical Far North Queensland.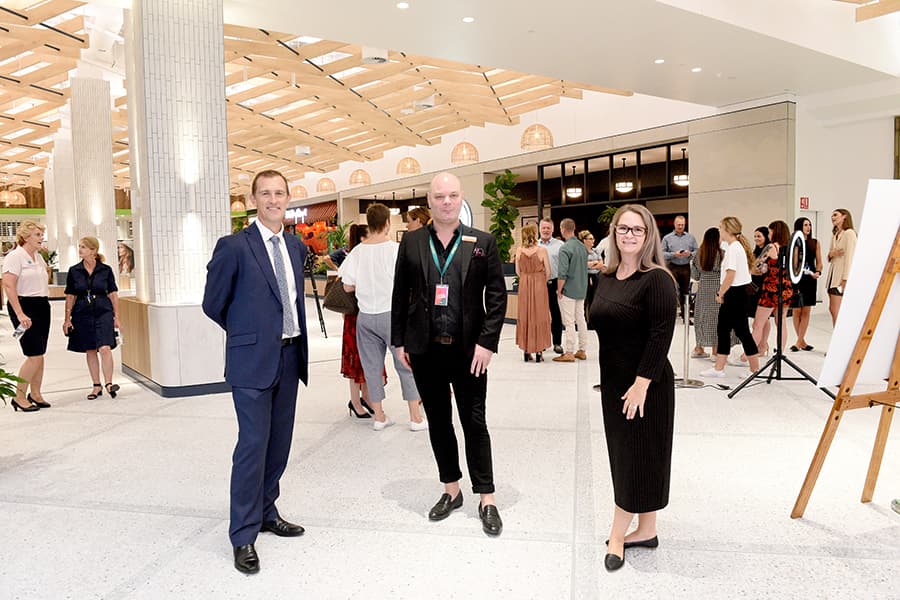 "Lendlease and Cairns Central's owners, APPF Retail made this investment in the redevelopment because we have great confidence in the region." said McNamara.
Fund Manager APPF Retail, Anne MacSporran added: "The opening of this redevelopment is an exciting step forward for Cairns Central and Far North Queensland. It will strengthen the region's attractiveness to both the local community and tourists and will increase the economic vibrancy of the city of Cairns through shopping, dining and entertainment."
The new Food Hall, a key focal point of the redevelopment will give customers a range of new dine-in, takeaway and fresh produce options from Asian street food to European deli-style options and baked goods.  A new Woolworths and BWS are due to open early next year.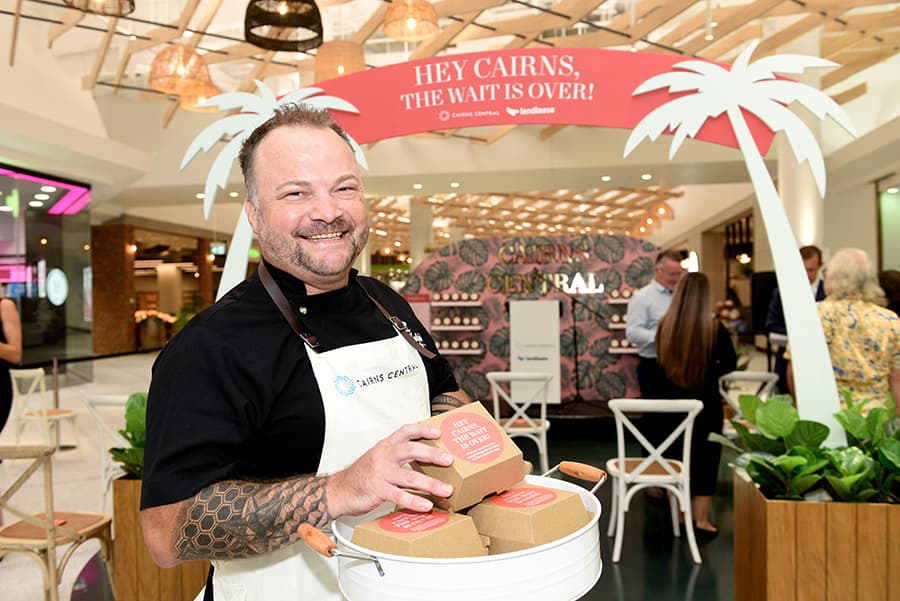 Port Douglas based chef Jed Sneddon will be Cairns Central's chef-in-residence with live food demonstrations and free tastings.
For local fashionistas, Myer, the flagship of retail in the region has had a complete refurbishment. The new-look store is now a single level layout in a larger footprint on the ground floor boasting the latest fit out, new exclusive brands, cosmetic displays, modern lighting and fixtures, and luxurious new change rooms.
Tourism Minister Stirling Hinchliffe said: "The redevelopment of Cairns Central was a significant investment in the Far North.
"This $60 million investment by Lendlease demonstrates business confidence in a bright future for Cairns and the Far North," Hinchliffe said. "Redeveloping Cairns Central cements the Centre's reputation as a destination shopping experience ahead of the arrival of thousands of interstate holiday-makers in FNQ who will be looking to spend up this summer."
Kids won't miss out in the redevelopment either – a new indoor children's playground is set to open in early 2021.
As part of the redevelopment, the Centre has also introduced a new vehicle express ramp with direct access to the Food Hall and a new ticketless parking system, using licence plate recognition for a seamless enter and exit process without the need for a ticket.
The redevelopment, which commenced construction in July 2019, is estimated to have generated close to 70 jobs over the past year-and-a-half, and a further 125 retail jobs on an ongoing basis.
Member for Cairns Michael Healy said: "The work at Cairns Central had contributed to helping the city as we move through the global COVID-19 pandemic.
"Building works at Cairns Central helped to keep almost 70 Far North Queensland tradies and suppliers in jobs during the pandemic and will continue to support jobs into the future," Healy said. "The additional 125 retail jobs at Cairns Central are vitally important for building on the region's economic recovery after COVID.
"On behalf of residents of our beautiful city, I want to thank Lendlease for their investment in local jobs and confidence in the Cairns economy, which continues to go from strength to strength."
Commenting on the design, Buchan Senior Interior Designer, Kathryn Grant said: "Our overall vision for the fresh food market hall was to optimise the tropical industrial aesthetic to modernise the shopping and dining experience for our local and tourist customer base. Influenced by Reef to Rainforest as a visual concept, the result is a striking yet balanced layering of natural materials with a base palette of timber, ocean blue and greenery. We've created a relaxed dining and fresh food offer that creates a place to meet, dwell, shop and dine in an impressionable and vibrant surrounding."
"The angled undulating timber batten ceiling draws the customer in from adjacent malls to meander and explore the refreshed dining offering. The integration of feature lighting helps link this area of the mall by creating ambient, well-lit spaces to help emulate the natural light in the adjoining architecture. The greenery through the space assists in injecting the rainforest ethos through the centre, for consistency within the sites unique and abundant environments."