Woolworths Group has brought together its two iconic retail brands under one roof with a brand new BIG W now housed alongside a new-look Woolworths Supermarket at Sydney's Town Hall.
The $10 million investment will offer customers a convenient food and everyday shopping needs experience. City commuters, tourists and local residents are now able to pick up a broad range of general merchandise products as well as quality fresh food and grocery essentials in one place. The inclusion of BIG W makes it the only discount department store in Sydney's CBD.
City of Sydney Lord Mayor, Clover Moore said: "We're delighted the Woolworths Group has committed to growing its presence in the city centre. It's a real vote of confidence in the CBD's underlying strength and future potential as we continue to adapt from the impacts of the pandemic.
"The past two years have been incredibly challenging for all of us, particularly our CBD. We need to seize on this moment with energy to not only help the city centre recover but thrive anew."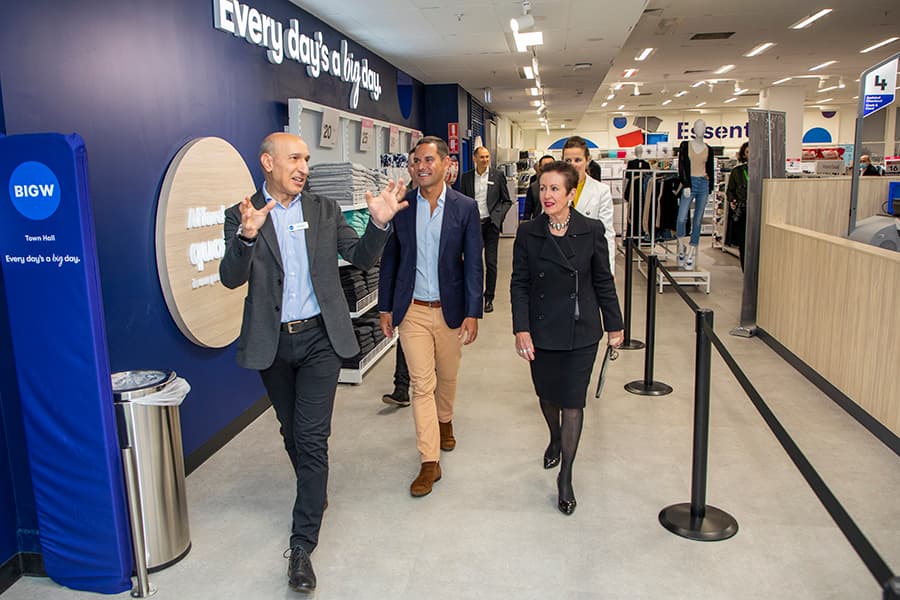 Gabriel Metcalf, CEO of the Committee for Sydney, said: "This is a vote of confidence in the CBD and in people wanting to spend time and do their shopping in the city centre.
What's become clear is there's no point trying to force people back to the office, we need to make our CBDs an irresistible and convenient place to spend time.
We can't wait for the buzz as thousands of people again pour through Town Hall, picking up essentials on the way to and from work."
BIG W Managing Director, Pejman Okhovat said: "We are thrilled to have worked together with Woolworths to provide a whole new level of shopping convenience to customers in the area.
"This BIG W is 20% the size of our traditional store meaning the team has strategically curated the range for the city worker and resident. The store is very big on party supplies and gifting for last minute birthday parties and small appliances that can easily be carried on public transport."
The store offers BIG W's Pick up service with orders being collected from Lower Ground at the same counter as Woolworths Pick up orders for those time-pressed customers.
Woolworths has worked side by side with BIG W to offer customers the most extensive and complementary range of goods possible for city dwellers, residents and students returning to the CBD.
Natalie Davis, Woolworths Supermarkets Managing Director said: "We are pleased to have BIG W join our supermarket in our iconic Sydney Town Hall store.
"With the addition of BIG W, customers can conveniently pick up a broad range of general merchandise alongside quality fresh Australian food and grocery essentials from our supermarket, all under the one roof.
"We thank all of our customers for their patience as we worked through the renovations to the Supermarket over the past few months and we look forward to welcoming them back to the refreshed store," said Davis.
Sustainability has been a key focus for both stores with each shopping basket at BIG W made with 18 recycled milk bottles. BIG W's toy recycling initiative, Toys for Joy, will be accessible for customers at the BIG W entrance.
The Woolworths supermarket continues to boast sustainability initiatives including the entire supermarket fitted with LED lights for lower energy consumption, along with door fridges throughout the chilled department. Customers can also recycle soft plastics and batteries at the dedicated REDCycle and battery bins at front of store.
The store continues to care for the community, with OzHarvest collecting surplus food from the store twice a week and donate a range of fruit each week to nearby St Andrews School to support their breakfast program.
Woolworths Town Hall first opened its doors in the iconic space on the corner of George and Park street more than 91 years ago. The original Woolworths Variety Store briefly shared the building with the Bebarfalds Furniture Store, before occupying the whole building in 1965 to trade as a 'New Look' Woolworths Variety store.
Above the store housed the Woolworths Support Office with the lower ground floor through to the second floor comprising a fresh food supermarket, a take-away food bar, a cafeteria, general merchandise, cosmetics, stationery, clothing and much more.
Fast forward to 2001, where Woolworths Supermarkets have been trading ever since. Today will be the first time the iconic building will house two retail brands since 1938.