Lendlease's Erina Fair on the Central Coast of New South Wales has delivered significant measures to improve the sustainability of the centre, which will benefit the local environment.
The multimillion-dollar investment to overhaul its air-conditioning system has already reaped benefits for the surrounding environment and the centre's customers. Erina Fair estimates that the new air-conditioning system, installed in June last year, has helped reduce its energy consumption by approximately 420,000 kwh annually.
The upgrade is just one of several sustainability initiatives in place across Erina Fair including an organic waste recycling program, which diverts on average 50-60 tonnes of food waste per month to the Sutherland Shire Water treatment plant to power the methane electricity plant.
Stephen Ross, Erina Fair Centre Manager said: "Our investment in the new air-conditioning system, along with our sustainability initiatives, are part of our commitment to becoming truly sustainable – environmentally, socially and economically."
Since it signed up to Simply Cups, Australia's leading coffee cup recycling program the centre has saved more than 350,000 cups from landfill in the first 18 months this equates to some 15,000 cups per month, thus diverting 50 kilos per month.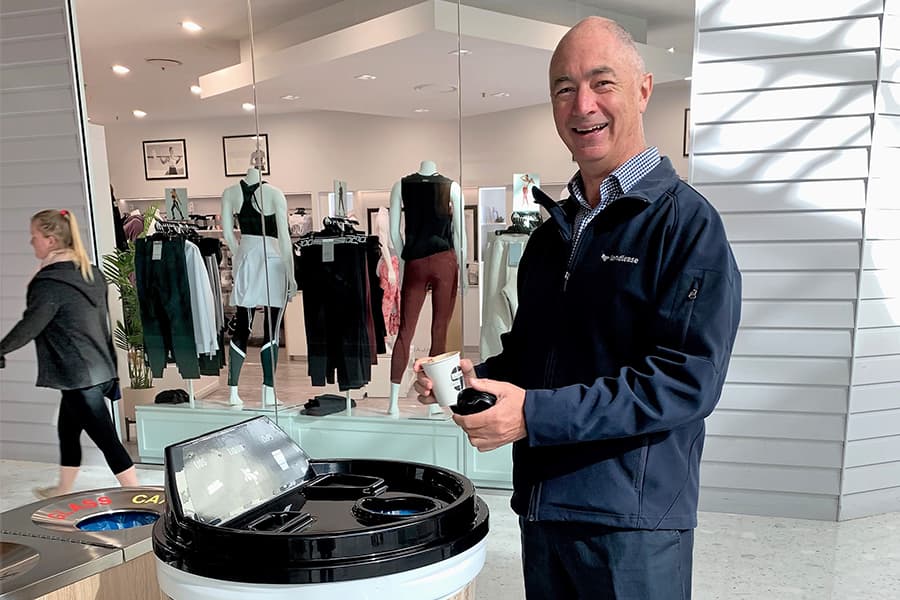 The centre's rainwater collection system, featuring a 1.6 million litre tank, collects rainwater for use in the toilets, cooling towers and irrigation. There are 50 tenant and precinct water meters in place across the centre to monitor water usage. These measures have reduced the centre's water consumption by 26% over the past four years, enough to fill 14 Olympic sized swimming pools.
The centre is collecting on average, two tonnes of storm water debris which is tipped back into landfill each quarter through a catchment system which has been installed, preventing debris going into the Central Coast storm water infrastructure.
Ross said, "We've made some great progress in reducing our energy and water consumption, we're also doing well with reducing the amount of waste going to landfill, but there's certainly more we can do. We're continuing to explore other avenues where we can make a real difference to the environment and the community."
Last year, the centre replaced all 72-watt light fittings with 22-watt LED fittings, which led to significant reductions in energy consumption. They recently started returning polystyrene boxes to Flemington markets to be reused and are estimating 450 boxes per month will be re-used.