Lower interest rates and the loosening of banks' lending requirements amidst the local and global market challenges, which included a major Federal Election, the ever-changing economic landscape, global uncertainty and volatility, and a general lack of business confidence have proven 2019 to be an interesting year for the Australian property sector.
The RBA believes rates are about right although do reserve the right to ease if required. In light of this, the economy look set to be in a period of low for longer interest rate settings, in an attempt to stimulate the economy from a GDP and employment and inflation leading to wages increase perspective.
According to Paul Craig, CEO of Savills Australia and New Zealand, "The property market in 2019 has fundamentally stood tall and demonstrated its resilience. This low for longer interest rate environment means real assets and in particular Real Estate, will continue to be well sought after as investors chase yield.
"In particular, Australia will continue to attract foreign capital supported by a cheap AUD, positive yield spreads to debt enabling positive funding from leverage and the lag effect of cap rate compression due to some skepticism of further runs in yield as we hit all-time yield lows/highs in valuation.
"Retail is the interesting asset class and perhaps with tough retail sales turnover, a forgotten asset class with opportunities. With Centres such as Westfield Marion in SA and Garden City Booragoon WA recently trading relatively easily for their financial size and demand for non-discretionary retail still sought after (especially by private investors and syndicates), there remain no forced sellers in response to financiers requirements, although there have been funds withdrawal demands that may have prompted transactions.
Retail is worth looking at, especially supported by population densification and rising or changing socio-economic conditions of the surrounding demographic.
RETAIL INVESTMENTS (NSW)
According to Steven Lerche, National Director, Retail Investments at Savills Australia, retail transaction activity came to a standstill at the beginning of 2019 with both institutional and corporate groups reluctant to sell. "This momentum didn't really change during the year and deal flow could remain sluggish in 2020."
"Many larger assets put up for sale failed to transact due to disruption in the retail industry, noise from overseas and fewer buyers in the market. Contrary to this, the smaller end of the market, freestanding retail investments and neighbourhood shopping centre sectors have been in high demand, fuelled by the low interest rate environment.
"Coles and Woolworths freehold disposal programme has kept the smaller end of the market strong with tight yields remaining the norm."
Lerche believes deal flow in 2020 is likely to come from funds looking to dispose of non-core assets and it will be the small fund managers and privates that remain active on the buy side.
"Innovation will continue to provide uncertainty in the retail sector and it will be counter cyclical purchasers that will benefit from those groups looking to exit.
"Shopping centre performance is linked to individual characteristics and location and it's the metro retail assets that will continue to attract investor interest due to their long term mixed use potential.'"
RETAIL INVESTMENTS (VIC)
According to Ben Parkinson, National Head of Retail Investments at Savills Australia, the retail investment market in Victoria has been dominated this year by private investors chasing non-discretionary investment grade stock.
"We have seen yields compress significantly for fuel, fast food and standalone supermarket investments as astute investors lock in cheap 5-year debt," he said.
"The sub-regional shopping centre market has undergone a period of repricing throughout 2019 with several assets failing to sell after public marketing campaigns.  We have seen longer and more intense due diligence periods as investors undertake their investigations.  The significant land holdings have seen many buyers look into the development options that may be available to complement the existing retail centre."
Parkinson explained there had been a continued focus from sophisticated investors chasing retail grade property in the inner ring with mixed-use development upside.
"We have seen increased activity in the mixed use residential, office and the emerging build to rent sector."
"Our prediction for 2020 is that yields will remain tight for non-discretionary supermarket investments and standalone single tenant investments leased to national retailers. We feel that these yields will compress further in line with reducing cost of finance for these assets."
"2020 will see significantly more sub-regional shopping centre transactions as book values come into line with market expectations– we anticipate increased off-shore buyer activity, particularly out of Singapore and the US, utilising the expertise of local managers."
"Developers will continue to focus on key inner city retail assets with large land holdings – we expect to see less hotel and office mixed use developers and more residential including BTR."
RETAIL INVESTMENTS (WA)
Chris Ireland, Director of Retail Investments at Savills Australia said retail leasing over the past year has been challenging in the sub-regional centre category, in particular on the leasing of vacancies and renewals, given retail sales turnover for specialty stores has been relatively consistent with 2018 figures highlighting minimum growth. Consumer confidence in spending and also the level of incentives being requested by retailers has been slowing deal turnover and progress.
However, neighbourhood centres continued to perform well this year given their convenience fresh food offering and reduced exposure to mainstream retail categories.
"Supermarket sales and Food & Beverage across both sub-regional and neighbourhood centres also continued to perform well and identify growth," he said.
"We forecast little change in the current situation across sub-regional and neighbourhood centres given the current trading climate and consumer confidence levels. Yet we anticipate 2021 will show increased retail sales growth as we start to see flow-on effects of the upside in the resource sector coming through."
RETAIL LEASING (SA) 
According to Natasha Bertram, Executive of Retail Leasing at Savills Australia, "Adelaide recorded a drop in vacancy levels within neighbourhood and convenience-based shopping centres in 2019. Supermarkets continue to perform well and we continue to see price reductions across a range of lines. Many owners are now focusing on these options along with more food and service offerings to keep centres full rather than rely on the more traditional retail tenant."
"Both Mecca and Sephora opening this year in Rundle Mall along with H&M last year has certainly increased enquiry from larger retail brands for Adelaide, although there is minimal vacancy to accommodate these types of brands."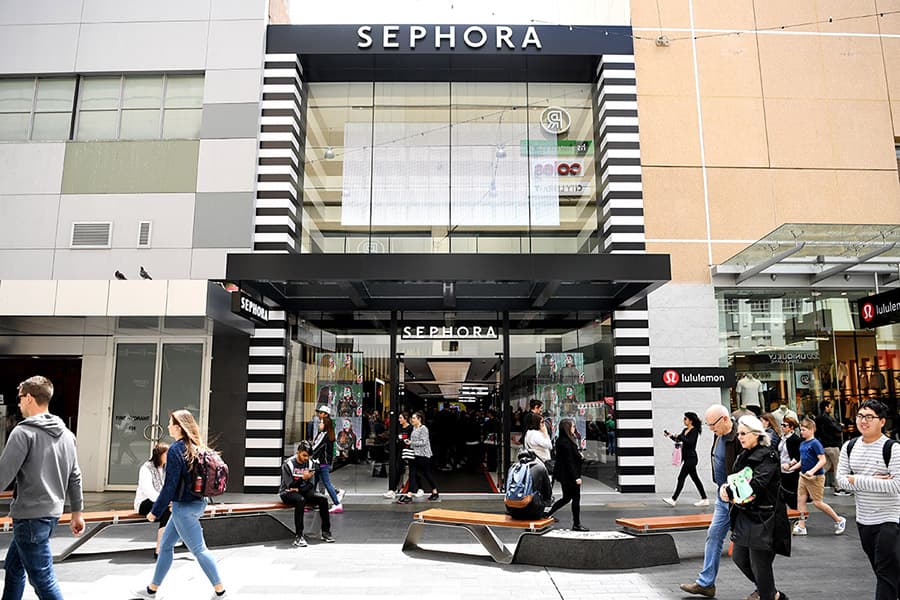 "Strong retail interest continues to grow in areas where there are new housing developments. This is particularly evident in both Northern areas of the city and the Mount Barker region."
"Next year we envisage a similar year to 2019, with strong interest in service-based tenants opting for centres, rather than opting for the more traditional retail tenant. We believe owners who move beyond traditional tenant mixes and incorporate services not offered on line will continue to perform well."
"The continued growth of large format is anticipated to continue with Kaufland already commencing works on their first store planned to open in mid-2020 with more to come. The large areas of development in the North of Adelaide will also see growth in this area."