Darwin based developer Gwelo Developments has put its Coles and Kmart anchored Coolalinga Central Shopping Centre on the market offering investors an estimated $7.17 million net annual income fully leased. According to CBRE Director Retail Investments, Justin Dowers, who is managing the sale with Mark Wizel and Trent Weir, the near new Stuart Highway centre could fetch more than $90 million.
"This is a near brand new centre with a blue chip tenancy profile on the NT's busiest road and one that offers investors exceptional income growth potential as well as genuine development upside. The centre has limited competition and offers its customers a full range of retail services within a very attractive, enclosed, all weather, complex that is essential to a successful operation in this part of the world,'' Dowers said.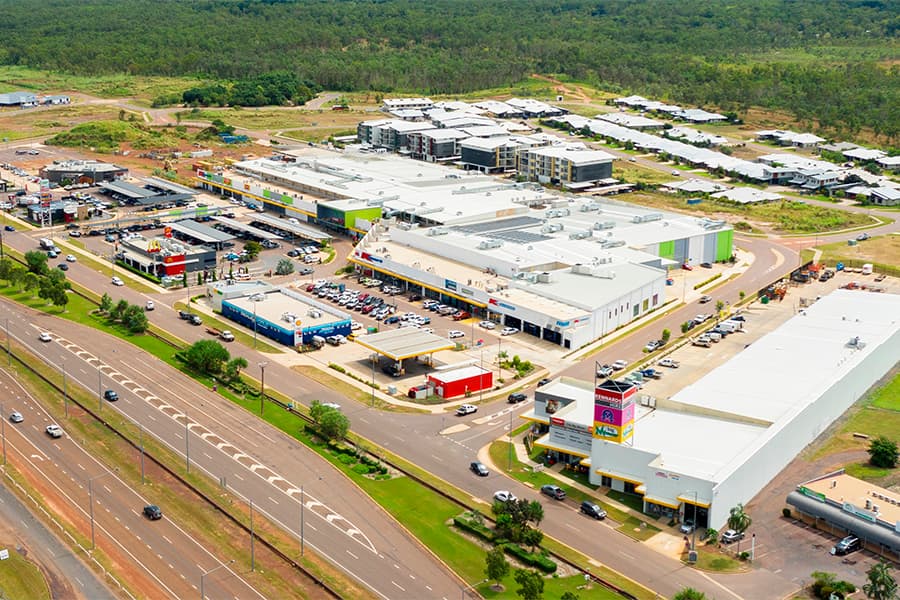 Located 30 kilometres south-east of the Darwin CBD, the 20,034 m2 (GLAR) enclosed sub-regional is anchored by a Coles supermarket (3,990 m2 and Kmart (5,629 m2) with five mini-majors including iFitness, Chemist Warehouse, Mad Harry's and The Salvation Army. There are also 37 speciality stores, ten kiosks, an ATM and nine pad sites including McDonalds, Subway, Hungry Jacks and KFC.
Dowers said the majors, mini-majors and pad sites comprised a significant 69% of centre income, while together, Coles and Kmart (one of only two in Darwin) have a 12.69 year WALE by income and 10 year option periods.
The 77,100 m2 site includes parking for 1,240 vehicles with 776 undercroft spaces enhancing the centre's wet season appeal.
Wizel said the centre was well positioned to attract spending from passing traffic from within and external to the trade catchment area, as well as benefiting from population growth and high disposable income.
"The centre has a 400 metre frontage to the Northern Territory's busiest arterial –more than 17,150 vehicles pass the centre each day – and serves a trade currently estimated at 63,450 people with a conservative population growth forecast of 1.7% per annum and an average household income 57% above the Australian average. Those are the sort of figures that will drive patronage and income growth in a market which is underpinned by one of the fastest growing economies in Australia,'' Wizel said.
He said the nine pad sites along the Stuart Highway frontage captured significant levels of exposure and attracted passers-by to the centre while the additional 16,500 square metres of vacant land that had been allocated for Stage 3 of the shopping centre development provided a further investment aspect that added to the centres' long term investment credentials.
"The expansion land of 1.65 hectares will allow the centre to be expanded to keep up with the fast-growing catchment providing the new owner with excellent development upside'' Wizel said.
He said with the basement works and at-grade car park for the expansion land largely complete the new owner should benefit from reduced construction costs and improved development feasibility.
Dowers said the sale of the centre would benefit from traditional retail investor sentiment based on significant non-discretionary spend tenancy mixes and long term leases to blue chip tenants.
"Long-term leases, a weighting towards non-discretionary spend tenants, and relative income security during downturns, have always been regarded as attractive components of a defensive investment. These factors remain some of the most compelling attributes of property investment across all sectors of the commercial property market and so there is little wonder that buyers keep coming back to retail." Dowers said.
He said the centre, built in 2017, also offered significant depreciation benefits, with minimal capital expenditure requirements. The property is for sale by international expressions of interest closing Thursday, August 1.