Colliers has released 'The Future of Retail Demand: The Road to Recovery' report on how COVID-19 has reconfigured the retail landscape and what the future looks like.
With two major states – NSW and Victoria in lockdown, the industry is looking at what the next few months hold and what lies ahead. The July 2021 release of the ABS Retail Trade data is the first release that reflects the true impacts of retail sales in the current mandated lockdowns imposed following increased COVID-19 cases. At a national level there was a 2.7% MoM decline, though this was mostly contributed to by NSW, which experienced an 8.9% decline. Sales were strongest in states that had not been as heavily impacted by COVID-19, including Victoria and WA, showing growth of 1.3% and 1.2% respectively.
Backed with the latest retail figures, Colliers looks at the road to recovery. Senior Analyst Adrianna Kazzi has identified key themes that are defining our retail landscape and Michael Bate, Colliers Head of Retail, provides his expertise on what this means.
"The positives from these July ABS figures are that when you combine online and bricks-and-mortar sales the volume of sales is still very high. People are still spending despite being home and retailers have adapted very quickly," Bate explains.
Adrianna Kazzi identifies the key retail trends that have dominated the pandemic outbreaks and homed in on the underlying retail changes that are likely to prevail. The Australian population has continued to spend its discretionary income with many larger retailers reporting increased FY 2021 sales results when compared to FY2020. And although the next few months are likely to mirror July's results, we anticipate a rebound once vaccination levels increase and freedoms return.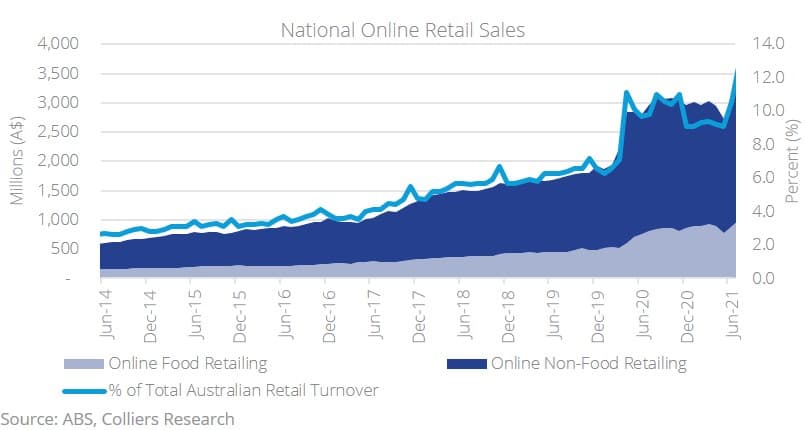 As to be expected, the online component in spending has risen and in July online retail hit an all-time high contributing to 12.6% of total Australian retail turnover. Servicing ecommerce demand will continue to shape the retail sector, but despite this, we do anticipate a post-lockdown return to bricks-and-mortar shopping as people look to fulfil their social and retail needs.
"Consumer loyalty has played a key role throughout the pandemic period. Consumers have remained loyal to well-known brands and retailers that have a bricks-and-mortar store available to them," Kazzi says.
"The split between pure-play and multi-channel retailers has remained stable, with retailers that have a physical storefront accounting for 62% of all online sales. This is based on consumers' trust and loyalty and the ability to use multiple mediums to finalise purchases", she said.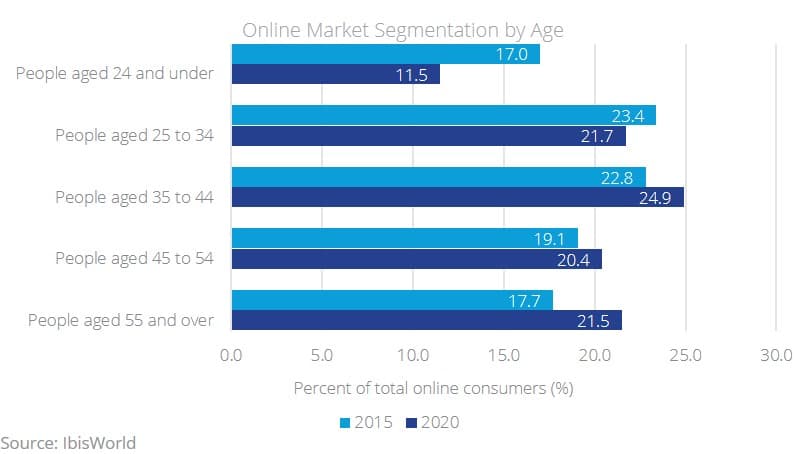 Consumer power is at an all-time high and the pressure is on for retailers to meet consumer expectations around convenience, service levels and value alignment. For retailers across all sectors, the need to service increased online sale volumes and delivery requirements has led to significant growth in dark store investment. The purpose-built sites allow for the efficient fulfilment of online orders without disrupting consumers in store.
"The establishment of these dark stores will become an essential part of ensuring retailers can fulfil more orders by using the most efficient technologies. An example is the Woolworths Group introducing the first micro-automation technology in Australia last year. The micro-fulfilment technology increases the dispatchment of online orders by five times that of a regular supermarket," Kazzi says.
Food retailing continues to be the largest contributor to retail trade, driven by supermarket and liquor sales, which experienced a 2.3% and 3.5% growth MoM, respectively.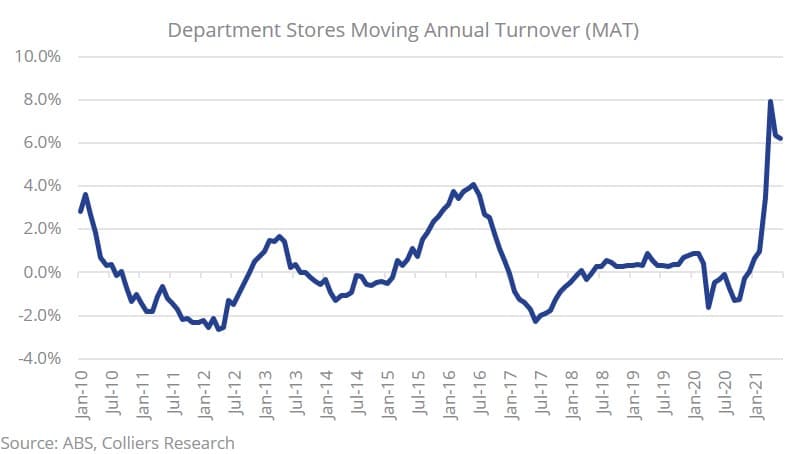 While major retailers such as Myer and David Jones reported year-on-year sales increases FY2021 of 5.5% and 2.3% respectively, large format retailers have experienced one of the biggest booms. Large format retail premises currently account for 9.5% of retail industry revenue, the spike in house sales and building approvals has led to consumer demand for household items. Retailers including JB Hi-Fi, The Good Guys and Baby Bunting have announced plans to grow and improve their store networks.
The configuration of future retail centres is likely to change with the integration of none-retail uses as Landlords look to create their own mini-catchments to leverage additional foot traffic. These uses could include medical, office and education related tenants.
"All major landlords that have significant portfolios throughout Australia, continue to work on the overall master planning for their assets, seeking to improve their tenancy mix to satisfy new consumer demands" said Bate, "But the real question remains, what will our CBD retail centres look like in the future?"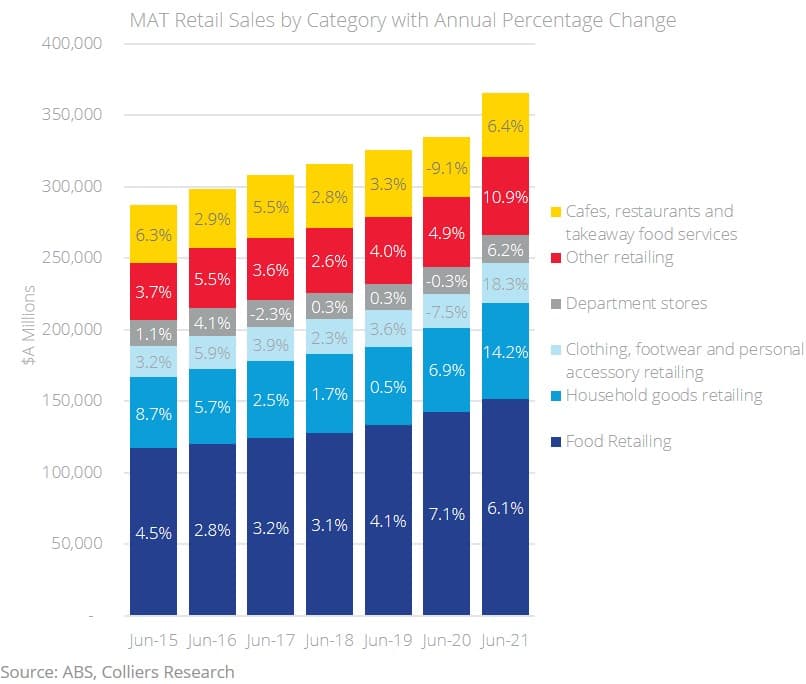 The COVID-19 pandemic has caused an unprecedented reduction in foot traffic across Australia's capital city CBDs. Lockdowns, office closures and the ban on international tourism has impacted our city centres more than any other location. The impact on retail has been very much two-tiered, with the High Street retailers buoyed by online sales and anticipating significant rebound demand when lockdowns lift, and borders reopen. The Subterranean locations tend to experience higher vacancy rates, and so their recovery may lag. Despite the challenging outlook for CBD retail, there is still a pipeline of significant projects in all capitals.
Sydney alone is expecting approximately 100,000m2 of additional retail space over the next five years. These include projects in Barangaroo Metro, Martin Place and Circular Quay. Melbourne also has new retail sites coming to The Walk Project, Melbourne University, Queen Victoria Markets and St Collins Lane.
Bate concludes, "As vaccination rates reach key milestones, restrictions lift and borders eventually open – these centres have every chance of thriving again."